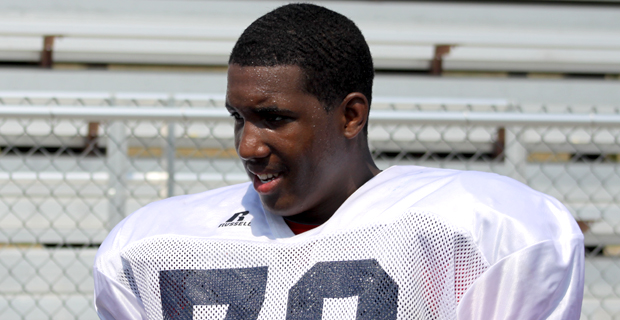 2015 OT Countdown | First Place | Bobby Evans
Posted on: February 21, 2014
Image via 247sports.com
As previously discussed, this is the final installment of a six part series of evaluations involving Oklahoma's primary offensive tackle recruiting targets in this 2015 class. It figures to be an important position of need for the Sooners and clearly one they have made a priority having already identified a number of players they are focusing on. In turn, we will do the same in an effort to give you a better idea the type of player we believe each to be and what the Sooners could be getting should a commitment come from one (or more) at some point later down the road.
No. 1 – Bobby Evans 6'5″ 265 lbs | Allen H.S. | Allen, TX
Happy Friday!!!!!!! Man oh man has it been a long week.  I'll be glad when I am at home tonight and enjoying the weekend!  It's been a long journey, but we're finally here at number one!
Oklahoma commit Bobby Evans got the nod as my No. 1 offensive tackle in the countdown. The tale of the tape says he's 6'5″ 265 lbs, so he is certainly not the biggest guy on the countdown. He's not the most powerful either.  He's also not the most technically sound. So how in the world is he my number one guy you might ask?
Before I get accused of being the worlds largest homer since he's already committed to OU, I just gotta say that you need to cut on the tape.  Just put on the tape (which you can do here) and tell me what you see on the very first play………I'll wait.
Barry Switzer used to say all the time there were those rare guys you could watch one or two plays on and just knew they were going to be great. In my opinion, Evans is one of those guys.
On that first play, look at his feet as he pulls around to the right.  I don't know that I've seen many tackles quicker than Evans.  That kind of athletic ability at the offensive tackle position is so rare that words like 'extreme' don't even do it justice.  I'm not worried about his size. For those not already aware, Evans' father is former OU basketball player Bobby Joe Evans he stands a cool 6'9″. So with his genes, size isn't expected to be a problem. When you look at his frame, it's pretty clear like he isn't done growing yet.
While he's not the most technically sound guy either, it's important to bare in mind he's only played the position one year.  He played tight end for Allen as a sophomore, and started there, so the kid is used to top notch competition.  Anyone who knows anything about Allen knows they take their football VERY seriously.  Their facilities rival most FCS schools and might even exceed a lot of them. So when you got a guy who is going to end up being a three year starter there, that's really saying something.  Allen, like Oklahoma, is all about championships. So the expectations at OU will be nothing new for Evans once he arrives. And the OU coaches have made it a point to target kids who come from traditionally strong high school programs as it helps to foster that same expectation of winning they (and OU fans) demand. Kids who come from high school programs that win don't generally enjoy losing (duh, right?), so why wouldn't you want kids like that in your program?
"So J, if he's not all of those things you listed above why did you pick Evans over Connor Lanfear and Toby Weathersby?" Fair question.
I touched on it a bit in the Lanfear writeup that I had to pick between the player they are now, and the player I believe they will eventually become.  The thing that stands out to me most about Evans is that he can be as good as he wants to be. He has that type of ceiling.
He has the frame, the strength, the athleticism, and the mindset.  It also certainly doesn't hurt that he comes from a family of athletes I already mentioned his father and, as many of you already know, his older brother, Tay (linebacker), was a member of Oklahoma's 2014 class. Every time you hear about Bobby, you're going to hear about him getting bigger.  He's already pushing 280 lbs now from what I understand, and remember he's still not actually a senior yet.
The issues he has with his technique are simply a lack of repetition. There is no reason to believe those "issues" won't improve as he continues to learn the position and develop his game. Even with that, he projects to give you the kind of athlete at the left tackle spot that will not be out-athlete'd by 99 3/4% of the defenders he'll face. That, my friends, is just something you cannot teach. You're either fortunate enough to have it or you don't, and the guys who have it play on Sundays and get paid a lot of money to do so.
It wouldn't shock me a bit to see Evans end up about 6'7″ and 320 lbs knowing his genetics.  But, man, I just keep coming back to those feet.  Having a tackle like that protecting the blind side of your QB is like taking out an insurance policy with Lloyds of London.  While his film wasn't as impressive from a finishing standpoint as Lanfear or Weathersby, all the signs point to a guy who is going to have a breakout senior year.  After he redshirts, he could be a four year starter — if he sticks around that long.  As he continues to get more experience and reps at the position, I bet we see that nasty come out more than it is already.
So there you have it folks.  From number six, to number one.  These are the guys on my wish list, hope you all enjoyed reading as much as I did writing.  Have a great weekend Sooners!
No. 2 – Connor Lanfear 6'6″ 270 lbs | Hays H.S. | Buda, TX
No. 3 – Toby Weathersby 6'5″ 295 lbs | Westfield H.S. | Houston, TX
No. 4 – Andre James 6'5″ 275 lbs | Herriman H.S. | Herriman, UT
No. 5 – Conner Dyer 6'4″ 278 lbs | Horn H.S. | Mesquite, TX
No. 6 – Keaton Sutherland 6'6″ 280 lbs | Marcus H.S. | Flower Mound, TX