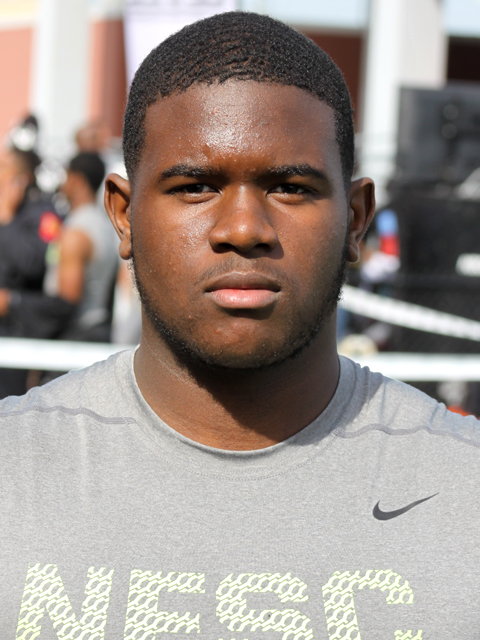 2015 OT Countdown | Third Place | Toby Weathersby
Posted on: February 19, 2014
Image via 247sports.com
As previously discussed, this is the fourth of a six part series of evaluations involving Oklahoma's primary offensive tackle recruiting targets in this 2015 class. It figures to be an important position of need for the Sooners and clearly one they have made a priority having already identified a number of players they are focusing on. In turn, we will do the same in an effort to give you a better idea the type of player we believe each to be and what the Sooners could be getting should a commitment come from one (or more) at some point later down the road.
No. 3 – Toby Weathersby 6'5″ 295 lbs | Westfield H.S. | Houston, TX
Hump day!  Woot, Woot!!!!!!!
We're almost there folks.  No doubt I live for the weekends.  With the hours I put in, I don't get to see the wife to much during the week so my weekend time is big to me.  I hope this finds you all well and your first two days weren't all that tough. I sure hope that they weren't as tough as the guy we're getting ready to outline here.
Toby Weathersby checks in at No. 3 on the OT countdown at a solid 6'5″ and about 295 pounds.  He's a guy whose film just jumps out at you.  The first play of his Hudl highlights immediately grabbed my attention.  First rattle out of the box, he sinks his hips and stones the pass rusher.  It's a textbook sit and anchor.  It shows right away that he's really strong through the hips and his hand usage is top notch.  Time after time he just pummels people with his hands.  Weathersby is one of the more heavy handed guys in the countdown and both his hands and size were a couple of reasons that I ranked him higher than Andre James.  The latter of whom isn't deficient in his hand usage by any means, but when Toby has people spin on him he makes them pay.  When they turn their back to him, he plants their faces in the turf.  That finish you off nasty, coupled with the athleticism and thickness, come together to produce a skill set that's hard to ignore.  A lot like Orlando Brown who signed with us this year, Weathersby bear paws a couple of guys in his film.  Not to the degree that Brown does, but his natural strength is something you can build on.
When I was in college there were guys like myself who weren't all that naturally strong.  I finished up benching close to 400 lbs, but my roommate, Mike Tosaw, who ended up playing for Buffalo, could three rep 515 lbs on the bench.  The difference was that no matter how hard I worked, I just didn't have the genetics on my side from a strength standpoint that Mike did.  While 400 lbs sounds like a lot, there's no telling how much Mike could ultimately do had he kept at it.  Toby just seems to have that natural strength about him that Mike did.
If I had a knock on Toby's game, it may be that he gets a little impatient in his pass sets.  He's so eager to put the hurt on somebody that he gets out over his toes sometimes causing him to bend at the waist and lunge at pass rushers.  Toby has the hip flexibility and is a natural knee bender, so he just needs to watch more tape of himself to correct the issue.  As he works on it, he'll get better at timing his punch.  At tackle you have to be the one initiating the contact, but you have to have the timing of it down.  Toby has probably the best anchor on tape against a bull rush out of the group.  He sits in pass protection very naturally, so some may watch his tape and call him a waist bender. However, I think it's more of a repetition and teaching thing than it is an ability thing.
Between him and the other two guys left on the countdown, I had to go back and watch tape on all three of them repeatedly to make sure who I liked the most.  Weathersby is going to be an NFL guy if he keeps on this path.  Great feet, ample strength, that nasty attitude, intelligent, athletic, and very heavy handed are just a number of the aspects to his game that stand out.  He would be a great fit for Bedenbaugh's scheme since he generates so much vertical movement on his blocks.  Like James, he's very comfortable in double teams and coming off on the second level players.  He plays with his eyes down field, so he's never caught off guard by a blitzer or a backer filling hard.  He also doesn't typically lose his feet and that ability is an asset not many young linemen have.
In short, I just love Weathersby's game.  He's got a lot of Jammal Brown in him, specifically from a brutality standpoint.  Jammal had that heavy handed attitude about him too.  Brown was about an inch taller than Toby, but I still see a lot of similarities.
No. 4 – Andre James 6'5″ 275 lbs | Herriman H.S. | Herriman, UT
No. 5 – Conner Dyer 6'4″ 278 lbs | Horn H.S. | Mesquite, TX
No. 6 – Keaton Sutherland 6'6″ 280 lbs | Marcus H.S. | Flower Mound, TX