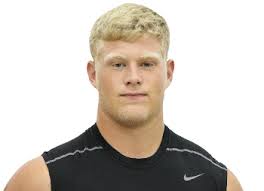 2015 OT Countdown | Second Place | Connor Lanfear
Posted on: February 20, 2014
 Image via espn.com
As previously discussed, this is the fifth of a six part series of evaluations involving Oklahoma's primary offensive tackle recruiting targets in this 2015 class. It figures to be an important position of need for the Sooners and clearly one they have made a priority having already identified a number of players they are focusing on. In turn, we will do the same in an effort to give you a better idea the type of player we believe each to be and what the Sooners could be getting should a commitment come from one (or more) at some point later down the road.
No. 2 – Connor Lanfear 6'6″ 270 lbs | Hays H.S. | Buda, TX
At 6'6″ 270 lbs, Connor Lanfear is my pick for the No. 2 offensive tackle on the countdown.  What it came down to for me was weighing the player they are now vs. the player they can become.  At this stage in the game, my opinion is that Lanfear is the most college ready of the offensive tackles on my list. The guy is just thick all over.  He's likely closer to 6'7″, and there is no telling when he might stop growing.  He's built like the prototypical NFL tackle.  When differentiating who you're going to pick out of he and Toby Weathersby, it's like trying to figure out if you're taking Rosie Jones or Kate Upton to the prom. In other words, it's the good kind of problem to have!  And I had to give the nod to Lanfear for a couple of reasons.
First, he finishes every block.  If you've ever read about Bruce Lee back in the day, he always talked about punching through the man.  Well, Connor basically drives his man through the ground.  He's a guy you get p.o.'ed playing against if you're a defender.  I pointed out previously that Weathersby and Andre James were good at handling defender's counter moves.  James was able to hang with them and handle the spin moves with ease, while Weathersby was able to make them pay for spinning and drive them into the ground.  Lanfear just doesn't let them spin out at all.
When he posts up his left or right hand, that is the shoulder of the defender that's hitting the ground first.  When defenders try to get off of his blocks, he simply doesn't let them do it because his hands are so strong.  A lot of young guys block with their forearms a lot and don't realize they're limiting themselves.  Where else in life do you push something and not use your hands? Little things like that separate good players from great players.
I really like Connor's game a lot.  His head is always hitting the breastbone of the defender on drive blocks, which is textbook technique.  For being the tallest guy on the countdown, he plays with better pad level than you'd expect.  His hand usage is impeccable, and as a young player being so developed with his hands, he's only going to get better.  He really appears to enjoy finishing people off, and he's always bouncing up after the play and hustling back to the huddle.  He sits well and has a very good base in pass protection.  He never seems to get over extended and doesn't lunge at people.
His film shows a guy who is more of a drive blocker than he is a guy who is going to be a finesse player.  He's not the dancing bear, but he is a little bit less athletic than both James and Weathersby.  Quoting Warren Sapp, "I don't care what it looks like, just get it done."  If we were fortunate enough to get Lanfear, as well as the guy who is number one on my countdown (teaser!), then I would put Connor at right tackle.  He's plenty athletic to play on the left side in college, but the guy I'm gonna profile next is a rare athlete at the position.
In reality, when I had to decide whether or not to rate Lanfear as my top tackle, I was just splitting hairs.  He is ideally suited to play in the offense that we're migrating to.  In years past, I'd say that the offensive line coaches we had would have misused a guy like Connor, and if I were someone close to him I would have tried to steer him to someone who ran a more power-based offensive style.  However with the changes Coach Bedenbaugh has brought to the table, Lanfear is a guy you really need to get in the fold.
Whether he sticks with his pledge to Texas, or he ends up flipping and runnin' with the good guys, we could wind up seeing a lot of him for the next few years.
No. 3 – Toby Weathersby 6'5″ 295 lbs | Westfield H.S. | Houston, TX
No. 4 – Andre James 6'5″ 275 lbs | Herriman H.S. | Herriman, UT
No. 5 – Conner Dyer 6'4″ 278 lbs | Horn H.S. | Mesquite, TX
No. 6 – Keaton Sutherland 6'6″ 280 lbs | Marcus H.S. | Flower Mound, TX