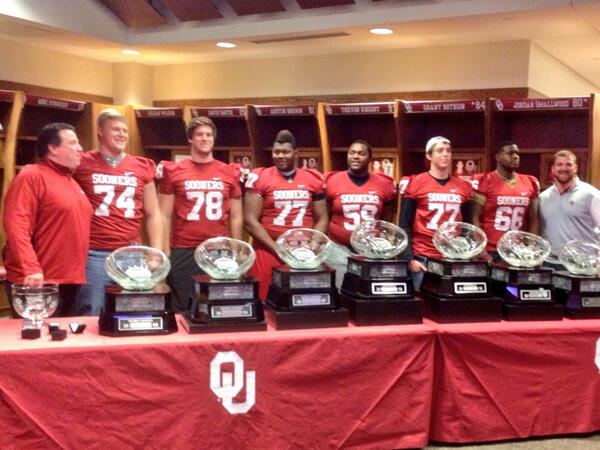 The Offensive Tackle Countdown
Posted on: February 15, 2014
Image via scout.com
Right after the first junior day, K and I were talking about the guys we had on campus.  The now famous picture of the offensive line prospects came out, and this whole thing started with a passing question K asked me about whose game I liked the most at offensive tackle.  He's been after me for a minute now wanting me to do a countdown, and I gotta admit that this is one of the tougher evaluation related things I've had to do recently.  Over the next few days, I'm going to profile six offensive tackles.
In alphabetical order:
1.     Conner Dyer
2.     Bobby Evans
3.     Andre James
4.     Connor Lanfear
5.     Keaton Sutherland
6.     Toby Weathersby
As kind of a disclaimer, number one you have to remember that these guys aren't even seniors in high school yet.  Secondly every one of these guys has the potential to be a top level bcs player.  There are things about every one of their games that I like a lot.  In this case it's not so much about who's the best player right now.  There are some who qualify as most athletic, nastiest, most powerful, most technical, best frame and I have to take into account how different coaches evaluate.  Do you go for who is the most college ready now, or do you go after the one who has the most potential?  So again before we get started I'd like to say one more time that all of these guys are great players, and depending on how hard they are willing to prepare and work, the sky is the limit for all of them.
Starting tomorrow or Monday I'll be counting them down from 6th place on down the line till we get to my favorite offensive tackle recruit/prospect.
Before I give my ranking list though, I'd love to hear y'alls thoughts. Feel free to comment below!