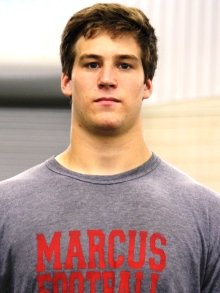 2015 OT Countdown | Sixth Place | Keaton Sutherland
Posted on: February 16, 2014
Image via scout.com
As previously discussed, this is the first of a six part series of evaluations involving Oklahoma's primary offensive tackle recruiting targets in this 2015 class. It figures to be an important position of need for the Sooners and clearly one they have made a priority having already identified a number of players they are focusing on. In turn, we will do the same in an effort to give you a better idea the type of player we believe each to be and what the Sooners could be getting should a commitment come from one (or more) at some point later down the road.
No. 6 – Keaton Sutherland 6'6″ 280 lbs | Marcus H.S. | Flower Mound, TX
What you notice about Sutherland immediately is a great frame.  He's one of the more athletic tackles you're going to see as well.  What I like about his game is the ability he has to locate players on the second level.  He never seems to take bad angles and shows to be a very smart player.  However, he's not very heavy handed at this point in his development and he's also not as nasty as I would like.
When choosing who you rank from sixth to first on my wish list, I had to look at it like I was the o-line coach and I only get to choose two of 'em.  The reason I decided to rank Keaton sixth was because he's not as nasty as the other guys on the list. He seems to position block more than finishing guys off and his upper body still needs some work.
You'd like to see him pummel guys with those hands, but he just hasn't quite grown into that huge frame enough.  His Hudl tape shows him at 6'5″ 257 lbs, but in the picture of OU's junior day he looked closer to 6'6″. So he may have grown a little bit since that profile has been updated.
Keaton is one of those guys I'm going to enjoy keeping my eye on this year.  I'm anxious to see if he takes advantage of the offseason this spring and summer.  If Keaton can hit the strength training hard, he'll vault up a lot of boards.  He shows above-average intelligence with his footwork in the run game.  In my opinion, he's ideally suited for a zone-blocking scheme and one that needs a guy who can get out in space on screens.
In the past, this is a guy that James Patton (OU's former offensive line coach) would have been all over. Mainly because he's more of the dancing bear type than he is a bloody your nose and those were guys Patton seemed to prefer.  However with Coach Bedenbaugh, we're showing a shift to more of a 'line up and run over your butt' type of approach. BUT the guys still need to be athletic enough to be able to handle screens and space blocking from time to time.
With the short yardage woes we've seen in years gone by, it makes sense why Bob Stoops has Coach B after your Joseph Paul and Orlando Brown types.  While they may not be quite as athletic as someone like Sutherland is, they're athletic enough.  A lot of coaches want the guy who will "wow" people at the combine and everyone's enamored with his short shuttle and 40 time.  For me, I want a guy who's gonna line up and beat you into a pulp first.  In position 1A, I want a guy who can make all the blocks.
What makes it so hard to evaluate juniors is that knowing that kids develop mentally and physically at different rates.  Kenyon Frison is a prime example.  His junior film didn't wow me, but his senior stuff left me very impressed.  Keaton strikes me as the kind of guy who maybe has played a lot of basketball and who is, at least right now, generally just more of a 'big kid' out there. He played a little defensive end early in his hs career, so he's still learning how to play the position of tackle.
Rumor has it that he got hurt late in the season last year and the amount of growth and development that can take place for a guy from August to November can't be understated.  Missing time during his junior year may have affected his nastiness a bit.  In this elite group of tackles, great offseasons could definitely cause the order I currently have them in to change as we track their progress through their respective senior seasons.
While I may like other guys on this list a little more at this stage, watch out for this guy if the light switch comes on for him mentally.  If Sutherland can get a little whiz and vinegar in him, he's a name we could hear getting called in Radio City Music Hall in a few years.