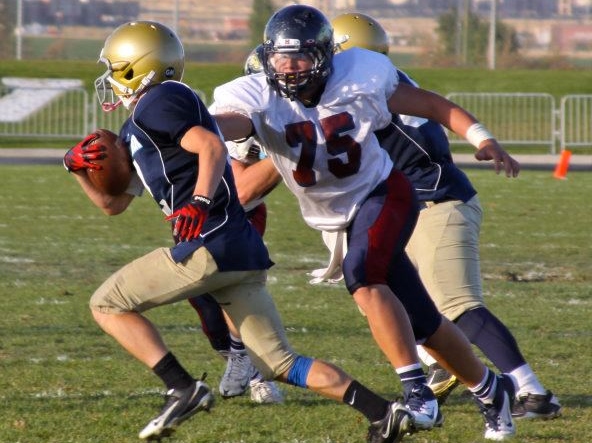 2015 OT Countdown | Fourth Place | Andre James
Posted on: February 18, 2014
Image via 247sports.com
As previously discussed, this is the third of a six part series of evaluations involving Oklahoma's primary offensive tackle recruiting targets in this 2015 class. It figures to be an important position of need for the Sooners and clearly one they have made a priority having already identified a number of players they are focusing on. In turn, we will do the same in an effort to give you a better idea the type of player we believe each to be and what the Sooners could be getting should a commitment come from one (or more) at some point later down the road.
No. 4 – Andre James 6'5″ 275 lbs | Herriman H.S. | Herriman, UT
Well I hope everyone survived your Monday!  I gotta admit this has been one of the colder winters we've had in a long time.  I'm over it for sure and March can't come soon enough.  I'm ready for warmer weather AND spring practice! I know you all are as well, so with that let's continue our march to No. 1 in our OT Countdown that we started on Sunday.
From a geographic standpoint, if you're looking at Salt Lake City then Herriman is kind of in the same position as Mustang is if you were looking at Oklahoma City on the map.  With Coach Montgomery's connections to Salt Lake City and Kenyon Frison recently getting on board, there's no doubt that OU's d-line coach is doing work in the 'Beehive State.'
Like Frison, James is a supremely athletic tackle prospect.  As I approach the top of this list it's getting harder to choose who I like the best.  Depending how his off-season work goes and how much he grows into his frame, he may very well shoot up my list — similar to my take on Keaton Sutherland if you'll remember.
James is a very lean player and doesn't seem to have a lot of 'lead in the sled.'  His hips and rear end aren't that thick, so it has me concerned that he may not be able to pack on as much good weight as he's going to need.  At 275 pounds now, to play at a top level he'll need to get in the neighborhood of about 320.  Well, that's 45 pounds north of where he is and while he's a big kid you kind of want to see a guy who is a little bit thicker.  When I was in school, the most I played at was 290.  Granted, that's almost 20 years ago now, but our coaches were always on me about gaining weight.  Andre seems to have a build very similar to mine, so after going through it I just wonder if he's going to be able to put on the weight.  If he can though…Lord have mercy he's gonna be good.
At this stage in the game, Andre is definitely the guy on the countdown who plays with the best pad level.  He's a natural knee bender and is effortless in his blocks.  He looks really smooth and he plays with such great leverage that he generates vertical movement easily on drive blocks, double teams, and in down blocking situations.  James is an aggressive tackle, who shows a knack for finishing people off and looks to have that orneriness in him that you look for.
He does a very good job locating players on the second level and coming off of combo blocks to his secondary responsibility.   Something else that he does which I really like is how smoothly he handles opponents counter moves.  Andre does an outstanding job using his hands and while he may not be all that developed in the upper body, he knows how to use those big mits to keep defenders at bay.  As he does add size and power, already having that knowledge of how to effectively use his hands will pay off in droves.  Combine that with the fact that he plays with such great pad level and hip flexibility, his power will only be accentuated.
I think James is another definite offer.  With the depth that we have in the fold now, him being a developmental prospect isn't that big of a deal.  He wouldn't be expected to play on day one or even possibly after his first year.  Which would allow him to redshirt and put the nutrition and strength program to good use.  Of all of the tackles on this list, James is one of the youngest so it would be beneficial for him to get into a program that will not need him to play right away.  That said, I view James as an outstanding, supremely athletic prospect with a bright future at the next level.
No. 5 – Conner Dyer 6'4″ 278 lbs | Horn H.S. | Mesquite, TX
No. 6 – Keaton Sutherland 6'6″ 280 lbs | Marcus H.S. | Flower Mound, TX