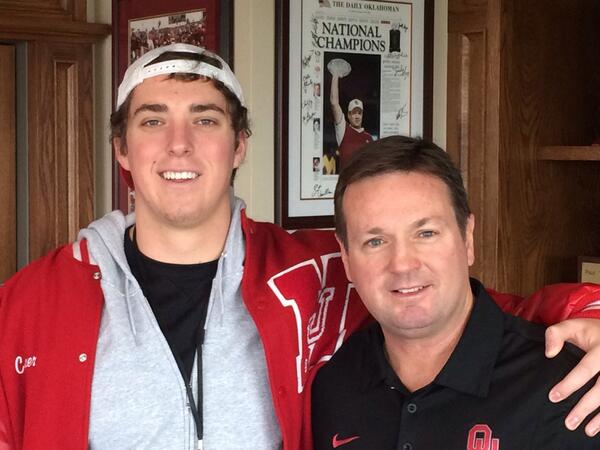 2015 OT Countdown | Fifth Place | Conner Dyer
Posted on: February 17, 2014
Image via @Dyer_Football
As previously discussed, this is the second of a six part series of evaluations involving Oklahoma's primary offensive tackle recruiting targets in this 2015 class. It figures to be an important position of need for the Sooners and clearly one they have made a priority having already identified a number of players they are focusing on. In turn, we will do the same in an effort to give you a better idea the type of player we believe each to be and what the Sooners could be getting should a commitment come from one (or more) at some point later down the road.
No. 5 – Conner Dyer 6'4″ 278 lbs | Horn H.S. | Mesquite, TX
Coming in at No. 5 on the OT countdown is Conner Dyer.  Conner goes about 6'4″ 278, and is probably one of the best finishers you're going to find.  As far as playing with an attitude goes, he is definitely the nastiest of the tackles in this group of six. When you talk about attitude, Dyer's game just oozes with it.  Anyone who has read some of my previous articles knows that nasty and attitude are by far two of the most important traits I look for in someone's game. Having said that, you might be wondering why Conner comes in at No. 5 when his game has those aspects I look for?
A few years ago, we were in on a guy named John Michael McGee.  And JMM, as he came to be known by Sooner faithful, ended up signing with OU.  When I watched his tape, the guy had supreme athleticism. To the point that he wasn't over-matched by practically anyone else from an athletic standpoint. That's not normally the case when you're talking about offensive linemen.  JMM, like Dyer, played offensive tackle and with his athleticism, man you could see someone who could handle all comers from a pass rush standpoint.  While JMM was a superior athlete, he wasn't near the finisher Conner is. As you many of you already know, JMM ended up leaving fall camp after only a few days so we can only wonder what might have been.
You might also be wondering why I'm comparing JMM, a guy who washed out, to Dyer who shows graduated toughness and no signs of running home to mama.  The thing is while JMM, who played tackle in high school, was recruited by all comers as an offensive guard since he was 6'4″.  So when I look at Conner, I see a guy who's not quite the athlete that JMM was but also checking in right around that 6'4″ mark.  Keeping with that line of thought, when you're splitting hairs talking about how you rank players in an elite group of offensive tackles I'm not sure that Conner is going to play as an offensive tackle at the college level.  While he could eventually prove more than capable, in today's game more and more coaches are after the 6'6″ and 6'7″ guys for the tackle position.
To take it a step further, even if Dyer spends his college years at offensive tackle I doubt he could transition to the NFL as a tackle.  Currently in the NFL, the height of typical offensive linemen:
LT : 6'7 – 6'9″
LG: 6'3″ – 6'5″
C: 6'2″ – 6'4″
RG: 6'2″ – 6'4″
RT: 6'5″ – 6'7″
So unless Conner grows another inch or two, which isn't impossible, at some point he's going to be facing the reality that he could be an elite guard if he makes the switch or simply be classified as an undersized tackle.
Going further down the rabbit hole, Conner is the kind of guy who I think could be an elite left guard.  The guy plays harder than most of the offensive linemen I've seen on film, this year or otherwise.  It's to the point that he plays so hard, at times he's even a little out of control.  I saw him do some things that are extremely rare for an offensive lineman.  There's a play in his Hudl highlights where he mashes a guy into the ground, rolls over the top of him, jumps up off the ground, and then pummels a linebacker.  Kid just doesn't quit going.  That's why you have to get this guy on your team.  He's relentless in driving guys into the ground.  Having a guy like him with the athleticism to play tackle allows you not to be over-matched athletically when you come up against hyper-athletic defensive tackles. And with his power and toughness, it gives you a guy that could be lethal pulling and on double teams inside because he's going to beat opponents to a pulp.  He's the kind of guy that would have linebackers yelling uncle by the middle of the third quarter.
He's a guy, to me, that if I'm Coach Bedenbaugh, I get him on campus and let the position work itself out.  You can't have too many guys on campus who can play multiple positions.  Much like Bronson Irwin did for us in the Sugar Bowl for us this past year, Conner could be a guy who could also play guard or tackle.  If he showed an ability for it, he could add depth at center for you as well.  You never know when somebody's going to get hurt and you're going to need that versatility that Dyer could provide.
He's definitely an offer in my eyes and he's the kind of player you want on your team.  With Mesquite Horn producing 2014 OU signee Jonathan Alvarez this year and with the Sooners obviously in on Dyer as well, it's a school you could look to establish a pipeline with for years to come.
No. 6 – Keaton Sutherland 6'6″ 280 lbs | Marcus H.S. | Flower Mound, TX