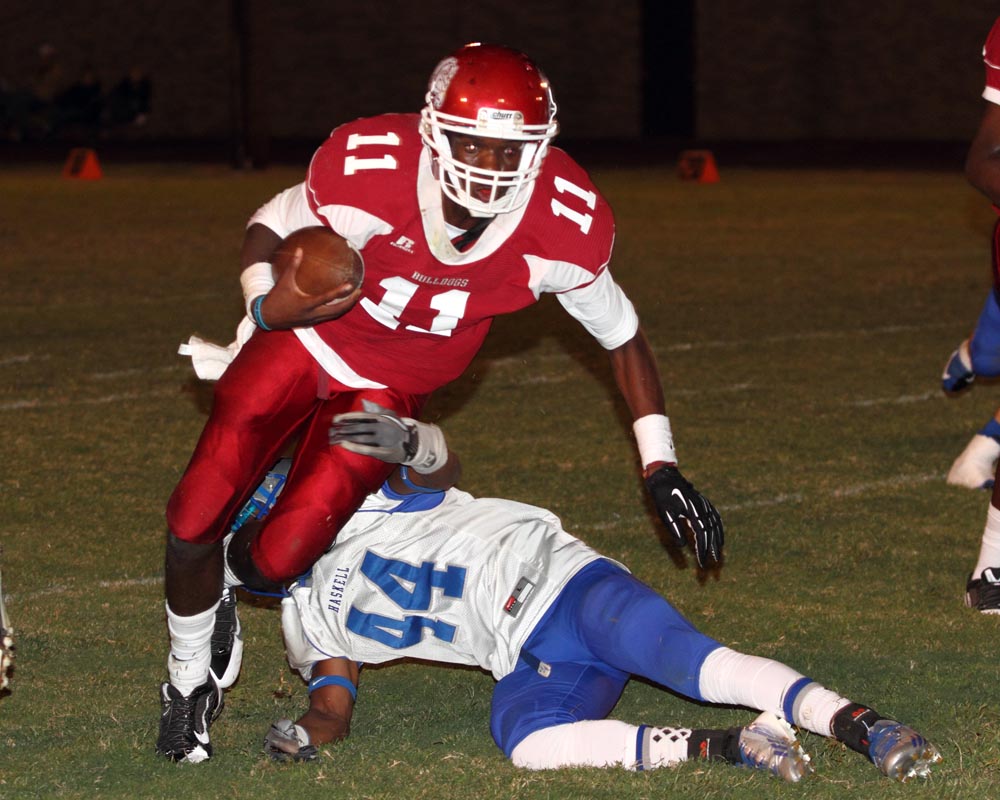 OK Preps 2015 Feature – McKinley Whitfield Is A Rare Talent (UPDATED 5:48 pm)
Posted on: May 22, 2014
Image via Leflore County Journal
I haven't been this excited about a player in Oklahoma, or Texas, or perhaps anywhere, in a while. In yesterday's Open Post, I mentioned an ATH out of Spiro, OK by the name of McKinley Whitfield. I came across McKinley for the first time that morning, when I happened to see Bob Przybylo and Josh McCuistion tweet out an offer he had received. I looked him up, and I was blown away. A simple mention in the Open Post wasn't nearly enough for this OK born and bred stud.
We've introduced y'all to a number of players well before they became national products. It's one of the things we take great pride in here doing what we do (which may sound incredibly arrogant, but please know that is in no way the intent). In fact, our regular readers will remember that I touted Jaylon Lane as one of the best CBs in the state of Texas when his only offer was from Louisiana Tech. He now holds offers from almost every major program in the country. I remember how I felt about Jaylon's ability back then, and I'm even more convinced of McKinley's ability. In my opinion, McKinley isn't a Big 12 recruit or a Pac 12 recruit…he is a national recruit that can play at any school in the country.
Whatever you want to see from a kid, you'll find it on McKinley's film. Whether it's top end speed (he recently ran a 22 sec 200 m), or it's lateral movement, or stop-and-start, or ability to read a QBs eyes, or closing speed, or ability to diagnose a play, or ability to play close to the line, or the willingness to smash someone in the mouth, all the way down to the dog in him…it's all there. I've watched his film multiple times since yesterday, and all day I kept calling football friends that I trust in order to get their opinion on the kid.
As I've said before, I trust my eyes and at certain positions I'd put them up against anyone. But I was so enamored with McKinley's film, that I felt like I needed confirmation from friends, or I needed someone to slap me out of it.
But no one did.
"Where did you find this kid??"
"Man I can't stop watching this kid!"
"This kid is gonna play on Sunday!"
And so on is the feedback I got.
McKinley is a legit 6'3″ flat footed and maybe even taller. God only knows how much his frame can hold, because Spiro doesn't have a legitimate weight program. In fact, they haven't even had enough participation in spring football to hold regular practices (though apparently McKinley was always there). McKinley currently weighs almost 200 lbs — by comparison OLB target Marshall Bo Wallace, who is at a legit program in Louisiana, weighs around 190 lbs — and he's got A LOT of room to add weight. McKinley's older brother played defensive line in college. So when I say he's got A LOT of room, I'm saying he could end up being a 240 pound LB if he really wanted to. But he's clearly fluid enough to play in the secondary and become one of those big, long, physical Alabama type safeties. On film you see him turn-and-run with a legit OK HS receiver on multiple plays.
There really isn't anything McKinley can't do. He's just a winner. You want him to play WR? No problem. He'll go up and take the ball over two defenders and beat you on 9 routes all day. You want him to play LB? He will diagnose the play quickly, scrape, and his short area explosiveness, physicality, and closing speed allow him to stone defenders in the backfield. You want him to play safety? He can jam at the line, flip his hips, run with a receiver, peel off a route, and find the ball or smash a receiving target. He's got the length and cover ability to stay with a TE. He's got the length and frame to grow into an ILB or OLB. He can throw the ball. He can return kicks. He's an excellent basketball player. He's got good grades. He's polite and respectful. He can walk and chew gum at the same time!
While the means aren't there in Spiro, he's ready and willing to go to work. I mean there is nothing about this young man that I don't like! The more I talked to him and people around him, the more I loved McKinley. And while this may seem out of place in a football article, I even found out that his father is a disabled veteran which only made me love McKinley and his family all the more.
Oklahoma was late on offering Austin Cantrell (who is a freakin' stud in his own right) and he is now committed to Arkansas. I would hope if Oklahoma were to miss out on a player like McKinley, it would not be because they offered* too late. Because, in my opinion, McKinley isn't just "Oklahoma good."
McKinley Whitfield is truly a rare talent.
* Ed. note – Whitfield's current offer list includes: Arkansas State, Army, Minnesota, Missouri State, Navy, Southern Miss, Tulsa, and Utah State
– UPDATE (1:26 pm): Since the time this posted, Whitfield has now picked up offers from Memphis and Houston. Surely just two of many more to come.
– BIG UPDATE (5:48 pm): OKLAHOMA has just reached out to McKinley! Coach Mike Stoops will be heading over to Spiro next week to see him for the first time! Also, sorry I haven't responded to some of your comments below…I just flew into Florida. We'll have more later.
2015 OK PREPS FEATURES: