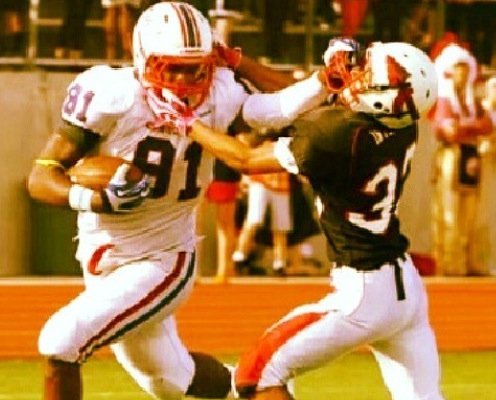 Open Post | Wednesday, May 21st (UPDATE 1:45 pm)
Posted on: May 21, 2014
Image of Josh Moore via wholehogsports.com
– In case you missed it, UCLA did indeed end up offering Max Wariboko (Josh's brother). From everyone I've spoken to around Josh, I get the impression he is genuinely torn. His parents are OU alums, obviously big fans of the program, and that tends to be passed down. But just as an outside observer it would be hard for someone to pass up playing at a great school like UCLA, when you know you're brother has been offered as well. And I know the Wariboko's are pretty well off, but who doesn't want their kid to get a free education to a prestigious academic institution like UCLA?
From what we've heard, OU certainly isn't waiting around to find out. Which is not to imply they've moved on from the elder Wariboko, rather they have to plan/recruit for every scenario.
– Coach Heupel stopped by Kingfisher HS to see one of our favorite in-state recruits, OG Kaden Clay Jackson. Kaden currently holds three offers including an offer from North Texas. His recruitment is set to take off. He's had a number of schools come through to see him during this evaluation period, and I suspect he'll pick up a number of mid-major offers. The major conference offer should come through at some point. Kaden is just too athletic. The University of Houston is sending a couple coaches up to see him later this week.
– We had a reader ask whether there was any truth to the rumor that Natrell Curtis and Orlando Brown are having qualification issues. We checked on that and it appears the rumors are indeed true. As we understand it, it's not final yet but it does seem to be an issue.
– Last week DL Joshua Little out of Millwood picked up a Purdue offer, which was shortly followed by a Texas State offer. Earlier this week he also picked up an Iowa State offer.
– We recently caught up with new OU TE offer Josh Moore. Interesting to learn that Moore has actually already visited Oklahoma in the past…twice in fact! Certainly makes me wonder why Oklahoma had not offered until now. Fortunately, the delayed offer hasn't seemed to turn Moore off. He seems very excited about the offer, and said that he will "definitely be down there (in Norman) again." Can't help but wonder whether or not with an early offer to Moore and/or Austin Cantrell, Oklahoma might have both already committed.
– Spoke to 2016 DE Isaiah Chambers the other day, and he continues to build a good relationship with Coach Montgomery. He really wants to make it up to OU. I think TAMU would be the main competitor with Chambers right now. Also, he and Ed Oliver are friends. And I get the sense Ed is NOT going to consider Texas, so if they want to play together it'll likely have to be at another school.
– Akylen Mayfield, another OK HS stud that we recently featured, just picked up his first offer yesterday. Arkansas State extended an offer and Houston is coming by to see him later in the week. I still contend that Mayfield may have more upside, from a pure physical standpoint, than any player in the state.
– Coach Bedenbaugh was recently in Florida, and he stopped by Apopka HS to visit FB target Chandler Cox and OT target Martez Ivy.
– I also caught up with 6'2″ CB Derrick Baity the other day, and I am still baffled by the fact that OU has not extended an offer to the young man. He is as good or better than any CB we have on our board, and I have friends in the area that are former college DBs that have coached him and vouch for his ability. Coach Kish went by to see Baity and apparently loved him. It sounds like Baity actually really hit it off with Kish. Oh, and by the way, Baity is already qualified academically! He scored nearly a 1200 on the 2-part of his SAT! With the recent commitment of Jaylon Lane to Ok. State, this offer needed to happen already. And honestly should have happened regardless of Lane, in my opinion. Baity is every bit the corner that Lane and Mbanasor are, and y'all know I've been fans of both since the beginning, before they had any offers. Baity is special.
– OU DE target Neville Gallimore continues to pick up offers. He recently picked up one from Michigan State. Neville plans on visiting OU with his coach this summer. I haven't spoken to his coach since last week, but I've got to think the Michigan State offer caught his eye. As a former All-American, Coach McArthur is all about finding the right fit for his kids. The Spartans would have to be intriguing, both due to the proximity and, of course, the style defense they play.
If I am OU, I'm going hard after Neville, Gabriel Campbell, Breylin Mitchell, Kingsley Keke and continuing with Breiden Fehoko (in case the wheels really fall of at Tech). With OU needing two DEs, I think they can absolutely win a commitment from at least one of those guys, if not two, and along with a stud NG they'd be done with a nice DL class. And even if they only got one, there are still guys out there like Brandon Wilson who would love an offer.
– UPDATE (10:10 am): We're working to get more info on this, but since it's out there on social media we wanted to let you know about two new reported offers to JUCO defensive linemen.
Congrats 2CCC @DeonteReynolds @D1boundTAKK 4 receiving offer #Oklahoma @OU_CoachKish also Thx @CoachERussell @coachjharding 4 visiting today

— Alonzo J. Carter (@RealCoachCarter) May 20, 2014
The players referred to in the tweet are Contra Costa C.C. DE Takkarist McKinley (VIDEO) & DT Deonte Reynolds (VIDEO).
– UPDATE (11:24 am): Coach Kish out in California checking in with 2016 LB and OU offer, Lokeni Toailoa (VIDEO)
– UPDATE (11:43 am): OU coaches were by to see Kahlil McKenzie yesterday per his Twitter.
– UPDATE (1:40 pm): Well it looks like OU is finally involved with one of our favorite slot WRs, James Proche. Coach Boulware stopped by today to see him and an offer might be coming soon. Proche is very interested in Oklahoma. Very interested.
– UPDATE (1:42 pm): Also got word that Coach Heupel stopped by Norman North yesterday for spring practice to get a look at John Kolar and 2016 RB Quan Hogan.
– UPDATE (1:45 pm): Per Josh McCuistion of Soonerscoop.com Southern Miss has offered stud Spiro, OK ATH, McKinley Whitfield. Whitfield already holds a few offers including a Minnesota offer. Apparently Minnesota saw him on film and came down to see him and offered on the spot. Whitfield is an absolute stud. If I'm Oklahoma he's an offer just based on film alone and certainly a kid they should at least go see. Unfortunately he has been hearing a lot from Okie State and Arkansas but absolutely nothing from OU. I only recently came across Whitfield thanks to some of the local writers like Josh McCuistion and Bob Przybylo of Scout.com and the kid is unreal. Long frame and can literally do anything. He can jam at the line and turn and run. He can strike in the open field. He's got great speed and lateral quickness. He's violent. He even throws the ball pretty well. He's being recruited by schools to play either LB or FS and IMO he can play any of them. Do yourselves a favor and watch 5 or 6 minutes of his film. I'd personally take him as an OLB but I need to watch his film a few more times to say for sure.