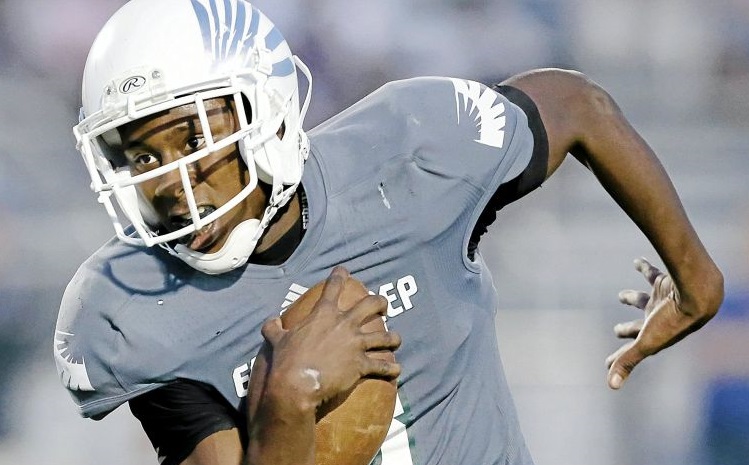 OK Preps 2015 Feature – Akylen Mayfield
Posted on: March 27, 2014
Image via Tulsa World (John Clanton)
I'm gonna give y'all some background information about Akylen Mayfield, but I'm going to begin this brief post with a bold statement. Akylen Mayfield may have more upside than any player in the Oklahoma preps 2015 class.
That's not a definitive statement, and while I do believe an argument can be made for a few other players, the argument for Akylen is there as well.
Mayfield plays at Edison, in Oklahoma, and is actually the cousin of another good OK prospect, CB Markale Moses. Mayfield plays QB for Edison, and a little defense as well, and, in my estimation, his college position is on defense. The question is where, because he could excel at a number of positions. At the most recent Rivals camp, he measured in at 6'3″ (without shoes) and 204 lbs. That is excellent size for projection at a number of defensive positions.
I was reviewing Mayfield's film a while back and was really astonished by how sudden he is at his size. Because he primarily plays QB, he forces an evaluator/recruiter to really project in regards to his ceiling. But there is so much to like about the way he moves down hill, laterally, the way he jab steps and cuts…he moves well in every direction. I had a lengthy conversation with Mayfield and it's clear that, for a long time, he hoped to be a quarterback at the next level, but has more recently fallen in love with the defensive side of the ball.
The amazing thing about Mayfield is he's got linebacker size, but he literally moves like a cornerback. He isn't yet refined as a defensive player, but that just adds to the intrigue. And get this, he's only 16 years old! Let that soak in for a minute. 6'3″ 204 lbs at sixteen and he can run, stop/start, and move side to side. While I don't believe camp film tells the whole story (and sometimes it says very little at all), if you're 6'3″ 200+ lbs and you're covering wide receivers, that is really impressive. If you haven't seen this film of Akylen covering WRs at the Rivals camp (he was a "top performer" there), do yourself a favor and watch it:
Like I said, Mayfield isn't a refined cover guy, but everything you want to see is there to feel comfortable enough projecting him as one. He's even got another gear at the top end to make up ground. It is just flat-out rare to see someone that big, relying primarily on natural talent, mirror and running with wide receivers.
People always ask if a player is "OU good." In my opinion, Mayfield is good enough to play anywhere in the country. He's got NFL draftable upside at multiple positions. He could play safety, but I think where he'd be really special is as an OLB that you never have to pull out of the game because he has the athleticism to play any type of coverage. He also has the frame to put on the weight he'd need to look like a legit LB. I even wondered, at times, if Mayfield could refine his technique enough to player corner. He told me his favorite football player is Richard Sherman. In fact, he said it was Sherman that really inspired him to play defense.
Mayfield might be a risk for some schools because he isn't trained at the position he'll play in college, so questions of physicality and the like are going to be there until film of him demonstrating all the necessary traits are available from his senior year. However, if I'm recruiter/coach, I'm taking the chance on him. Too many rare qualities that, as a coach, you'd just love to get your hands on and refine!
2015 OK PREPS FEATURES:
Week 3- Akylen Mayfield
Tune in next week for our fourth edition of the OK Preps feature player.