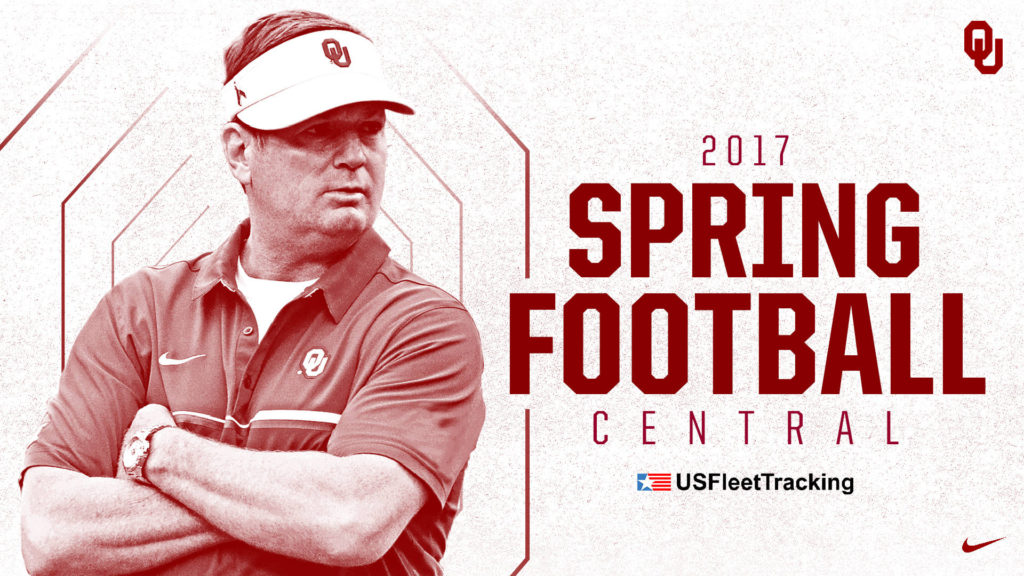 Biggest Questions Heading into 2017 Spring Football
Posted on: March 22, 2017
Image via SoonerSports.com
Spring practice starts this week for the Sooners – thank goodness for football time, even if it's just the watered-down spring version. It's hard to ever know how much useful information spring football will provide, as it's often used as a time to test the young guys, allow others to recover from various injuries, and let the veterans see limited action. However, there are several things that we as Sooner fans hope to see answered in the near future. Here are some questions at each position we'll be looking to find out more on as spring practice progresses. These won't be position previews – although links to those are scattered throughout – but rather questions for the positions relating to guys we'll see this spring. (We'll only be looking at questions that we may actually see answered this spring, so we won't have any thoughts on this particular post about freshmen not yet on campus or who might redshirt).
Quarterback
Who will the starter be? Ok, I jest. Really, the only question that might actually be hinted at this spring is the capacity in which Kyler Murray may be used. He's performing for both baseball and football at the moment, along with recovering from a hamstring injury. We'll hope to find out more about his place on the offense soon. You can see more on OU's quarterback situation at our position preview – TFB – QB Spring Preview.
Running Back
This one will be a real battle this spring. Our positon preview for running backs can be found here – TFB – RB Spring Preview.
How healthy is Rodney Anderson? Stoops said in Monday's presser that he's good to go, adding that "if we had a game next week, he would play." That, obviously, is encouraging. Abdul Adams and he will be the returning guys battling for time. Which one of the two earns more touches this spring?
For the 2 new early enrollee running backs, there are several questions. Which of the new guys will get the most carries at running back? In our preview, we predict it will be Trey Sermon. However, it seems likely that Marcelias Sutton will get his touches in a variety of ways. Stoops mentioned Monday that Sutton is being looked at for punt returns, which is an exciting option for him. What other options does Lincoln Riley look at for him?
Offensive Line
JY gave a fantastic position preview for the O line, which is here – TFB – O-Line Spring Preview. Although there is quite a bit of experience returning, there will be several position battles this spring.
Orlando Brown has the left side locked down. After that, there are some questions as to who starts where. What I'm excited about is how different this year's questions are as opposed to those of previous years. For what feels like a while, coming into spring there has been some experience and some new guys. Some positions were set, but it was hard to know what to expect, and fans weren't certain of the reliability of each position. The question this year is how to ensure the best five guys see the field, as there's so much talent and experience it's hard to know what to think.
One reason for this is the versatility Coach Bedenbaugh has built. He's brought in guys that can play several positions: Samia has started at right tackle and right guard, and JY states in his position preview that a move to center could be in the cards for next year. This type of versatility and talent breeds some excellent competition. JY's bet (and he's much smarter than me, so I'm going to make this my bet as well) is that the starters will be Brown, Ford, Wren, Powers, and Samia. Will these be the guys taking the most touches at their positions? Also, who will emerge as the backups at each position? Again, with the versatility OU has, several key backups can play more than one position and have seen quite a bit of experience already, so it will be interesting to see who can earn the playing time.
Receivers
Another position with a lot of questions. With the departure of Dede Westbrook, the "go-to" guy label is open for the taking. We give a breakdown of many of the guys here – TFB – WR Spring Preview.
One question is the full health of Mark Andrews. Stoops mentioned in Monday's presser that the shoulder injury was pretty discouraging last year. Is Andrews 100%? Also, how does Riley line him up this spring? He's often been lined up in a slot position, but he's capable of being lined up at tight end or out wide.
For returning guys who played a good bit last year, who emerges as the number one receiver? Does Jeffery Mead continue his strong progression and become the big outside threat? Do Mykel Jones and Nick Basquine continue growing as great options?
Another question is the playing time of some returning guys who haven't seen the field as often as others. Can receivers like A.D. Miller, Dahu Green, and Jordan Smallwood earn some playing time? They have all had a hard time playing consistently, and with the talent around them and coming in it may be the last chance to prove to the coaches they're ready.
Lastly, how is Marquise Brown (the lone early enrollee of the three new receivers) used? He follows the line of small receivers OU has used with great success – can he be a burner like Westbrook was? Additionally, can he be used in the kick return game?
Defensive Line
With the decision to use more 4 man fronts, there will be one more spot for the taking here. I think this position group is almost all very open for competition. Returning guys with a lot of experience include D.J. Ward and Matt Romar. Can they hold on to playing time? After that, there's not much experience to fall back on. There are guys like Neville Gallimore, Du'Vonta Lampkin and Marquise Overton that Sooner fans want to see more of: can they make a statement this spring? Arthur McGinnis, Kenneth Mann, and Amani Bledsoe will all be vying for playing time as well.
Linebackers
OU found themselves a couple outstanding outside linebackers in Obo and Caleb Kelly, and neither is going to be giving up their spot. Inside, however, the competition is pretty wide open. Who emerges as the main middle linebackers? Stoops specifically mentioned Ricky DeBerry, Jon-Michael Terry, and Kapri Doucet as guys they plan on looking at inside. Emmanuel Beal will be another returning guy to look at. Levi Draper is an early enrollee, so it will be fun to see if he can earn some playing time at that spot – he's good enough to do it. As OU moves to the 4 down linemen more often, the linebacker spot may see the field less, especially when a nickel is used. Who makes their case to be on the field every snap? (I hope Caleb Kelly is one).
Defensive Backs
This is another position with some returning guys for the Sooners. Ahmad Thomas left, freeing up the free safety spot. Stoops said in his presser that Will Sunderland is currently taking those snaps. Is anyone else being looked at there? Steven Parker will stay at strong safety, but as he recovers Kahlil Haughton is taking those snaps.
At corner, the Jordan bros will be looking to keep their spots. Does anyone else crack some playing time? Also, does Will Johnson take snaps at nickel, or is someone else going to eventually earn those?
Special Teams
Does anyone give Austin Seibert a chance to sit down? While we all are excited for Seibert, and he's a good all-around talent, having to kick off, kick field goals, kick extra points, and punt last year eventually took its toll. Many teams have 3 guys split all of that up. Can someone else take over one or more of those responsibilities?
We mentioned Sutton and Brown as guys they're already looking at as returners – who else gets a look at returning?
Summary
There are our biggest questions at each position. The biggest ones of all those, for me, are:
*Who emerges as the main running back?
*Which guys get the most targets at receiver?
*Which defensive linemen look to earn the most playing time?
*Who will start at middle linebacker?
What are your biggest questions heading into spring football?