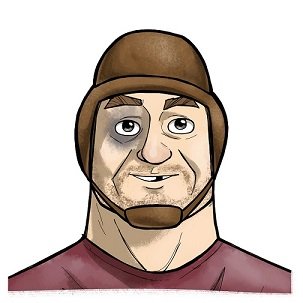 2017 OU Spring Position Preview: Offensive Line
Posted on: March 15, 2017
We're coming up on the start of spring football practice (which begins Tuesday, March 21st), so let's take a look at how some positions are shaping up for OU. The 2016 football season got off to… let's call it a slow start, but gained traction nicely on the way to an undefeated Big 12 run and an impressive Sugar Bowl win over a highly touted SEC defense. The growth of the squad was on full display by the end of the season, and created a lot of excitement coming into 2017. The Sooners lost several key pieces to graduation and the NFL draft, but retained a lot of experience at several positions. We'll take a look at each position group, seeing where they are now and what they might become during football season.
Quick Position Overview
Coming into the 2016 season, there was about an equal amount of optimism and uncertainty surrounding the offensive line. On one hand, the Sooners were replacing two guys who seemed like they had been around forever in Ty Darlington & Nila Kasitati. On the other hand, there were unproven, yet talented, guys like Cody Ford, Alex Dalton, Ben Powers, Bobby Evans, and others waiting in the wings. The Sooners returned Orlando Brown, Jonathan Alvarez & Dru Samia who, by the end of the 2015 season, had come in and helped solidify the offensive line, and had been part of the Sooners going on a run that we as fans hadn't seen in several years.  Leading up to the playoff game against Clemson, it seemed like the Sooners were a team of destiny; many, myself included, didn't think the Sooners could lose given the way they had finished the regular season.  As the Clemson game unfolded, the Sooners seemed like they just needed a little bit more in a few places. Be it length at the tackle spots, or more battering ram type guys in the middle of the o-line, the metamorphosis of the blueprint that Coach Bedenbaugh was putting in place just hadn't fully matured yet.
Opening 2016, I believed after watching all of these guys during their prep careers & piecing together what we had heard in camp that at some point, Ben Powers & Cody Ford would be the guards, Orlando Brown & Dru Samia would be the tackles & Jonathan Alvarez would be the center. After the guys started the season 1-2, including a head scratching loss to Houston & a frustrating one to Ohio State, there were a lot more questions than answers. Knowing me as well as you guys do, I'm always chirping about running the ball more.  During the two early losses, the Sooners ran an average  of 31 times & threw 33 times. When they reeled off 10 wins in a row, as well as the ULM win, they ran it an average of 46 times & threw it 29 times per game. Down the stretch against ISU, Baylor, West Virginia, Oklahoma State & Auburn, the Sooners really found their identity, and that margin widened to 50 runs & 24 passes per game. In large part, the play selection was due to the offensive line settling in and getting comfortable.  It didn't hurt having Joe Mixon and Samaje Perine to hand it to either. So where does that leave us this spring? I'm gonna go through it blow by blow and give you my thoughts on each guy and how they play into the spring & fall outlook for 2017.
Orlando Brown
Can you start anywhere else?  The talented soon-to-be junior enters this spring after being selected the Big XII offensive lineman of the year. Much like Cam Robinson, who played left tackle for Alabama, Orlando is a guy who started early on in his career and will be entering his third year as the anchor of the offensive line. Watching him transform his game, he progressed from a guy who surprised everyone in 2015 by taking the job at left tackle to being nothing short of dominant at his position by the end of 2016. Given Stoops history of not putting star players at risk in the spring, I'd expect Orlando to get limited action in the spring. You have guys like Erik Swenson who, in the past in an Oklahoma offense, would possibly have been asked to come in and play right away, but with the emergence of Bobby Evans on the right side, Dru Samia was able to bump down inside.  Subsequently, Erik was able to redshirt, and will provide quality depth along with guys like Christian Daimler and talented incomer Adrian Ealy. Back to Orlando, I expect this to be his final spring and most likely his final year as a Sooner. He'll be a top 10 pick next year as a tackle along the lines of Trent Williams. Jammal Brown, another 1st round tackle selection for the Sooners, has taken on a mentoring role with Brown, and his nastiness can be seen in Orlando's game.
Ben Powers
Ben is a guy I had pegged to take over one of the starting guard spots by the time the spring was over last year. I may have jumped the gun a bit on the timeline, but the end product was very much in line with what I saw from his Juco film. Ben is that monster Jumbo guard that Coach B loves along the interior. By the time the Auburn game ended, the very talented Tiger d-line wanted to have nothing to do with Mr. Powers. On the power play that Samaje walked into the endzone off of the wildcat look, Ben and Orlando had taken their guys 5 to 6 yards deep in the endzone. Leading up to that game, the big D-Tackle Adams for Auburn was the talk of the town. By the end of that game and that play, Ben and the rest of the OL had just flat wore 'em out. It takes some time for an O lineman to really settle in and become comfortable in what they're doing. Being the stereotypical road grader and not the dancing bear type, Ben, like most offensive linemen, really needs that familiarity and decisiveness to help him play with an edge. I expect Ben to retain his spot as a starter at guard, but the battle for playing time across the interior will be intense.
Erick Wren
Quietly, Erick came in and took the starting job. Jonathan Alvarez began the year as the starter at center listed at 6'3″ 308. While Erick is listed at 6'2″ 310, there's a sturdiness about him that can't be disputed. In several situations, he was able to handle Auburn defenders one on one as the run game really got rolling late in the Sugar Bowl game. It seemed like once he took over for the Sooners as the starting center, the line really started coming together. He'll be the lone senior along the front, and while he may not be the flashiest guy, he's a rock-solid, dependable center who serves as the tip of the spear up the middle for the Sooners.
Dru Samia
In a word: versatile. Here's a guy who came in as a true freshman and started for a College Football Playoff team at right tackle. A year later, in large part due to Cody Ford's injury and Bobby Evans' emergence at tackle, he's able to slide down and be an upgrade on the right side at guard. You think back to start of the year, Alvarez was at Center with Cody Ford at left guard and Alex Dalton at right guard. Samia was at right tackle, but at 6'4″ he's probably better suited to be an interior player. After the offensive results against Houston & Ohio State were less than expected, Coach B shook it up and moved Wren to center, Powers to left guard & Dru bumped down inside. While a lesser individual would have been upset about the move inside, Dru's character and upbringing shined.  When it's all said and done, he'll be a guy who can possibly say that he played every position at Oklahoma along the o-line.  After Wren graduates this year, it wouldn't surprise me a bit to see Dru in the middle as a center with Powers and Cody Ford at the guard spots in 2018.  This year, however, the competition along the interior is going to be flat out intense.  I expect the spring to be a battle along the interior.  It's perfect for the overall health and performance of the team as Bedenbaugh's plan is starting to come together. Something of note that can't be denied is the expectations that Dru's family puts on him. Whenever you have that type of expectation to perform from those who care about you the most, it brings out the best in you.  Dru is going to be starting somewhere…Is it at tackle, guard or center?
Cody Ford
Before the injury, I believed that Cody Ford was playing as well as anyone along the interior. You heard stuff coming out of practice about his athleticism and power. On that first drive against Ohio State before he got hurt, the Sooners were marching down the field at will. After he went down, something changed. Erick Wren came in at center, Alvarez bumped over to guard and the offense just didn't click like it did before he went down. Knowing Cody, he thinks that that job is still his. Now however, you've got Dru Samia, who has started 22 games already at right guard, and Ben Powers, who emerged as (no pun intended) a very powerful guy up front. Then you mix in Erick Wren, who upgraded the center position, as well as Jonathan Alvarez & Alex Dalton, and you've got six tough, experienced, very talented guys who are gonna be fighting it out for starting spots. Every day in practice this spring and during the season, these guys are going to be driven by the knowledge that the slightest slip could cost them their job. I'd love to be a fly on the wall in film sessions and practices to see how these guys work and who steps up to be the alpha dogs. With Samaje Perine & Joe Mixon gone now, this offensive line is going to have something to prove to show that it wasn't all just those guys. I don't know exactly how all of this shakes out, but knowing Cody's dad, they think like Alpha Males. Will Cody be so good that a battle takes place between Evans and Samia at tackle? How do these battles shake out?
Bobby Evans
As a redshirt freshman, here's a guy who played in all 12 games. With Orlando being in what most likely is his final year, the natural progression would be in 2018 to slide Bobby over to the left side after being a two year starter. Bobby's dad was a basketball player for the Sooners and the family's athleticism shone through. While other guys were getting publicity along the front, Bobby slid in and, after Dru Samia's move to the inside, really solidified the right side of the offensive line. His emergence allowed Bedenbaugh to move other guys around at center and left guard while giving quality depth at every position. In the past, the Sooners were one guy or one play away from being in big trouble up front. This is no longer the case. Outside of maybe one or two plays, Bobby played far beyond what you'd expect out of a redshirt freshman. I'd expect him to really progress in what will be year three.
Key Reserves
Jonathan Alvarez, Alex Dalton, Erik Swenson, and Ashton Julious will all be vying for playing time. When you look at who the Sooners have battling for starting spots, and then you look at the key reserves in addition to who they have coming in as true freshmen, there's no shortage of talent along the offensive line. In years past, the offensive line, especially in the Landry Jones years, wasn't able to run the ball like they do now. Also, you had the philosophy of going after dancing bear types rather than steamroller types. When Bedenbaugh took over, everything changed. How they trained, how they ate, how they recruited and now the end product: how they produce. Any one of these guys could battle for playing time this year; Jonathan Alvarez was a starter two years ago, and had his job taken this year. I'm as big a fan of Alvarez as there is, but the competition up front is fierce. Erik Swenson is going to be a guy to keep an eye on as the potential 3rd tackle; does he emerge enough to allow Bedenbaugh to keep Samia at guard if something happens to one of the other two guys? The cream is gonna rise to the top in this group, and the heat will be provided.
Incoming Freshmen
Probably the best overall class in my memory in terms of versatility, talent, attitude, athleticism, and nastiness in my years of following Oklahoma recruiting.
Creed Humphrey is the center who's 6'4″ 290. He's definitely the biggest center I can remember the Sooners recruiting or having. He had a very strong showing at The Opening and, for whatever reason, was underrated by most services. In talking to guys like Alex Leatherwood (Alabama) & Saadiq Charles (LSU), Creed was in the final five for their group at The Opening, and they raved about him. His hands and nastiness was something they really liked.
Tyrese Robinson is a guy who has the athleticism, size, and power to play inside or outside. At 6'4″ 310, he's that jumbo athletic guard that Bedenbaugh loves. His size and power gives you someone who can be the battering ram inside, while his length lets you pop him out to tackle in case of emergency. He's a guy who played tackle in HS, but will be a very athletic steamroller for the Sooners. The highest rated recruit among the incoming guys was Tyrese; it'll be interesting to see how he does.
Marquise Hayes is another guy just like Robinson. At 6'5″ 320, he'll be a guard along the lines of a Ben Powers, but again at 6'5″ has the athleticism to bump outside. See a theme here? Bedenbaugh gets the biggest, most athletic, nastiest guys and just gets 'em on campus. The details kind of work themselves out after that. Marquise is one of those thick-necked guys that come in and, once Coach Tiff gets done with him, he'll be someone opposing defenses hate see coming the other way.
Adrian Ealy is the tackle. Somewhere between 6'6″ & 6'7″, he's a supremely athletic guy that will play on the edges. Once he's on campus, you have Brown, Evans, Samia, Swenson, Daimler and Mittermeier who can keep this guy off the field to let him redshirt. He's a Louisiana kid who had offers from LSU and Michigan. When you look at him compared to guys like Tyrese and Marquise, you can see the difference in body types. You need his length outside to take on those big 6'5″ & 6'6″ edge rushers everyone goes after.
Summary
Outside of Orlando Brown, a potential top 5-10 pick and potential Outland Trophy frontrunner, I'd say no one's job is safe. With the versatility, talent & depth that Coach Bedenbaugh has amassed, the expectations for the group couldn't be higher. If I were a betting man, my picks as starters would be Brown, Ford, Wren, Powers & Samia come day one next fall. I've been wrong before, and who knows how it'll shake out. Still, don't gimme the pretty, gimme the gritty. I love how Wren & Powers just came in and took jobs from more experienced guys & Samia basically said eff you, I'm not giving it up. Had Cody Ford not gone down, I don't think he gives up his job either. Finally, I think this group as a whole has more depth and experience than I've seen in a long, long time as an Oklahoma fan. Riley is going to need to count on this group early to keep Baker upright & clean while letting the new running backs get comfortable. I'd expect a heavy dose of leaning on these guys to lead the team. I don't want to get too excited, but this could be a special year for the Sooners. To me, it's not a question of whether or not this group will be good. It's just a question of how good they're gonna be and whether or not they're so good they can carry the Sooners to #8.