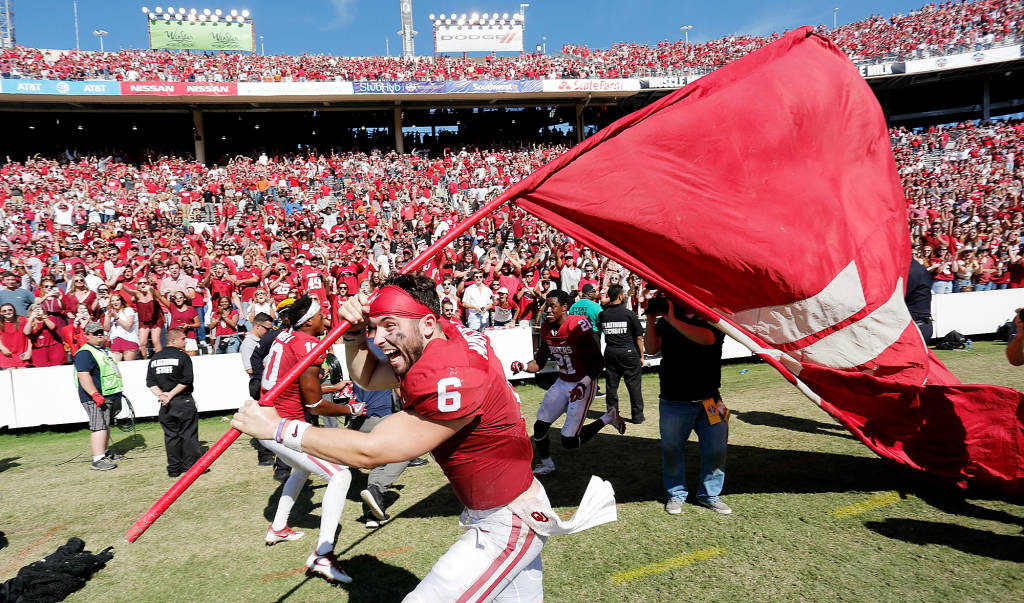 2017 OU Spring Position Preview: Quarterbacks (UPDATED 5:25 pm)
Posted on: March 7, 2017
Image via SoonerSports.com
We're coming up on the start of spring football practice (which begins Tuesday, March 21st), so let's take a look at how some positions are shaping up for OU. The 2016 football season got off to… let's call it a slow start, but gained traction nicely on the way to an undefeated Big 12 run and an impressive Sugar Bowl win over a highly touted SEC defense. The growth of the squad was on full display by the end of the season, and created a lot of excitement coming into 2017. The Sooners lost several key pieces to graduation and the NFL draft, but retained a lot of experience at several positions. We'll take a look at each position group, seeing where they are now and what they might become during football season.
Quick Position Overview
Although the Sooners will experience some turnover at several positions, they kept every single quarterback they had on the roster last year. They also picked up a talented freshman in Chris Robison to add to a healthy crowd of options under center. Outside of the starter, however, we've had almost no look at many of the quarterbacks on roster for 2017. Let's look at the 4 scholarship quarterbacks.
Baker Mayfield
***Spoiler Alert*** Mayfield is going to be the starting quarterback for OU in 2017. Hot take of the day. You heard it here first.
Thanks to the Big 12 coming together to make a logical decision (a rarity in and of itself), Mayfield is coming back for his fourth year of eligibility after yet another fantastic season. During his 2016 campaign, he broke the all-time FBS record for single-season passer rating with a 196.39, finished 3rd in Heisman voting, had a completion percentage of 70.9%, and threw 40 passing touchdowns to only 8 interceptions. Needless to say, he's set the bar high thus far.
One big change for 2017 will be the new weapons he has at his disposal. Perine, Mixon, and Westbrook are all headed to the NFL, so Baker will be surrounded by fresh faces to help propel the offense. His "go-to" receiver could be one of several guys (we'll look at that more in our receiver preview). It will be interesting to see how a new cast around him affects his play. Another situation to think about for Baker – you knew it had to be mentioned – is the arrest incident. What sort of punishment does Bob Stoops lay down for him? What effect does this have on him integrating with the offense, especially if his first game to play in is Ohio State? These will be questions we'll begin to understand more when we hear Stoops' take on the situation.
Austin Kendall
The only other quarterback we've seen during a game for the Sooners is Kendall. The departure of Trevor Knight and Cody Thomas last year set him up as the backup to Mayfield during a year he would have had the chance to redshirt. He appeared in the ULM and Kansas games, throwing a total of 22 passes and 2 touchdowns at a 73% completion rate.
While this is just speculation, one would have to think that the chances of Kendall redshirting this year are at least within the realm of possibility. The idea isn't meant as a knock to Kendall, but it could save him a year of eligibility and allow him to continue to grow as a player. Another reason to consider this is the eligibility of another quarterback who does not have a redshirt remaining and appears ready to play…
Kyler Murray
The highly hyped former Texas A&M quarterback will finally be eligible to play in 2017. He is a former 5 star recruit with some incredible on-field speed that can bring a different dynamic to the Sooners offense.
It's foolish to think that Murray will replace Mayfield in any capacity after the incredible 2 seasons Mayfield has had; however, it seems ludicrous to think that Lincoln Riley would not use all the weapons at his disposal. Riley has mentioned that Murray changing positions is possible, but was also quick to mention that Murray has too much potential at QB to ignore. It seems more likely that Riley will keep him at quarterback while attempting to maximize the potential of the offensive firepower.
There is already rampant speculation on the different ways Lincoln Riley may choose to use Murray this season. Some of the more obvious options include: having Mayfield come off the field and Murray play QB, having Mayfield stay at QB and set Murray up as a slot receiver, having Murray play QB and Mayfield step out wide, and having both in the backfield in such a way that it is unclear who will get the ball. All of these options can create incredible confusion for the defense, with the option of either throwing, running, or catching the ball (and even then still maybe throwing) all being very real threats.
One potential cause for thought on Murray is his baseball career. The guy can flat out play, and was already gaining MLB draft talk when he committed to Texas A&M to play football. If a career in baseball appeals more to him than one in football, this will have an obvious impact on how long he is at OU.
**UPDATE** A source has informed me that Kyler Murray has been taking QB reps exclusively in player-led 7v7. We still expect OU to come up with packages that suit his skill-set – possibly ones involving him in different roles – but for now that is what is happening.
Chris Robison
The newest addition to the quarterback position at OU is Chris Robison. A highly sought-after recruit, Robison committed in June of 2015 and stuck with the Sooners for the entire period. Our own McKinzie has already put out a fantastic film review of Robison (check it out here TFB: Chris Robison Film Review). The obvious hope with Robison is that he can redshirt in 2017. There are several guys ahead of him who will be controlling the playing time, and a year to grow can be great for anyone.
Summary
With a Heisman-candidate returning as a starter and several talented options behind him, this is a position group Sooner fans should be thrilled about. The only question to answer before the season begins is how to integrate Murray into a Mayfield-centric offense. The other question that will be answered in time is this: does having this much depth at quarterback become a deterrent in either recruiting or to the guys behind Mayfield? Quarterbacks transferring has become common in college football, so one has to wonder if any of the guys who could be several years from starting for OU take this route. The hope for Lincoln Riley would be that they all stick around to create healthy competition and develop as the next starters for the program. Regardless, OU has a fantastic quarterback situation to work with in the 2017 season.