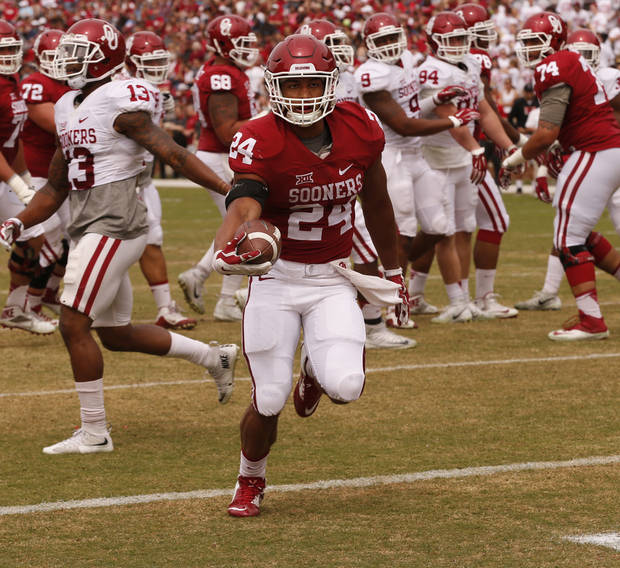 2017 OU Spring Position Preview: Running Backs
Posted on: March 14, 2017
Image via NewsOK.com
We're coming up on the start of spring football practice (which begins Tuesday, March 21st), so let's take a look at how some positions are shaping up for OU. The 2016 football season got off to… let's call it a slow start, but gained traction nicely on the way to an undefeated Big 12 run and an impressive Sugar Bowl win over a highly touted SEC defense. The growth of the squad was on full display by the end of the season, and created a lot of excitement coming into 2017. The Sooners lost several key pieces to graduation and the NFL draft, but retained a lot of experience at several positions. We'll take a look at each position group, seeing where they are now and what they might become during football season.
Quick Position Overview
Running back may be the area with the most turnover for the Sooners. Samaje Perine and Joe Mixon are both NFL bound, and Daniel Brooks retired in the fall of 2016. Over 80% of last year's running yardage is NFL draft bound or graduated between those three and several others playing out of the backfield. That's… a lot. It would seem that spring practice will be pretty wide open with competition.
Returning guys who will be heavily looked at will be Abdul Adams, Rodney Anderson, and Dimitri Flowers. Incoming guys in the backfield are Kennedy Brooks, Trey Sermon, and Marcelias Sutton. One advantage all of these guys will have is being able to run behind one of the country's best offensive lines. We've had very little look at any of these guys on the field for OU, but let's see what they could bring to the table. McKinzie was kind enough to offer some of his own wisdom, so his excellent thoughts are scattered throughout the post.
Abdul Adams
Abdul Adams is the only one of these five running backs we saw on the field for OU last year. He's a smaller back at 5'10" and 205 who played in 7 games in 2016, rushing for 283 yards at a clip of 5.3 yards per carry. The ideal plan for the 2016 football season would have been to have Adams redshirt. However, Alex Ross transferred to Missouri, Daniel Brooks retired from football, Rodney Anderson suffered a season-ending injury, and… cue Abdul Adams. There was also probably a desire within the program to get him some playing time with the possibility (and eventual reality) that Perine and Mixon may head to the NFL. Adams has had more playing time than any of the other guys, but I don't believe that will necessarily impact the upcoming season. This is a wide-open competition, and several other guys will be vying for playing time, including…
Rodney Anderson
Poor Rodney Anderson. Even Jason White played more in consecutive injury years than Anderson has. During the 2015 season, he played sparingly in the Akron and Tennessee games, rushing the ball just once. A broken leg in the midst of the Tennessee game would end his 2015 campaign. Then, after recovering from that injury and participating in practice with the team leading up to the 2016 season, it was announced just weeks before the first game that he had suffered a neck injury during a scrimmage. Leading up to both of these seasons, Anderson was spoken of very highly. Although he would have taken third seat behind Perine and Mixon, he would have undoubtedly contributed during these seasons. Hopefully, the third time is the charm.
Since I know many have already may be wondering how much eligibility he has left, Anderson was able to take a redshirt for the 2015 season. My understanding of the "medical hardship waiver" is that a player must compete in less than 30% of the season's game and must have had a season-ending injury. Both of those stipulations can emphatically be answered "yes" for Anderson. This waiver is not usually applied until later in an athlete's career.  It is rare for players to get 2 extra years (one a redshirt, one a medical waiver). Still, speaking of Jason White, there are examples of it happening when both seasons ended due to completely uncontrollable circumstances. All of that, however, is moot unless Anderson can stay healthy. It is also unlikely that he would stick around for 6 total years even if healthy, as many backs decide to pursue an NFL career before their body takes too much abuse.
At 6'0" and 220, Anderson is comparable in size to Joe Mixon as a big and strong running back. Rodney Anderson is a very talented back and, if healthy, figures to contribute heavily to the offense this season. Coaches were excited for his potential before both the 2015 and 2016 seasons. He may end up being OU's featured running back in 2017.
Dimitri Flowers
OU has a habit of taking versatile fullbacks and using them in a variety of ways, turning them into fan favorites. Enter Flowers. A guy who had never carried the football in his career until midway through the 2016 season, he has mostly focused on blocking or catching the occasional pass. The Iowa State game performance, when Mixon and Perine were both out, will live on forever. He entered the game and gained 115 yards on 22 carries. Flowers won't often be asked to carry that kind of load, but it's nice to know that he is capable of being used in so many different ways. He will continue to have a positive impact on the offense.
Kennedy Brooks
One of OU's signees in the 2017 class is Kennedy Brooks. At 6'0" and 197, he's a little undersized for what you'd expect at his height. I suspect that college workouts will build up his frame a bit more. Brooks is a good back, and will contribute during his career at OU. For the 2017 season, however, it seems that he is the most likely to redshirt out of the three coming in. One very simple reason for this is that the other two (Sermon and Sutton) are both already enrolled and on campus, getting to practice with the team and improve on the college level. A year to redshirt, bulk up, and adjust to the college game could be a great thing for Brooks.
Trey Sermon
Trey Sermon is one of OU's two early enrollees. At 6'1" and 214, Sermon was already pretty built coming into the semester, and I'm quite sure that time in the weight room this spring has benefitted him. His frame looks like it could comfortably fit a few more pounds, putting him around that Joe Mixon size we mentioned with Anderson. He is a tough, physical back that can run through defenders and has excellent vision. Some of the coaches have already mentioned that he reminds them of Joe. McKinzie wrote up a great spotlight on Sermon (check it out here TFB: Trey Sermon Spotlight) which is too good for me to even attempt to expand on. Sermon seems ready to have an impact on the field this season: he'll get lots of playing time this year and could really make a name for himself.
Marcelias Sutton
The other early enrollee is Marcelias Sutton. He continues OU's run of adding talent from Lackawanna CC football. Sutton is a smaller guy at 5'9" and 198, but quite the player. Coaches have already raved about how explosive he is. He is a guy that has a lot of potential in the slot and coming out of the backfield along with this talent carrying the football. Sutton was brought in from Lackawanna to play, and it's hard to see him not getting on the field this year as a dynamic option for the offense.
One note on Sutton is this – in early February, our own Super K reported that Sutton had suffered a fractured foot. Sources expected a return date between 5-8 weeks (which should put him returning soon). We haven't heard anything new on this front, but at the very least the injury will have delayed some of the benefits of working out with the team by enrolling early.
Summary
Running back seems to have the greatest gap of any positon group between experience and potential – there's very little field play between the guys, but a lot of great talent to work with. Adams and Anderson have been with the program the longest, but don't have much playing time between them. Sermon and Sutton have benefitted from enrolling early and working out with the team, while Brooks will be joining later this year. Overall, I think that Anderson will get the most carries this year. Adams will get some carries, but will have to fight for all of them. Sutton may get his touches in a variety of ways, but look for Sermon and him to be second and third in line in getting roughly the same amount of touches. This is a position group many Sooner fans will be excited to see develop.