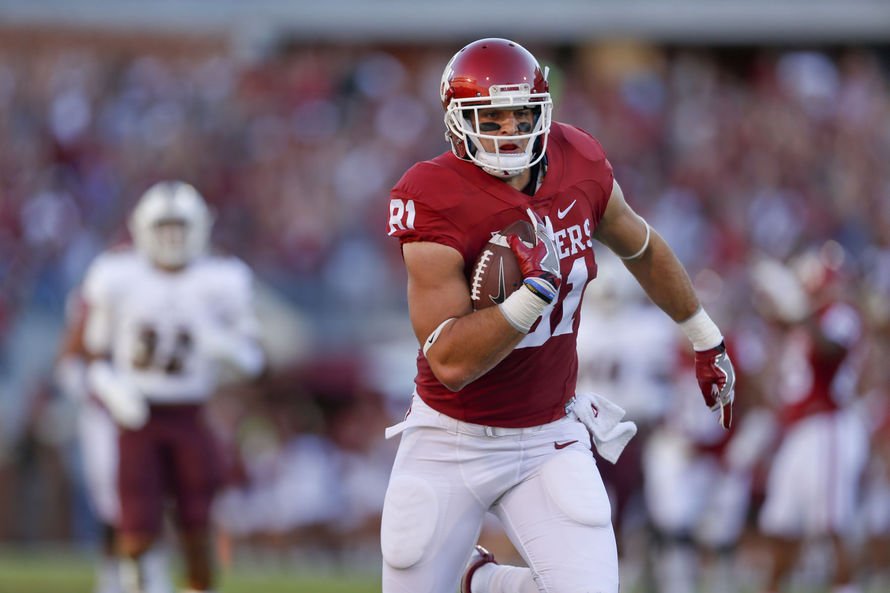 2017 OU Spring Position Preview: Wide Receivers
Posted on: March 20, 2017
Image via Tulsa World
We're coming up on the start of spring football practice (which begins Tuesday, March 21st), so let's take a look at how some positions are shaping up for OU. The 2016 football season got off to… let's call it a slow start, but gained traction nicely on the way to an undefeated Big 12 run and an impressive Sugar Bowl win over a highly touted SEC defense. The growth of the squad was on full display by the end of the season, and created a lot of excitement coming into 2017. The Sooners lost several key pieces to graduation and the NFL draft, but retained a lot of experience at several positions. We'll take a look at each position group, seeing where they are now and what they might become during football season.
Quick Position Overview
I think I'm just going to save this sentence for future use, seeing as it would have applied very well a handful of times over the last several years: OU loses a star receiver who is going to be very difficult to replace. Dede Westbrook was obviously a special guy, bringing home the Biletnikoff Award and finishing in the top five of Heisman voting. His impact on the offense was massive, as he was both a deep threat and a guy fast enough to turn a quick pass into a long gain. Additional impact losses at receiver include Jarvis Baxter and Geno Lewis. Lewis emerged as a very dependable player after transferring to OU for the season. When the options of Samaje Perine and Joe Mixon catching the ball are factored in, OU is losing over 60% of last year's receiving yardage.
With that said, there are several guys returning who will be impactful and another few coming in. We're not going to go over every single receiver that OU has on their roster, but we'll take a look at some guys who could have a big influence this year.
Mark Andrews, Jeffery Mead, Nick Basquine, Mykel Jones, Zach Farrar, AD Miller, and Dahu Green are among the returning players who will be vying for playing time. Marquise Brown, CeeDee Lamb, and Charleston Rambo are incoming players who will try to make their mark early. We've seen most of the returning guys in some capacity, but 2017 will show a very different receiver lineup than we've seen thus far.
Like the running back preview, McKinzie offered up some pearls of wisdom that are scattered throughout the post.
Mark Andrews
Difficult to start anywhere but here. At 6'5" and 250, Mark Andrews has a combination of size, strength, and speed that most teams don't see often. He is someone with too much speed for most linebackers and too much size for most defensive backs. His receiving impact increased in 2016, with 31 receptions for 489 yards and 7 touchdowns. He gets lined up outside, lined up in the slot, lined up on the line… there's a multitude of ways that Lincoln Riley uses him. He's possibly most lethal in the redzone: there are just so many ways he can hurt you.
For whatever reason, this play has always stuck with me.
Lincoln Riley knew how West Virginia was going to line up, and was able to draw something up for Andrews. His route running here is excellent, as he doesn't tip off either safety too early. It ends up looking almost too easy.
Additionally, his downfield blocking is just fantastic. There have been many occasions of him springing someone free for a few more yards because of an extra block 30 yards from the line of scrimmage.
2017 should be the year when Andrews is used to his full potential. He looks to be one of the more dangerous guys out there to cover, and will be in his third year of the offensive system. Look for him to be a big problem for defenses this year.
Jeffery Mead
Mead was a guy who many were excited to see take the next step last year. While it may have taken a while, he came on strong in the second half of the season for the Sooners. Ending the season with 10 receptions and 150 yards for 3 touchdowns, Mead developed as another target for Mayfield. He's a big receiver, coming in at 6'5" and 195, and has the potential to be a hard matchup for opposing defenses. There were concerns regarding his ability to hold onto the football during the 2015 season, but he improved greatly in that area and became reliable down the stretch, as seen below.
Jeffery Mead, all-hands team. https://t.co/F4bk3B1zPH

— SportsCenter (@SportsCenter) November 12, 2016
His size makes him a hard cover, and we've seen instances of his quickness once he has the ball.
OU's Jeffery Mead put the Iowa State defense through a spin cycle. ? #SCtop10 https://t.co/NXiJcPqexQ

— SportsCenter (@SportsCenter) November 4, 2016
He'll certainly have the opportunity to emerge as a big target for the Sooners.
Nick Basquine
Basquine is quite the interesting story. He walked on to the team prior to the 2014 season and immediately redshirted in his first year with the Sooners. During that year, he was named OU's Scout Team Offensive Player of the Year. Shortly before the 2015 football year kicked off, he suffered a hand injury that ended any chance of him seeing the field for the year. As he came back for 2016, Baker Mayfield sang his praises during practice, mentioning that he would be playing a lot. It was hard to know if that was just friendly talk or a real prediction. Then, Sooner fans got to see him in action. His first catch of his career came against ULM on a 62 yard touchdown reception. He went on to have 20 receptions for 265 yards and 2 touchdowns during the 2016 season. After an excellent performance against Iowa State, he was awarded a scholarship.
Earned every bit of it – congrats @NB5ive! pic.twitter.com/V5tYlbLI0E

— Bob Stoops (@OU_CoachStoops) November 12, 2016
All of that to say, Basquine has worked incredibly hard to get where he is, and has shown excellent potential as a receiver. As fans, it's fun to root for someone when you can see their passion and dedication.  He is both liked and trusted by both the staff and Mayfield, and we'll see even more of him in 2017.
Mykel Jones
Mykel Jones was a signing day addition for the Sooners in their 2016 recruiting class. He recovered from an ACL injury and was able to prepare for the 2016 season. He went on to contribute with 13 receptions for 106 yards. He showed flashes of being special during the year, but didn't play with great frequency. However, the ceiling seems to be very high for the young man. It will be fun to see what he can do when he gets more touches and has the ball out in space. He is explosive and very slippery in the open field, and this should be the year for him to show that, as he'll get his chances.
Zach Farrar
Farrar was a very late addition to the 2016 recruiting class for the Sooners. He has an excellent frame, with a big body to combat defenses. He redshirted for the 2016 season with a loaded wide receiver group ahead of him. Farrar is also a baseball player and, like Kyler Murray, plays for the Sooners baseball team. Although it's great to see athletes pursuing sports they love, it makes it tougher to be 100% focused on a single sport. It will be interesting to see if he can earn some playing time this year.
A.D. Miller & Dahu Green
These two have followed very similar career paths.
A bigger target, though not at the Mead or Andrews size, Miller saw limited action in 2015 during a year he could have redshirted. He showed some potential, but did not earn much playing time. Fast forward to 2016, and he started off the season strong. He had 7 receptions for 104 yards and 2 touchdowns through the first 3 games. That pace would have made him one of the most dependable targets for the Sooners. He finished, however, with a total of 12 catches for 145 yards and 2 touchdowns, and did not record a catch the last 6 games of the season.
Dahu Green has got some big size at 6'4" and 198. He, like Miller, saw just enough time in 2015 to avoid a redshirt season. In 2016, he was not on the field often for the Sooners, catching 3 passes for 89 yards.
Both Miller and Green have the skill sets to be excellent wide receivers in the OU offense, but have not taken that next step. It seems that this spring will be their chance to prove themselves to the staff, or risk losing any chance of playing time in 2017. With the guys ahead of them, they're going to have to really impress the staff to avoid sinking down the depth chart. That will be made even more difficult with the addition of several new guys….
Marquise Brown
Brown is the lone early enrollee of the three new receivers for the Sooners. Our own McKinzie has already put out a fantastic spotlight for Brown, which you can find here: TFB Spotlight: Marquise Brown. McKinzie gave an absolutely rave review of Brown (if you still haven't read it, go on and do it). He is really close in size to Dede Westbrook, and, like Westbrook, is wicked fast. For reference, Westbrook ran a 4.34 forty at OU's Pro Day; Brown ran a 4.33 forty at his junior college day. That's absurd. He finds a way to get open, and once he's in space is when the fun really begins. There is already talk of him being able to contribute by returning punts and/ or kicks for the Sooners. Brown was brought in to play, and it would be a shock to not see him make an impact at both receiver and returner.
CeeDee Lamb
Lamb had quite the journey to Norman. He committed in December 2015, then decommitted in April 2016, then recommitted in July 2016. After that, he became quite active in the recruiting process to get future Sooners to Norman. He was a highly rated receiver out of Texas and comes in around 6'2" and 170 (that same sentence will be repeated for Rambo). McKinzie's spotlight can be found here: TFB Spotlight: CeeDee Lamb. One of the descriptions McKinzie gives that is evident from Lamb's film is "nasty." When he has the ball, he's happy seeking contact. When he doesn't, he's happy going through someone to set a block. His hands are excellent, and adding some weight when he gets to Norman will make him a tough cover. Another point that McKinzie makes in the Spotlight is his ability to catch the ball at its highest point. The clip below shows him doing that, but the whole highlight reel gives multiple examples of it – he does such a good job of going to the ball.
He seems ready to play for the Sooners this fall, and should get some targets come fall.
Charleston Rambo
First thing's first: that's an awesome name. Rambo committed to the Sooners in March 2016. He was a highly rated receiver out of Texas and comes in around 6'2" and 170 (see? Great writing). His spotlight from McKinzie is here: TFB Spotlight: Charleston Rambo. He has a bit more speed than Lamb, and is excellent at adjusting to the ball during a route. Rambo has great field awareness and uses that to make catches others couldn't make.
His ability to know exactly where the sideline is here is fantastic.  He'll be another freshman to keep an eye on in 2017, as his skill set will be ready to be used by Riley.
Summary
Wide receiver has a mix of experienced guys and newcomers. Andrews will look to be a star for the Sooners. Expect to see Mead, Basquine, and Jones be solid options for Mayfield to find, and to all get a good amount of playing time. Farrar will be looking to earn some playing time. Barring a major jump this spring, it may be tough for Miller or Green to see the field this fall. Brown will get playing time in a variety of ways, and the Sooners' two freshmen in Lamb and Rambo are both too talented to not see the field this fall. Add all of that up, throw in a Heisman finalist quarterback to get them the ball and the most experienced offensive line OU has had in several years to earn them some time to get open, and OU's receivers in 2017 will look to be one of the deepest groups the Sooners have fielded in quite some time.