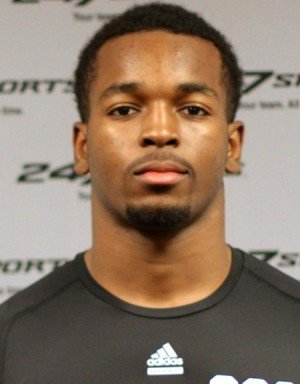 Open Post | Thursday, July 10th (UPDATED 6:51 pm)
Posted on: July 10, 2014
Image of David Long via 247 Sports
– Site Note: Wanted to start with a kind reminder to everyone that we want to ensure our TFB community is one that is welcoming and civil. We love the group of readers we have on this site, and we enjoy reading the many insightful comments. And we also welcome debate and disagreement. What we want to avoid is creating a place where anyone's comments are belittled. My (K) father taught me a lot and two pieces of advice he gave me when I was young are relevant here: (1) a gentleman peels his apple in private (2) and in public, when someone disagrees with you, respond with the tone and language you would use if the disagreement was with Mike Tyson (1980's Mike Tyson).
Even though we're all in the privacy of our own homes or offices (or wherever you may be), let's conduct ourselves the way we would if were in the presence of one another. And if someone disagrees with you or you disagree with someone, state your contrary opinion without any attacks or even subtle condescending tones. If you believe someones assessment is wrong, please state your opinion and leave out the "Really?" or "Are you serious?" or "Wow" or anything that unnecessarily belittles a person's opinion.
For the most part this hasn't been an issue. In fact, it's been great. But just want to remind everyone, including ourselves, so that it will continue as such.
– David Long: Yesterday Josh Helmholdt (https://twitter.com/JoshHelmholdt) of Rivals.com tweeted out that LB David Long from Ohio will be visiting Oklahoma this month. We checked in with David last night, and confirmed that he will be taking an unofficial visit to OU on July 21st. We'll have more on David later, and we'll try to offer up some general thoughts on his film. At first glance, he looks like he triggers really well and looks physical inside. But at only 5'11" 209 lbs, one has to wonder whether he can hold the weight you'd like to see in a 3-4 ILB. Weight isn't necessarily the end all be, all but it's a starting point for discussion. Either way the little bit of film we glanced at yesterday looked good.
– Justin Reid: Yesterday one of our readers sent us a direct message asking about Justin Reid, specifically noting that a couple of 247 analysts had recently "crystal ball'd" Reid to OU. Justin is a talented safety prospect out of Geismar, Louisiana and if you're wondering about his name, he is the brother of former LSU safety Eric Reid. We actually mentioned Justin on the site about two months ago (here  – 4th paragraph down). Reid has been contact with the OU coaches for a few months now. Coach Wright actually visited him during the spring evaluation period. Though, as we noted previously, an offer wasn't extended because OU has been waiting on Will Sunderland and Kahlil Haughton. We'll see what we can dig up and find out if OU might be looking to offer Reid. If so, that might be an indication that something we mentioned in the the old post linked above, namely that OU may not be willing to be as patient with Sunderland as they were with Parker.
– Jake Pickard: Some of you may recall us talking an awful lot about DE/TE Jake Pickard a few months back. For those of you who are like us and just enjoy seeing good football players go from no offers to many offers, wanted to give y'all an update on Pickard. He didn't have a single D-I scholarship when we first introduced him on our site. He now has 13 D-I offers including schools like Oregon, Purdue, Nebraska and several others. In fact this week he picked up an offer from the Wisconsin Badgers.
– PJ Mbanasor & Will Sunderland at the Opening: Yesterday we posted some of the WR vs. DB 1-on-1 reps from The Opening:
Some of you voiced some concerns about how the OU targets looked. And I want to reiterate what some others have said, which is that not a lot of conclusions can be drawn from a couple isolated reps in a camp setting where the WR has way more space to work in than they ever would in a live game setting. But for fun let's take a little closer look at some of the reps taken by OU targets.
PJ Mbanasor
1st rep: PJ had a couple reps on the video at 2:39 & 3:21 marks respectively. The first at 2:39 is versus Da'Vante Phillips. Phillips is a well trained WR out of Miami that plays with the Florida Fire, who I had a chance to see practice this past fall. When Phillips comes off the line, he looks like he's going to run a go (straight up the field) or some kind of an out route. PJ's eyes are in the right place, and he identifies the route and slows his backpedal, closes the gap, then starts to open up as Phillips does the same. Mbanasor is in great position to drive on anything outside or run with Phillips.
Additionally, you love to see him play the route so that he can play the ball. As Phillips stops and turns, Mbansor flips his hips in the other direction. It appears he thought Phillips was going to give him an inside route. Had he simply broken down and drove on the ball, he's in perfect position to make the play. So here, while Mbanasor lost the route, he does a lot of good things and nothing stands out as a red flag. In off-coverage he looks very comfortable judging his space. He's clearly trying to identify the route and play the ball.
2nd rep: The second rep is at 3:21. Preston, a Tennessee commit, is one of the many reasons you like a big CB. He's a big receiver that can run. PJ puts his hand on him early trying to prevent him from getting the inside release. While he isn't able to do so, he's big enough and strong enough to push Preston off his route and then squeeze him. Towards the end of the route, Mbanasor shows another thing I really love about him. He makes plays. More specifically, when he sees the route, he takes off his man and puts himself in a position to play the ball. Additionally, he has the short area explosion to close and bat the ball down. What you'd like to see him do is use his feet more immediately after his initial jam.
Will Sunderland
1st rep: Will's first rep comes at 1:29. Don't know much about the receiver he goes against, Trent Irwin. Will is playing off here which, as mentioned earlier, isn't the easiest thing for a DB in general, especially in 1-on-1 situations with so much space on the field. Preston makes a very sharp turn out and doesn't give Will much indication what he's doing early on. Preston seems to round the route a little early, and you can see Will start to shift his balance for a moment as he reads it but then second guesses himself. And like a true safety, not wanting to give up anything deep, he gives ground and doesn't open up. In my estimation, the two problems of note here are that (1) he doesn't let the receiver come to him. He's giving up way to much ground to compete. And (2) he actually opens up pretty quickly after Preston stems and opens, but he doesn't have enough explosion to really drive and close that gap even remotely.
2nd rep: The second rep is at 5:06. Will goes against TE and Kentucky commit, CJ Conrad. Conrad is a big kid at 6'5″ 230 lbs, but obviously doesn't have the athleticism of a slot WR. Will again is giving to much ground and not letting the receiver come to him. He would have no problem turning and running with Conrad, and he's gotta trust that. Once he sees Conrad break down, he drives on the ball but takes two false steps and isn't able to close any of the distance. He also rounds his drive which costs him another extra step.
Again, nothing in these two reps changed our opinion of either player. We've always felt good about Mbanasor's ability, and he didn't do anything to help or hurt our assessment of him. Will has been someone we've long had questions about, but again nothing in these two reps did anything to help or hurt our assessment of him. Both are good athletes and these two isolated reps in a camp setting shouldn't alarm anyone who is a fan of either player's game, or assuage any concerns you may have about either player.
UPDATE (6:51 pm): Saw this tweet from ESPN's Jeremy Crabtree and thought y'all would like it:
#Sooners CB commit @PeterJayy_2 has has a heck of an afternoon. He keeps getting tested and so far he's passed them all. #TheOpening

— Jeremy Crabtree (@jeremycrabtree) July 10, 2014
PJ's team, the Landsharks, made it to the finals so y'all can watch him play in the 7 on 7 final this evening. OU target Justin Reid, is on the opposing team.