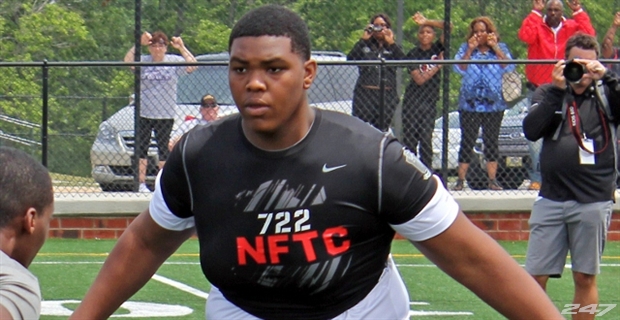 Offensive Line Recruiting Notes (Incl. Orlando Brown Update)
Posted on: July 8, 2014
Image of Orlando Brown via 247 Sports
As promised, below is a summary of the offensive line recruiting for some current key targets based on our most recent information.
We've indicated a number of times that it's our understanding Oklahoma is interested in taking five, or perhaps even six OL this year. As we've been covering the 2015 class, we've been amazed at how hard Coach Bedenbaugh clearly works. As many of you know, one of our favorite things to do is find some lesser known talent and bring them to light. But it seems like no matter who we find or where they are, once we get a chance to speak to them we find that Bedenbaugh has already been in contact. We say that to let you know whether OU gets some of the the recruits listed below or not, rest assured Coach Bedenbaugh is tirelessly working to find and recruit the best talent.
Another thing you OL connoisseurs may notice is that Bedenbaugh seems to like a somewhat different style OL than perhaps those that were recruited under previous coaches. Sometimes the line between a tackle and guard may seem a little less obvious. Not always, but sometimes. Oklahoma clearly wants to be more physical on both sides of the ball, and we suspect that in the past the coaches may have thought, find a pass blocker and teach him how to run block. Now, however, the current staff appears to be placing a premium on physicality and nastiness.
Orlando Brown (2014 OT) – Orlando is an offensive tackle who signed with Oklahoma back in February. There have been questions about whether he will qualify and to date, he has not made it to Norman. We checked with three sources on Orlando (two out of Georgia and one from Oklahoma) and got some mixed responses about the timing, but all three sources seemed to indicate that Brown has a good chance of qualifying. Our first source told us that he (Brown) is currently working towards his qualification, but also seemed optimistic about Brown making it in. The second source actually said he believed Brown has already qualified and expects him to enroll soon. While our third source said he believed Brown has a good chance of qualifying and will be in school this fall, but may not make it in time for fall camp.
Again that's a lot of diversity in the opinions, but we continue to get optimistic information about Brown's qualification prospects. We wanted to pass that information along.
Bobby Evans (2015 OT) – committed
Dominique Hearne (2015 OG) – committed
Garrett Thomas (2015 OT) – Thomas is set to announce his decision tomorrow at 11 am. Thomas has visited Oklahoma, but unfortunately his parents did not get a chance to make the trip. They did however get to see a couple of other schools Thomas is considering, namely Texas and Ole Miss. Thomas told us yesterday that he is actually still working through his decision, but says he'll be certain one way or another by Wednesday. So we'll wait and see.
Madison Akamnonu (2015 OT) – We caught up with Madison a couple weeks back, and he seems to be really focusing on three schools: Oklahoma, Texas and Missouri. He has visited both OU and Texas, and plans on taking an unofficial visit to Missouri later this month. Madison's father is OU alum by the way. Additionally, Texas seems to have hurt themselves with a particular thing that was said on his visit that put Madison's family off a bit. OU seems to be in a really good spot here. If Madison comes into the fold, that would obviously make for three OL commits.
Jalin Barnett (2015 OG) – Will be very surprised if Barnett doesn't end up at OU. Barnett would make a fourth very realistic commit.
Jamal Danley (Dec. Grad JUCO 2015 OT) – Danley is down to Miss. State and Oklahoma. He will be visiting Oklahoma later this month, and has told us he plans on making a decision shortly thereafter. Danley hails from a part of Mississippi that is a Bulldogs strong hold. However, Danley has indicated to us that this is really a business decision. And the openings at the OT position next year, plus OU's track record of putting OL into the league, may be enough for the Sooners to win out in the end. That would put OU, theoretically, at five OL commits.
Cody Ford (2015 OT) – Ford is a very physical and athletic OT that might be a touch on the short side, but is still be recruited by OU and other schools as a tackle. Ford is currently committed to TCU, however he's all but said that OU leads right now. He has had a chance to visit Oklahoma and expects to make his decision this July. As things stand today, we'd probably pencil (not pen) him in as an OU commit.
However, Ford told us that he plans on going to the Mississippi State and LSU camps this month. Players don't usually make it a habit of attending a camp to a school they aren't interested in when they already have a high profile offer like OU. So we are assuming that if either or both schools offered, there would be some real interest. Talking to a Mississippi State insider, we've been told that Ford will likely get an offer from the Bulldogs. We've also been told that while LSU offer may not be automatic, it's definitely not out of the question. And if LSU does offer then it's hard to see that being a good thing for OU.
Josh Wariboko (2015 OG) – You thought we'd leave him off the list didn't you? Most OU fans probably feel this ship has sailed and that may very well be the case. There isn't much we can say here, but we recently came across some information that indicated OU may still have an outside shot here. Wariboko visited UCLA recently and the word we got was that while he enjoyed his trip to Cali, he wasn't necessarily blown away by the Bruins. Wariboko will be taking a trip to Louisville later this month to see the other school that has (so far) offered his younger brother Max. We've also been told he'll be visiting Ohio State at some point. We should know more after those visits.
Final Note: With a number of OL recruits making their decision this month, we will all know more about where OU's OL recruiting stands in the coming days/weeks.