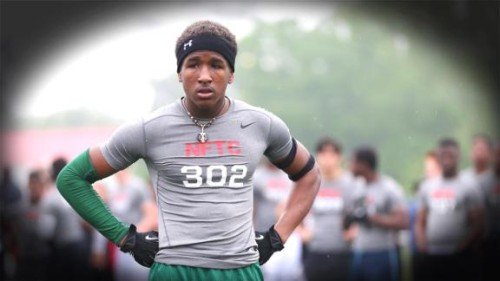 Open Post | Thursday, July 17th (UPDATE 5:15 pm)
Posted on: July 17, 2014
Image of John Humphrey via ESPN
– John Humphrey: Earlier this week OU 2015 WR target John Humphrey released his Top 5 which included: Oklahoma, Texas, Notre Dame, Baylor and Ole Miss. It seemed, at one point, that a decision might be coming later this month, but Humphrey has now pushed his commitment date back significantly. He will also be at the Texas invite only camp event this Friday. He has told us that he'll be visiting Oklahoma for a second time on August 2nd. We asked if he's still 'liking OU', and he responded by saying "Liking? I'm loving OU!"
That's all good and well, but with OU looking to only take one (possibly two for the right guys) WR's then you're probably wondering the same thing we are…will there be a spot available for Humphrey if he waits until after the season? Or will Oklahoma wait for Humphrey? And could that cost OU a chance at some other players?
So we asked Humphrey if he was worried about OU possibly filling up by the time he is ready to make a decision. He responded by saying, "We (OU coaches and Humphrey) already talked about the situation. It's all good."
– Kenneth Mann: Also earlier this week Oklahoma made a new 2015 DE offer to Kenneth Mann out of Burleson, TX. The day of the offer we had a chance to speak to Mann, and he confirmed that his coach will be bringing him up on a visit next week.
Mann holds a number of offers and has said he wants to visit a number of schools, but we get the sense that proximity may end being a factor. Mann is a long, athletic DE prospect. He uses his hands so well at times, it gave us a feel that he'd been playing ball for a long time. And he confirmed that in telling us he's been playing since he was four years old and primarily at DE for a large part of that time. He said that he's grown since the season and is now up to 6'5″ 260 lbs.
– Gabriel Campbell: Recently caught up with Gabriel and confirmed that he still plans on taking an official visit to Oklahoma, though he hasn't confirmed an exact date yet. With summer offers out to Kenneth Maan and Tyrell Jacobs, and the fact that OU is still recruiting Campbell and Neville Gallimore, it seems as though OU isn't going to simply waiting around on former commit Du'Vonta Lampkin.
While OU remains a contender for Lampkin, they are obviously still heavily pursuing other DE prospects. Based on conversations with Gabriel, we feel that even though he hasn't named his top two, OU and Mississippi State are probably his top schools.
– PJ Mbanasor: Mbanasor let us know yesterday he has confirmed the date of his official visit. He said he'll be visiting for the Tennessee game. To state the obvious, that game is going to be huge as a number of big names have already confirmed similar plans to be in Norman that weekend.
– Joshua Little: Last night 2015 Millwood DE Joshua Little announced his commitment to Kansas State. KSU looks like a good fit for Joshua especially because, as JY mentioned (here) when we first introduced him to y'all, he's got a good frame and athleticism, but he's going to need some development. Bill Snyder and is staff are well known for their ability to develop players.
Joshua was a guy that didn't have a single D-I offer when we first found and wrote about him. Since then he's picked up a number of D-I mid-major and high major offers (Purdue, Iowa State, Kansas State, Arizona State, and Washington State). When we first brought him to y'alls attention, we said "This young man is going to see his recruiting really pick up. He's a high major D_I player on film." (Source) And when it's all said and done, "film don't lie."
Congrats to another OK Preps player that's going to get the chance to play on a national stage and represent Oklahoma HS football.
– Ashton Preston: As most of you know, Edmond Santa Fe CB Ashton Preston recently committed to North Texas. But Ashton has also been asked to attend Texas' invite only camp this Friday. He is a player who really is the epitome of hard work. We've had a chance to see this young man develop tremendously over the past year. He has developed incredible footwork and technical ability. He's been training regularly with coach Clay Mack down in Dallas. After a recent look at some of his camp film, he really has begun to blossom.
– David Richardson: A cornerback we mentioned here (see the post) a month ago, David Richardson from Rockwall Heath, has started to pick up some interest from the Longhorns. In fact, Richardson will be also be in Austin this weekend for the Texas camp. He is a silky smooth, highly polished and fluid CB.
– Tony Jefferson and The Blind Tape Test: Former OU safety and Arizona Cardinal has agreed to take our Blind Tape Test. He is in the process of evaluating safeties: Will Sunderland, McKinley Whitfield, and Justin Reid. We've also asked Chris Trulove, former director of pro scouting for the Denver Broncos, to take the test as well for the same three players. We've already made our opinion known on all three players, but we figured y'all would enjoy hearing the opinion of some others as well. I mean those two guys just might know what they're talking about.
– UPDATE (2:57 pm): I (Jordan) suspect K will have plenty more on this to come, but wanted to get this up quick because I know many of you will be happy about it.
#Oklahoma offers 2015 4 Star S Justin Reid (Dutchtown HS, LA) @justinreid_1 @VarsityPreps @SouthRecruit1 #BoomerSooner

— Coach Warren VPreps (@DemetricDWarren) July 17, 2014
– UPDATE (5:15 pm): Just spoke to Justin Reid. He's very excited about the OU offer. Definitely think OU has a chance here. Will have more tomorrow. Justin is one of the better safety prospects in the country. More polished than any other safety we are recruiting and has tremendous athleticism and size. So glad to see that this offer went out. Also, a correction. As most of you know we first mentioned Justin back in the spring when we said coach Bobby Jack Wright had gone by to see him. It was in fact coach Montgomery that had gone by to see him at that time. So apologies for that. Coach Montgomery is also the coach that extended the offer to him today.