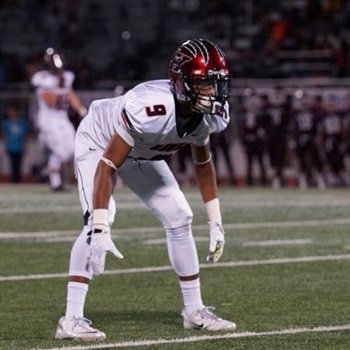 Open Post | Weekend, June 20th – 22nd (UPDATE Sat., 7:30 pm)
Posted on: June 20, 2014
Image of David Richardson II via Hudl
– Yesterday Oklahoma offered Rummel (Metairie, LA) DL Tyrell Jacobs, who currently holds a number of offers – including a legitimate offer from Tennessee. Coach Montgomery actually stopped by Rummel last spring in order to check out the players there, and he made an offer to star 2016 CB, Kristian Fulton. However, as luck would have it, Tyrell was not at practice that day, but Jacobs had been hoping for an offer from Oklahoma and it came yesterday. Since that offer, Tyrell has already been contacted by a number of other coaches and it sounds like his already lengthy offer list is only going to get bigger.
However, we spoke a couple times yesterday and he confirmed that he and his family set up a visit date to Norman on July 23rd. I asked him if things could get wrapped up shortly after that trip and he said, "yes." I really like where OU is with Jacobs. He is being recruited as a 4i DE and, as we understand it, currently Oklahoma is looking to take two in this class.
– We caught up with another Louisiana prospect yesterday, 2015 OT Garrett Thomas. One of our readers pointed out that he may have already had to cancel a scheduled visit to Norman. We asked Garrett about it, and he said there was no official date set up. It was just a date that was being thrown around within his family, but they could not make it up at that time. The first time Thomas made it to Oklahoma was last winter with his grandpa and brother. Garrett's entire family will be making it up to Norman on this next visit, and he has set a visit date with Coach Bedenbaugh for July 14th.
He also mentioned that his current Top 3 are Oklahoma, Texas, and Ole Miss. I talked to him about how the offer from OU happened originally. He mentioned when he first came down to Norman in the winter, he did not have an offer but Bedenbaugh told him that he'd be down in the spring. And if he liked what he saw, then Garrett would receive an offer. True to his word, Bedenbaugh took the trip down to Many, Louisiana during the spring. It just so happens that Coach Wickline from Texas was there the same day, and Garrett told me that both he and Bedenbaugh were so impressed by what they saw from him in practice they both offered that very evening.
Garrett said he will be looking to make a decision shortly after his second trip to OU. The distance from Many to Norman and Oxford are about the same. However, the trip to Austin is somewhat shorter. But Garrett said the distance doesn't matter since its a 5+ hr drive to each school (about 6.5 hrs to Norman and Oxford). He's visited Oxford twice, Austin once, and his upcoming trip to Norman will be his second. As we understood it, he doesn't currently have plans to take a second trip to Austin.
– Yesterday Bob Stoops and Jerry Montgomery were at the All-Poly camp and another OU OT target, Andre James, let us know he was also there and had a chance to meet with the Sooners head ball coach. He (James) was very excited about that. JY caught up with him earlier this week, and James told him that he'll definitely be taking an official visit to Oklahoma. Again, OU is really starting to sit in a great spot for a number of talented offensive linemen!
– Yesterday some of you also asked about a tweet that WR John Humphrey put out where he said:
Big Announcement…..

— ✌️ (@FlashyHumphrey_) June 19, 2014
Sorry to disappoint y'all, but I checked with Humphrey on the tweet and he said it was about a friend of his who was about to make a commitment. Again, as we mentioned earlier this week, Humphrey is very high on OU, but is going to be making a return trip to Norman in July before he makes a decision about things. If anything changes on that front we'll let you know.
– Another talented 2015 OL that hopes to make a trip to Norman this July is Drew Sullivan out of Concord, Calif. Drew doesn't currently have an OU offer, but he and Coach Bedenbaugh have been in touch. Sullivan has family in north Texas and will be visiting them this summer, so he hopes to be able to make it up to Norman during that time.
– Related to team news, we're hearing a few different names of players that are standing out. One of the players names we heard was RB Samaje Perine. We know a number of folks have already talked about both Perine and Mixon, but Perine was a name that was really emphasized to us. We are told that people are surprised at ust how much lateral quickness he has for his size. It's obviously still early, but in speaking to different people there is a sense that Perine may be the freshman that is poised to really get some snaps this fall. Again, it's way too early to know for sure but wanted to pass that along. Kudos to Coach Gundy for stockpiling all these monsters, and we all know they'll get great teaching from him and ample opportunity to earn playing time.
– Wanted to introduce y'all to a CB I (K) really like that isn't yet hearing from a lot of schools, but is someone I'd like to see OU at least begin to recruit. His name David Richardson II out of Rockwall, TX (Rockwall-Heath). He is teammates with a Texas commit, DeShon Elliot. Richardson just picked up his first offer from Tulsa recently. He's not a big corner (around 5'10 – 5'11), but he's got good length and a lot of burst. I spoke to him this past weekend, and he's another disciple of Clay Mack.
He plays in a primarily cover 3/cover 2 scheme, but I know he'd be comfortable in a man scheme as well. In cover 3, he does a great job of matching patterns and ensuring there aren't holes on the field. He turns amazingly well. He stays on top of the route throughout the WR's release, which is something you just don't see much. Usually a CB is going to give ground on the turn and then recover. Richardson is just silky smooth, and you can see the mark of Mack with the strength in Richardson's back pedal, footwork, and calm demeanor on the field. He moves like a kid a who is confident in what he knows. He's got more than an enough speed to play the position, but I really like his technique, ball skills, and flexibility.
– Also, wanted to give another shout out to Westmoore WR, Dahu Green for his commitment to Louisville yesterday. Dahu has tremendous upside. He's listed at 6'4″ but if you see him in person, he looks darn near 6'5″. He's got a great personality and has been working hard to put on some good muscle. I (Super K) had a chance to spend some time with Dahu and his mother, and they are just wonderful people. I cannot say enough good things about them. Dahu is just now scratching the surface of what he can become. He continues to get better and once he's had some real training in a college program, I have little doubt he will flourish and make a name for himself.
Look for him in the league one day as well, because he's got the tools and the mindset to make it there. We love to see Oklahoma kids getting opportunities to showcase their talent, and Dahu is going to get that chance.
– Another OK Preps kid we wanted to give y'all an update on was Mustang's 2014 OT, Tristan Hill. He didn't even have his senior film online till the December after this past season (only about two months from signing day), but still managed to earn a number of FBS offers and even picked up a late offer from Vanderbilt. Hill ended up choosing Georgia Southern. He felt comfortable there and he made it to Stateboro yesterday. We're looking forward to watching him develop and represent for all Okies out there. Hill is very athletic and has been working hard in the offseason with the goal of competing for playing time as a true freshman.
– UPDATE (Fri., 12:05 pm): Tough blow with the news just a couple minutes ago that 2016 OT Greg Little committing to Texas A&M. Kid is a truly elite talent and easily one of the top 2016 prospects in the state of Texas. There was hope that his connection with Tay & Bobby Evans (the former a 2014 signee, the latter a 2015 commit) with all hailing from Allen could have helped the Sooners. Evidently not. And what can you say about Sumlin and the Aggies recruiting right now…..wow.
– UPDATE (Fri., 1:08 pm): Update from 2015 JUCO OT Jamal Danley.
Change of plans . I will be visiting Oklahoma on July 14th .

— Jamal Danley™ (@JDanley54) June 20, 2014
– UPDATE (Sat., 7:30 pm): Speedy WR, Ryan Newsome releases his top 5: Oklahoma, Notre Dame, UCLA, Oregon and Texas