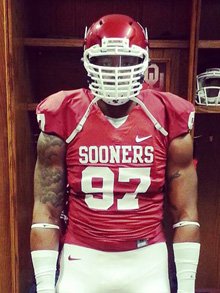 2014 Spring Football Preview| Faces of Tomorrow | Part Four
Posted on: March 5, 2014
Image via scout.com
There is a lot of young talent on this Oklahoma team, but I wanted to countdown five (or so) players that I will be watching closely as we head into spring practice and then into fall camp.
1. Charles Walker
This wont come as a surprise to anyone if you have been falling the Brainiacs for a while. We've loved Walker's film for quite sometime and every person on campus I have talked to has raved of his incredible athleticism. He has reportedly ran a 4.78 laser timed forty, which would be the exact same time as Mario Williams of the Buffalo Bills. While the forty isn't necessarily a valuable tool when evaluating a defensive tackle, it does give you some insight into just how well this guy is capable of moving.
His first step is outstanding, and from what I've seen/heard he seems to have already developed two solid pass rushing moves. Including one that is short, quick swim move to the inside that, with his athleticism, could give offensive linemen fits. In the future, look for NFL draft analysts to rave about his versatility whether it's as a 3-tech in an even front or a strong side defensive end in an odd front.
He has incredible hips, allowing him to split double teams, which is a key component of any 4i — especially when you have a guy like Eric Striker and/or Devante Bond coming off the edge. In theory, you hope that you can isolate one of those edge guys on a back, and we all know that even the best of blocking running backs in the Big 12 really don't stand a good chance against those type of athletes.
Walker most likely won't start this year, with both 4i spots belong to Geneo Grissom and Charles Tapper respectively. Both whom I believe have a strong chance of being All-Big 12 first or second team type players, by the way. That said, Oklahoma has been known for rotating their D-Line for quite sometime now, which means Walker should get his chance to shine.