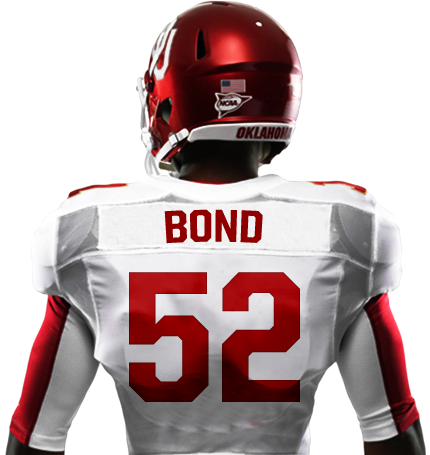 2014 Spring Football Preview| Faces of Tomorrow | Part Three
Posted on: March 4, 2014
Image via Sooner Sports
There is a lot of young talent on this Oklahoma team, but I wanted to countdown five (or so) players that I will be watching closely as we head into spring practice and then into fall camp.
2. Devante Bond
When it comes to a first step and turning the corner, Bond is second to none. Watching his film, I clocked him on a couple of his sacks under 1.9 seconds to get to the quarterback.
That is unreal.
His first two steps are quick and longer than one would expect, however where Bond separates himself is when he plants his foot and seamlessly transitions his hips to the QB. He also does a good job of clubbing both his hands down in anticipation of a forced fumble. The tools that Bond possesses are incredible. At 6'3″ and 240 pounds, he looks like a guy that could run between 4.58 and 4.62. He is the best JUCO player I have seen since we signed Mike Reed back in 2007. Granted, Reed never did pan out due to circumstances that were unforeseen by all recruiters and personal issues, but his talent was undeniable.
Bond has one counter move right now in his arsenal. Which is a one-step up the field, with a double hand swipe where his inside foot plants and turns inside.
The goal here being to get the OT too far up-field where he (Bond) can then counter and go inside. I like this move and it's been one that has been around for awhile, but I also firmly believe Bond should continue to try and develop his pass rushing arsenal over the spring and into fall.
Paul Pasqualoni once told me that, "even at the NFL level, all you really need is two pass rushing moves and then a great first step where you can bend the corner." He emphasized that you must perfect those two moves and should counter each other, but the even for a lot of the NFL greats, that is all you'll need.
JUCO players usually have plenty to work on with technique, but every tool for Bond to be special is there.