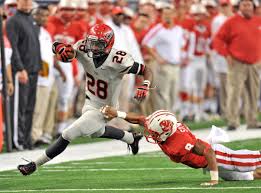 Open Post | Wed. May 14th (UPDATE 12:21 pm)
Posted on: May 14, 2014
Image of Aca'Cedric Ware via vype.com
– This past weekend Oklahoma lost one of their top CB targets when Jaylon Lane unexpectedly committed to Oklahoma State. But that doesn't mean that OU is letting up. In fact, Mike Stoops went down to Nacogdoches yesterday to meet with Jaylon, in part to clear up that miscommunication we told you about previously, and it sounds as though the visit went very well.
– The other major CB target in Texas is PJ Mbanasor, and Oklahoma is clearly intent on not losing him. Coach Wright will be at Hendrickson, HS in Pflugerville today visiting Mbanasor. And he also tweeted out this morning that he'll be announcing his top schools about two weeks:
Thankful that during this spring period coaches have come by. Im narrowing things down continuously & will be announcing my top on May 29th

— PJ Mbanasor (@PeterJayy_2) May 14, 2014
– Per multiple reports, Oklahoma has extended another RB offer. This time it is to Cedar Hill, HS RB Aca'Cedric Ware (VIDEO). Ware hails from a school where OU has had some recent success pulling recruits, namely Marcus Green from the 2014 class. Earlier this week, we posted the first of a few posts on Oklahoma's recruiting issues. One of the things that seems a little alarming, for lack of a better word, about this years recruiting is that OU is having trouble bringing in players at skill positions. Normally, OU fans are used to having a WR or RB or QB commit by now, but that it isn't the case this year. Perhaps Ware will be a target that OU can grab and gain some momentum.
– 2015 Offensive tackle target Andre James tweeted out his Top Six schools last night. Those schools were (in no order): Ohio State, Oklahoma, Oregon, UCLA, USC and Utah. This doesn't come as a huge surprise. James has always spoken highly of Oklahoma, and told us that he plans on taking an official visit to OU.
– A 2015 TE/DE to keep an eye on is Josh Moore (VIDEO) out of Olathe, KS. Moore's offer list continues to grow and now includes schools like Florida St, Auburn and Ohio State among others. However, he still hasn't received an offer from the Sooners. But he has told us that OU is in touch with him, and we expect an offer to come shortly. I like Moore's film and a little surprised the offer hasn't already been extended given his proximity to Norman. Moore is being recruited by Coach Boulware and Heupel so, it would seem they want him as a TE.
– It will probably come as no surprise, but from everything we've been able to gather it seems as though Oklahoma is no longer recruiting Tim Settle. However, we did some checking and his recent ordered Top 15 list, where he put OU dead last, might have had something to do with the fact the OU coaches quit recruiting him after his fairly recent visits to Norman. We're not going to get into the specifics since the information is second-hand at the moment, but barring a significant change in things it would appear this ship has sailed.
– Last week OU CB target committed to Baylor. Oklahoma had only recently offered but the word we got was that OU was very interested in Tolbert. We know that Tolbert was interested in Baylor but the sudden commitment took us a little off guard. We have come to find out that Tolbert actually tore his ACL in practice a day or two prior to his commitment. Again, he seemed to be a Baylor lean anyway but it's hard not to think that the sudden commitment was in some way tied to the injury.
– UPDATE (12:21 pm): OU appears to have offered 2016 WR Dionte Mullins out of Miami, FL.