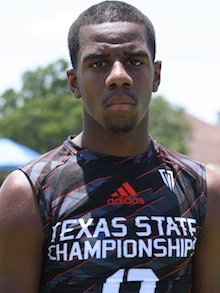 Jaylon Lane Commits to OSU
Posted on: May 11, 2014
Image via etsn.fm
I would have just thrown this in the weekend Open Post but I can tell you definitively that Oklahoma was leading for Lane for a while. As such, I feel this deserves it's own post.
The commitment came as a surprise to a lot of people…including us. He was very high on Oklahoma and had, what seemed to be, sincere intentions of visiting Oklahoma and possibly committing on the spot. We had regular communication with Jaylon and his family and we always got that impression.
However, unfortunately recently one of the coaches on Oklahoma's staff had mentioned the possibility of Jaylon playing safety for OU as opposed to corner. Lane strictly wants to play corner so this didn't sit well. I was under the impression that this had been cleared up and Oklahoma had made it clear that he was being recruited as a corner but for whatever reason Jaylon still felt some uncertainty.
Having talked to people around the program I am confident that this was simply a communication issue and that he was indeed being recruited as a cornerback but it might not matter anymore since Lane has committed to OSU. However, hopefully Lane can still make it up to OU on a visit and perhaps the whole issue can get cleared up in a way that puts Jaylon and the family at ease.
Either way we like Jaylon a lot and we wish him the best!