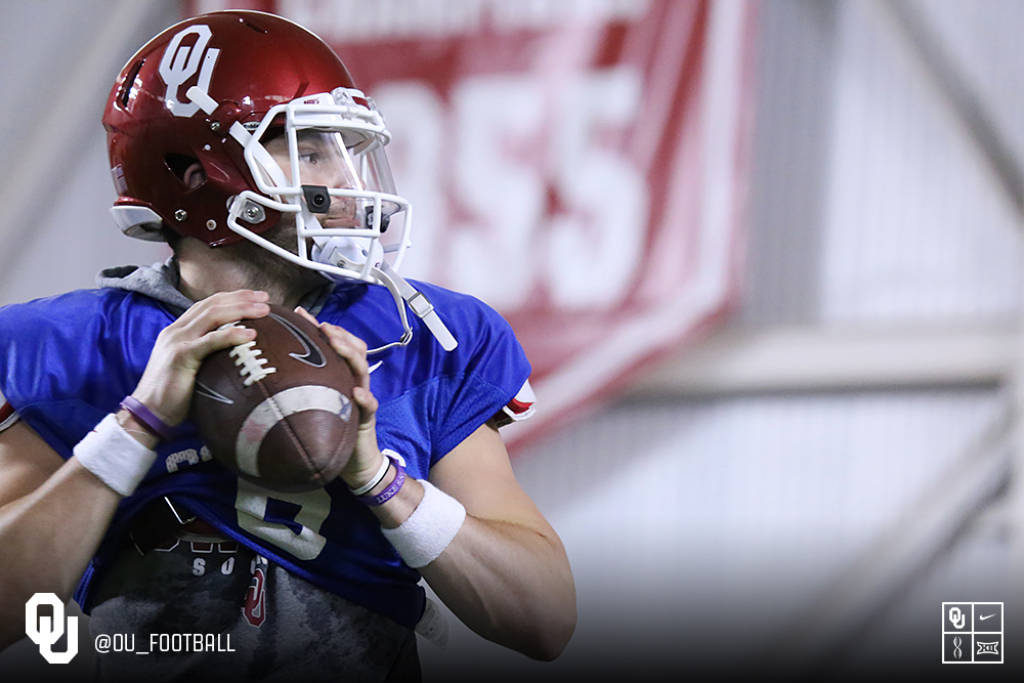 2017 Red/White Game | What I'll Be Watching
Posted on: April 6, 2017
Image via SoonerSports.com
Hey, we get to watch Sooner football again soon. The 2017 Red/ White Game is this Saturday, April 8. It's a chance for Sooner fans to see some of the guys they've been wanting to check out and get their dose of football to hold them over until fall. However, it's usually a time that supplies very few answers – coaches try to keep the game very simple and evaluate a wide variety of guys, so trying to discover a depth chart or who the future star is can be an exercise in futility.
Practice has been happening for a few weeks now, so there is some rhythm and structure shaping up for the team. It's also worth noting that the Sooners will get more practice time after the spring game this year than they have had in recent years, with practice not wrapping up until April 16.
TFB recently put together our list of the biggest questions heading into spring football (TFB: Biggest Questions Heading into 2017 Spring Football), which covered questions at each position group we're hoping to find out more on this spring. For now, we want to look at some things we'll be watching for this Saturday, tying in some of the things we've heard so far from spring practice.
Wide Receivers
As we covered in our Biggest Questions post and WR Position Preview, there are quite a few guys that will be getting looks to replace the large amount of receiving yardage OU lost this year. Mark Andrews, Jeffery Mead, Nick Basquine, and Mykel Jones have all proven themselves on the field to various degrees. We'll see some of them on Saturday, but maybe not as much as some others still being evaluated by the coaches. We (unfortunately) won't get a chance to see Jeff Badet yet, as he won't come to Norman until May. Some of the guys that may get the biggest looks are Zach Farrar, AD Miller, Dahu Green, and Marquise Brown.
If we don't see AD Miller and Dahu Green make some plays this Saturday, you'd have to think their chances of seeing the field often this fall are very low. They've both shown potential, but have not been able to earn any playing time – this whole spring needs to be a time they shine.
I suspect I speak for many when I say that I'm very ready to see Marquise Brown in action. The reviews out of practice have been fantastic – he is promised to be incredibly fast, with our own Super K receiving word that his speed is very comparable to Dede Westbrook's. I'll be watching him every time he's on the field to see if he is used in a manner similar to Westbrook and how quickly he can get behind the defense.
Linebacker
This will be a very strong position group for the Sooners. The roster looked good to start, with a great combination of experience, talent, and depth, and there have been nothing but good things said about them so far.
By now, everyone has heard the hype building inside the program for Kenneth Murray. His athleticism has the coaches raving about him. With Obo being held out of spring practice, Murray has been taking a lot of snaps at outside linebacker. It will be fun to see how that athleticism translates to production as he begins to figure it out more. TFB has also heard that the staff is testing him inside to maximum his time on the field. Mark Jackson is another one we've heard looking good at the edge.
A big thing to keep an eye on will be the battle for the middle linebacker spot. I hope to see guys like Ricky DeBerry, Jon-Michael Terry, Kapri Doucet, Emmanuel Beal, Curtis Bolton, and Levi Draper out there making plays. I'll be watching to see who gets the most touches, and who impresses the most at that spot.
Defensive Line
The position group that seems to be the most open for the taking this spring is the defensive line. Who gets the most touches? Who looks the best? Do we see more 4-3 as promised? These will all be things to keep an eye on. This definitely seems to be the position group with most question marks and, from what we've heard from practice, the group that's very much still a work in progress.
It's mentioned above, but worth noting again – don't expect to see anything crazy different about the defense this weekend. The Stoops brothers aren't going to want to tip their hand as to their defensive plan, especially with Ohio State so early next season.
I think that any one of about 8 guys could heavily contribute for the Sooners at some point this year on the line, so it'll be really interesting to see how this unit is shaping up.
Other things to watch
-Speaking as someone who was there for last year's spring game, Kyler Murray was fun to watch. It will be good to get a preview of his role in the offense, especially if Mayfield gets limited minutes. This is a quote our own Super K got from a source, which was in our open post from March 31-April 2.
A source said, "he's doing some special things. If it was a clean slate and we didn't already know what Baker could do and they were really competing, he'd give Baker a run for his money. I've seen him split linemen and they run into each other. He's fast. He scrambles around and throws dimes in the back in the end zone."
I don't know about you, but that makes me giggle like a small child from excitement.
-The running back competition is a fun one as well. Adams, Anderson, Sutton, and Sermon can all show off their skillsets Saturday.
-We've been told that the offensive line has looked absolutely dominant. How is that progressing? Which guys provide the expected depth? Is the defensive line starting to hold their own?
-We've heard several notes from practice that the cornerback spot opposite Jordan Thomas is more open than many would have assumed coming into spring football. Although Jordan Parker started toward the end of the 2016 season, and is still taking most of the first team reps, Parnell Motley is making a strong push. Additionally, Parker has been held out of practice and will be out for the spring game with an ankle injury. This leaves the door wide open for Motley to show off.
-OU had an incredible 11 early enrollees this year. Some will be expected to play early (Brown, Sermon, and Sutton all come to mind). For others, this may be a year to redshirt (Chris Robison, for example): not due to a lack of talent, but rather a large amount of returning experience ahead of them in the lineup. Humphrey is one who I thought would fit into this category, but has looked so good he may force himself into some playing time. Regardless of whether they see the field this fall, we can hope to catch our first glimpse of them playing for the Sooners this Saturday.
-If you've never been, or even if you have, I recommend going. It's a fun time, good to see the facilities, great to see the players, and a solid dose of football during this spring drought from the gridiron. If you need another reason to go, a true Sooner legend will be honored Saturday.
No one has spent more years with the #Sooners than 'Coach Merv.' Saturday, we honor him.

STORY: https://t.co/67QxKAEQK6
(via @RohdeOK) pic.twitter.com/c0Qpe7uv9S

— Oklahoma Football (@OU_Football) April 5, 2017
A man who is as much part of this program as any, it's great to see the university show him some love. Hope you can all make it.
What will you be watching Saturday?