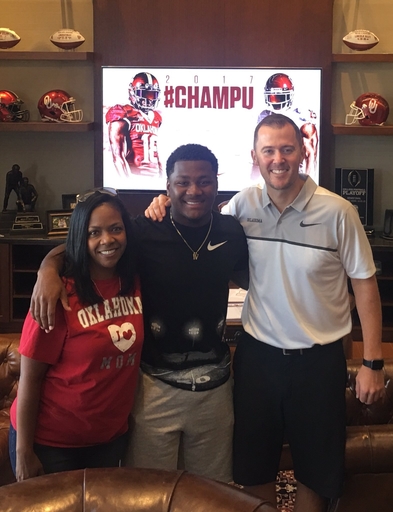 TFB With the Family | Mrs. Mekia Pledger
Posted on: January 3, 2018
Image via Mrs. Pledger Twitter
Oklahoma's 2017 football season has come to an end, but already the Sooners are looking ahead to next year and beyond. One of the many bright spots of the 2018 signees is California running back TJ Pledger.
I know my baby's heart ❤️ when he shares that million smile; it's because he feels at peace✌?had a great time #Godspeed #Boomer #ChampUBBQ pic.twitter.com/MPphk6a5Ur

— Mrspledger (@mrspledger) July 30, 2017
Pledger committed to Oklahoma in March on his second visit, his first with his family. His mother, Mekia, was on that trip; she recently took some time to answer some questions about her family and their experiences with the University of Oklahoma.
Mekia Pledger
The Pledgers are a family of five. James and Mekia are middle school sweethearts, having grown up in California. They attended San Fernando schools as kids, less than an hour away from where TJ attended high school in California. James is a GM, while Mekia works for the city of LA. They have three children. Their eldest is a twenty-two-year-old daughter currently pursuing a Masters degree at USC. TJ, their middle child, is set to enroll at OU this January. They also have a four-year-old daughter (who sounded precious in the background), so they have quite the age spectrum.
As we discuss her family and I prepare to ask how big of an impact football has in their lives, we take a quick pause; she has a handful of players from IMG Academy in the house for the holidays that she's feeding. Question asked and answered. Additionally, James is a huge 49ers fan, having lived close to the San Francisco area his whole life.
TJ attended Chaminade High School for several years before accepting an invitation to play at the IMG Academy in Florida. One of the people the Pledger family is close with at Chaminade High School is the head trainer. She is a native Oklahoman and a huge OU fan. How big of a fan? Her son is named Sooner.
Another pull to Norman for TJ was a player he really enjoys watching, Joe Mixon. Pledger, like Mixon, is a do-it-all type running back. As he watched Mixon during the 2016 season, he started his communication with the Sooner staff. One coach he grew particularly close with is OU running back coaches Jay Boulware.
All of that together helped him set up a visit for Bedlam in 2016. TFB's own Brandon Drumm spoke with Pledger shortly before that visit: Pledger said, "Oklahoma is RBU, so I knew I would want to visit as soon as possible." (TFB: Open Post Nov. 22, 2016) It's hard to get higher praise than that. Pledger made his trip to Norman with Sooner, the son of his trainer. That trip was fantastic for TJ. He called his mom when he was there to share how much he enjoyed it, telling her that the atmosphere was something she had to see.
The Pledger family had never been to Oklahoma prior to their visits to Norman. That changed for TJ in November 2016, and his parents in March 2017. Upon arriving in Norman, Mekia really enjoyed the vibe of the city. She could tell that it was a good fit with a rich history. One of her favorite parts was seeing the family atmosphere. The Pledger family has always been part of an organization with a loving, family atmosphere where her son could grow and get better: she saw OU as fitting that mold perfectly.
That visit was the time that TJ decided to commit, but it wasn't something any of them knew was going to happen. The family was in a meeting with both Coach Boulware and Coach Riley on the second day of their visit. They did feel comfortable with the school; OU had checked their boxes of what to look for more than any of the other schools they had visited. It was then that TJ announced his commitment in the room; while they were all surprised, Mekia was glad to see him join the family atmosphere of OU.
Life Is A Gamble Don't Be Scared To Take That Risk..
110 % Commited To The University Of Oklahoma. ? #STK18 pic.twitter.com/iC0fpjURR1

— TJ Pledger IV (@uno_tj) March 25, 2017
Some of the people that the Pledger family has been closest with throughout the recruitment process have been Coach Boulware and Coach Riley. Strength and conditioning Coach Schmidt is another guy they feel close with. Tiffany Byrd, the Director of Sports Nutrition, and Annie Hanson, the Executive Director of Recruiting, also got glowing reviews from Mekia. She says they have both been wonderful to interact with.
Since the March visit, the Pledger family has returned to Norman on several other occasions. One visit was the ChampUBBQ in late July, and another was the Texas Tech game in November. They loved both visits, and were really impressed with the game atmosphere of the Texas Tech game.
Sounds good to hear "Welcome Home" A true blessing to be apart of this OUDNA ? So excited for our Head coach #ChampU ⭕️ pic.twitter.com/yV0UWCBDwe

— Mrspledger (@mrspledger) July 29, 2017
TJ is getting close to starting his college career. He will move in this month and start the process. His parents will be ready to support him through it: Mekia made all his games at IMG and plans to do so for OU. That's a lot of travel, but she's glad to see her son taking the next step and is excited to see him don the crimson and cream.