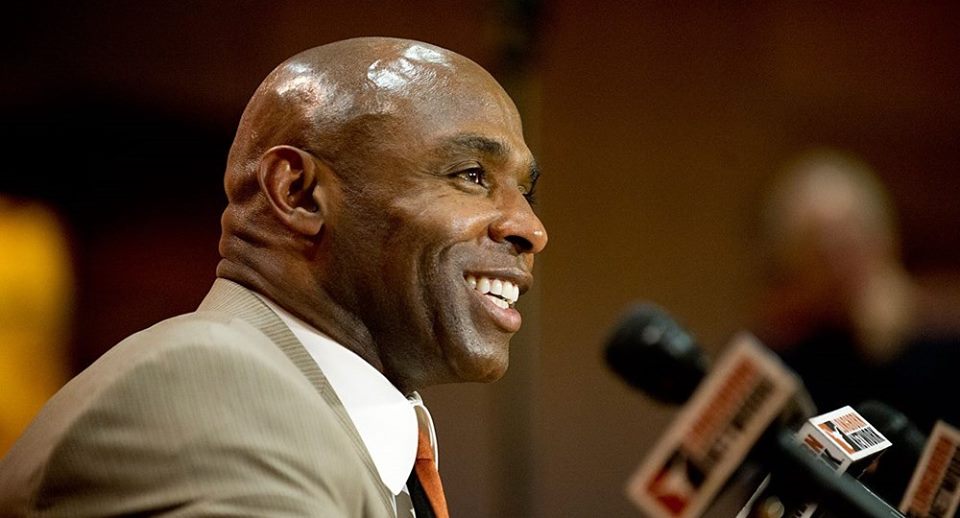 Rivals Write-up: Texas Notes (Part 2)
Posted on: April 4, 2014
Image from TexasSports.com
Earlier in the week I posted the first part of this Texas write-up. If you missed it you can see it here: Texas Notes (Part 1)
Practice Notes
I don't have anything incredibly detailed, but I did get some notes from a friend who attended a few Texas practices. Since they're our rivals, and with the new coaching staff, I've been really curious to find out as much as I can about them. I want to get a sense of what we might expect this year.
– Firstly, I was told that the first practice my friend attended was somewhat disorganized and lacked intensity. That might have just been part of the new staff and the process of implementing their practice style, because I was told the other practices were much better.
– We were told that Tyrone Swoopes was playing 2nd team QB behind David Ash. Since OU also recruited Swoopes, I'm always curious about his progression. Sounds like he actually looked pretty decent. Was told he looks great running the ball, which makes sense and comes as no surprise. But I was also told he did a nice job reading coverage and had a few nice completions, including a deep ball. I was also told that he's still struggling with accuracy. I asked my friend if Swoopes looks like he could take Ash's spot any time soon, and he said he didn't feel like he could because of the accuracy issues.
– Was told the DLine dominated the Texas OLine. Obviously not sure if that says the DLine is nice or the OLine is soft, but my guess is the former will be improved for Texas this year. Guys like Malcom Brown (the DT, not the RB) have a ton potential and if the DLine coach can get the most out of them the way Montgomery did for OU, then they'll take a step forward.
– Also told that of all the coaches, the DLine and the RB coaches are the most intense and animated. In general, I was given the impression the coaching staff isn't as intense as one might have expected.
– Sounds like the first string CBs — Quandre Diggs & Duke Thomas — are looking pretty good. Though I was told the coverage they were running was almost exclusively zone, which actually makes sense based on some of their DB recruiting practices, which I'll mention below. I really haven't watched enough of Louisville to know what kind of defense Strong ran at Louisville. But if he plans on being a primarily zone team, then I suspect he's going to find out pretty quickly that if you don't play man or match-man in the Big 12, you're going to get the ball thrown all over you.
It's normal for a defensive coach to struggle with Big 12 offenses initially. We all know some of the mishaps Coach Mike had in his first year back at OU. He, of course, was running primarily man coverage so the failures were for a different reason, but the root cause is the same. Trying to find the right balance and scheme to combat the run/pass conflicts Big 12 offenses present.
– While it may sound like the defense is further along than the offense (at least it did to me when I initially spoke to my friend), my buddy said he felt the offense was more stable and consistent. Again, not sure if that means the defense is bad or if the offense is taking steps forward, but my friend said the WRs and the RBs generally looked good.
– Again, nothing earth shattering here but to me that was the story of the practice report – nothing earth shattering. I imagined hearing about this incredibly intense practice with guys puking all over the field. And that's probably because I remember when Nick Saban came into Alabama and how intense it was early on for the players to transition from the old staff to Saban's way of doing things. The impression I get is that while Strong is tough, he's also patiently bringing guys along and teaching since I'm sure there is a lot to learn this spring in terms of scheme, terminology, etc.
Random Recruiting Thoughts
I'll admit I haven't been following Texas' recruiting too much, and the little bit I have paid attention to has been mostly on the defense side of the ball. Mainly because that's the side I'm most comfortable with. But I've talked to Texas people, and they're all a little confused by the recruiting strategy in general right now.
– Two of the big corners that Oklahoma has offered, Jaylon Lane and PJ Mbanasor, have been offered by just about every school in the region, but still don't have Texas offers. Meanwhile, you look at a kid like U of H commit Jordan Tolbert, and he received an offer at a Texas jr. day over a month ago. At first it kind of confused me, but in hearing that the coverages in practice were primarily zone and that Coach Bedford said they want their DBs to hit like LBs then I started to think. They're looking for their corners to really get involved in run support.
Coach Mike's philosophy is to let the heart of the defense play the run, and let the corners cover. But it may be that Strong is more of a "all eyes on the ball" kind of guy – at least that seems to be the initial direction. In which case, when you look at guys like Tolbert or Kris Boyd, who also has a Texas offer, the offers make sense because those two guys are the kind of corners who will come up and hit you. That isn't to say that someone like PJ won't, but it's just not a central part of his film so they probably want to see more. In fact, I was told they plan on going out to evaluate PJ in the spring.
– Texas has also offered 2015 safety, Keivon Ramsey. Again, in Ramsey, you've got an old-school hard hitting safety.
– One of Texas' recent commits, DE Charles Omenihu, was offered at a jr. day, and I believe committed shortly after. This was interesting to me, because I feel quite certain that Mack Brown would have never made that offer. Coach Brown always seemed to go after the "big" recruits, five-star type kids all the recruiting services were hyping up. Omenihu's offer list prior to Texas wasn't particularly impressive. I think Omenihu can play mind you, but he probably wouldn't have been a kid I'd go after that early.
There are certainly things I like about him, but there are kids, like Brandon Wilson out of Florida, who don't have huge offer lists but are fantastic players. Wilson probably has a better get off than Omenihu, and he's also a much more muscular and physical kid. I would have offered someone like Jake Pickard before Omenihu as well. Pickard runs 6'6″ 220 lbs, but, again, has a better get off. Omenihu turns the corner pretty well, but when you're putting out offers this early — especially to kids that you expect a commitment from — you want a kid who pretty much has it all right there on tape already.
Having said that, I think the more interesting story is that Coach Strong and his staff are clearly evaluating players. He and I may disagree on whether Omenihu is or isn't an early offer, but the fact he offered is something I respect because it says this Texas staff isn't just going after names and stars. Like some might say their predecessors developed a bad habit of doing. Instead, they're going after players they thoroughly evaluate and like regardless of their star ranking.
I think you see a similar thing with the offer to Jordan Tolbert before guys like Lane and Mbanasor receive offers. Again, they're going after players they like…not players I or anyone else likes. Like I said, I respect that. I respect guys who trust their eyes.
Question:
As we all try to guess what the future holds for our biggest rival, I'm curious to know from y'all…what kind of record do you think Texas posts this year?