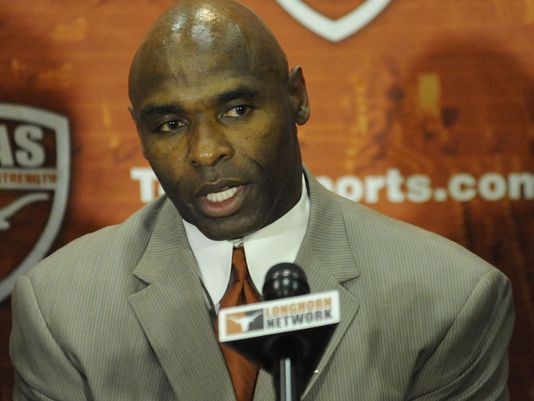 Rival Write-up: Texas Notes (Part 1)
Posted on: April 2, 2014
Image from USA Today Sports (Photographer: Brendan Maloney)
Ever since Charlie Strong was hired, I've been talking to a few Texas people I know — that were connected to the old regime — and trying to get a feel for what we can expect from Strong and the new staff.
There have been three specific things I've been really interested in:
1) How they run practice and how the players look in general.
2) What their recruiting strategy will be.
3) Just a general sense of the overall attitude of the staff.
Getting information out of there is a lot tougher than it used to be because everyone is still in the process of building their connections to the new staff. My initial feeling about the Strong hire were mixed, but I probably leaned more towards the belief that he'll be successful there. After all, the last former Florida DC to take a head coaching job in the Big 12 did pretty darn good! Also, I generally tend to believe in defensive minded head coaches.
A lot of people have wanted to use Strong's record at Louisville as a sure sign that he'd be successful at Texas. I'd hear things like "imagine what he'll do when he gets Texas recruits." There is no question he did a nice job at Louisville, but I have real questions about just how much better his talent is actually going to be now that he's in Austin.
I haven't verified this (we're a blog!), but I recall hearing at certain point during Strong's tenure at Louisville that a third of the roster was from the state of Florida (with strong Miami ties). I've never been shy about my infatuation with Miami talent. To the point made above: Is he going to be able to draw better talent? Yes. Will it be significantly better? I'm not so sure!
Not only am I familiar with the talent in Louisville, I personally know a lot of the kids and coaches in the Miami area. And Coach Strong has built such a great pipeline, that there were kids actually willing to pick Louisville over other top BCS schools.
I'll give you one example. George Rushing was a big time WR out of Miami this past year that had legitimate offers from schools like LSU, Wisconsin, TCU, etc. And when I say legitimate, I mean those offers still stood all the way to signing day (which a lot of times isn't the case). He was committed to Louisville over all those schools and only decommitted after Strong left for Texas. But he loved "The Ville" so much that he still seriously considered the Cardinals, even after Strong left and Bobby Petrino was hired.
I've said it before but it's worth repeating, Miami kids love to go where other Miami kids play. Miami is already a bit isolated from the rest of the US, and they have a very distinct culture so they love being around other kids from that area. A friend of mine in Miami actually told me that Rushing would go to Wisconsin because there were a couple Miami kids there, and I said "No way, it's too cold! He'll go to TCU or LSU!" Who did he end up signing with? Good ol, ground and pound, WRs block on every play in 10 degree weather Wisconsin. Exactly what you'd expect from a WR who has lived his whole live in a tropical climate, right?
But the same thought that led to my questions about Strong also forced me to recognize the fact HE built that pipeline, and HE recruited those kids. That's a talent! To convince a bunch of Miami kids that their home away from home is Louisville, Kentucky is no small task. And to recognize it could be done also required foresight.
I'll be honest, I am still salty about the fact OU let Juwan Dowels go. I always felt it would have paid dividends down the road, but even when I talked about it a couple months back I didn't think it would have already benefited us. Not only is he a former teammate of Torrance Gibson, but the two are also pretty good friends. But I digress.
As I mentioned above, while it's been tough getting information out of Texas lately I've managed to get little bits and pieces here and there I found to be rather interesting. This post is getting pretty long so I'll break it up into two parts, but I wanted to start by mentioning one of the first things I heard about the new staff. I have a good friend who is also a HS coach that attended one of Texas' jr. days. He was always on good terms with the old guard, so I was really interested in getting his take on the new staff.
He said Strong and co. are night and day different from the old staff in terms of the general impression you get when you hear them speak or you meet with them. He said that it seemed to him Strong and Vance Bedford, the DBs coach, seem to run things, and they are absolutely no-nonsense. My buddy said he hadn't really come across a staff that seemed so intense at a jr. day, and certainly not one in Austin for a long time. He mentioned that, at one point, Coach Bedford got up and looked at some of the recruits and said "If you're DB and you can't hit like a linebacker, then you might as well leave now because you cannot play for us!" Now maybe that's something you'd hear coaches say during a practice, but it's not usually something you'd hear at a jr. day and certainly not in the tone that I was told it Bedford used.
My buddy went on and on about how they laid out their expectations and it seemed obvious they really want to send a certain signal to visiting recruits. I get the impression they want to show recruits a stern side of them that will either make those recruits want to stay and play for them, or walk out and never come back. I suppose that's sort of their weeding-out process. Everyone has a different style, but the impression I got is that they are trying to set a tone early on in how the approach/recruit players.
In Part Two, I'll drop some practice notes that I managed to get and also talk a little bit about Coach Strong's big picture recruiting strategy. I'll tell you right now, it has me a bit baffled.