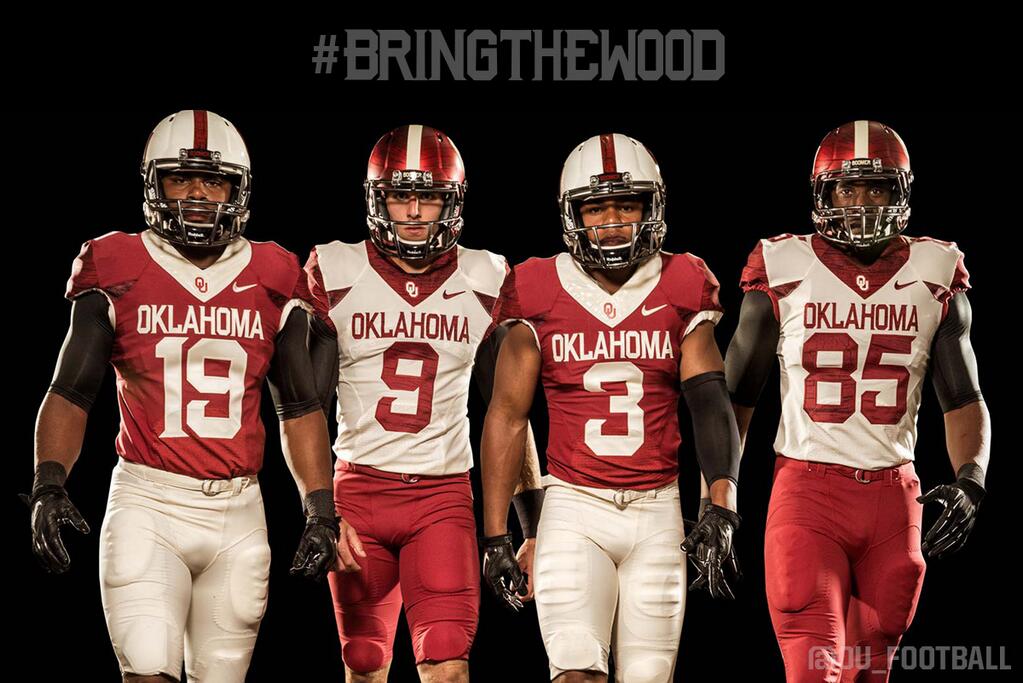 Projected Starters (Updating…)
Posted on: August 25, 2014
Image via Soonersports.com
Oklahoma is releasing the projected starters for this weeks game so we'll add them here so that their all in one place and everyone offer their thoughts. So far they've released:
Starting RG: Nila Kasitati – Dionte Save and Tony Feo listed as back ups.
Starting FS: Ahmad Thomas – very cool that this guy has earned the starting spot. Cannot tell you how many people we heard say that Thomas was too stiff or too this or too that. We heard so much that we bought into it. But the word out of camp is he looked very comfortable.
Starting WR: Sterling Shepard – no surprise here. They've got Smallwood and Cavil listed as his back ups.
Starting WR: Durron Neal – Derrick Woods and Austin Bennett listed as back ups.
Starting Slot WR: KJ Young – Miciah Quick and Austin Bennett listed as back ups. So happy to see KJ Young win this spot. This young man was incredibly dynamic in HS and yet incredibly underrated. OU got involved in his recruitment late and it looks like he's making them glad he did! If you haven't seen KJ Young's old high school film…do yourself a favor and check it out.
Starting Running Back: Keith Ford and Alex Ross – Samaje Perine listed as back up. It seems the starter has been settled. Watching these big boys slamming against defenses is going to be fun!
Starting Tight End: Blake Bell – Taylor McNamara list as back up. Interesting that they only added one back up. Would have expected to see Ijalana as a third.
Left CB: Julian Wilson – Jordan Thomas and Marcus Green listed as back ups. Really hoping Julian does big things this year! A 6'2 CB that can legitimately cover in the Big 12 will get some NFL looks. Interesting to see two true freshman as back ups. Might see OU only take one CB this year (Mbanasor) unless they can flip a high ceiling big CB like Lane because clearly there is some emerging young talent.
Nose Guard: Jordan Phillips – Mathew Romar, Torrea Peterson and Jordan Wade listed as back ups. This is a big surprise. Not sure what to make of this yet. Definitely going to ask around.
Left Tackle: Tyrus Thompson – Josiah St. John and Christian Daimler listed as back ups.
Right Tackle: Daryl Williams – Derek Farniok and Sam Grant listed as back ups.
Left Guard: Adam Shead – Dionte Savage and Tyler Evans listed as back ups. Glad to see Shead is healthy and ready to go!
Center: Ty Darlington – Nila Kasitati and Jonathan Alvarez listed as back ups.
Left ILB: Jordan Evans – Caleb Gastelum listed as back up. No sign of Frank Shannon on the depth chart.
Right ILB: Dom Alexander – Aaron Franklin listed as back up. Again, no sign of Frank Shannon.
Strong Safety: Quentin Hayes – Steven Parker listed as back up. Word is that Parker had a great camp. Expect to see him get some snaps in the Louisiana Tech game.
Right OLB: Geneo Grissom – Obo Okoronkwo and Devante Bond listed as back ups. A lot more beef at the Jack LB position this year. That's some great pass rush depth on that weak side!
Left OLB: Eric Striker – PL Lindley listed as back up.
Right CB: Zack Sanchez – Dakota Austin and Stanvon Taylor listed as back ups.
we'll keep updating…