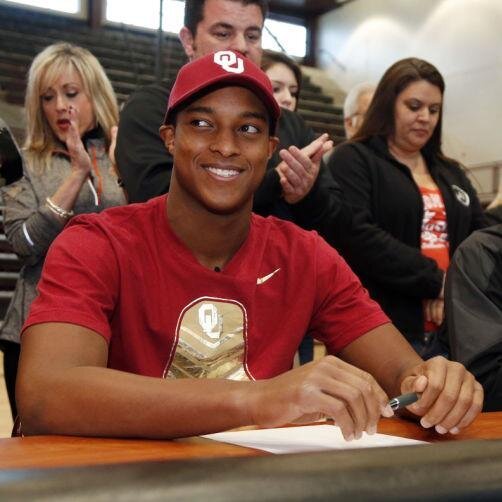 2014 Spring Football Preview| Faces of Tomorrow | Part Two
Posted on: February 28, 2014
Image via @Lil_Stevie21
There is a lot of young talent on this Oklahoma team, but I wanted to countdown five (or so) players that I will be watching closely as we head into spring practice and then into fall camp.
3. Steven Parker
I usually don't like to tout guys that haven't even stepped foot on campus, but this one is special. I fully believe he was the number one guy that Mike Stoops wanted. Hell, he was even the first offer in the secondary for this class, and he wasn't even playing varsity football at that point.
He is every bit of 6'2″ and listed around the 195 pound range. He has great range and looks to be fine playing as a Cover 1 Free Safety and has the flexibility to slide down and man up with the slot. When asked to play man in the slot, I was surprised to see him really excel even asked to defend crossing routes. These routes are traditionally very tough to man up with. Even at the pro level you see slots, especially the Broncos, have great success with crossing routes against man coverage.
He understands how to play the "alley" coming down hill and the ability to play in space is something Steven definitely excel at. Which, of course, is imperative for any good safety. He does sometimes lower his shoulder to the point he can get over-extended, but this is something that can be easily corrected with time. That said, against college backs this habit can be unforgiving and we saw both Keenan Clayton and Brandon Everage have a tough time breaking this type of habit.
Parker is a day one "plug in" guy for me. He is mature with his technique, as so many of the Jenks players are. He has the game-changing gene, the one that few rarely have but all crave. In the state championship game this year it didn't matter if he was playing the slot (on offense) or safety, it was play after play with huge gains or lock down defense. Play-makers, especially young ones, will get burned from time to time. So I am sure you will see a fair share of vintage Mike Stoops 'chewing of thy backside' with Parker, but I fully believe he will contribute in a big way and will be the next great safety at the University of Oklahoma.
He was the key recruit for Mike and his defense to fully establish his innovative ways to utilize a pass rush and man-to-man coverage.