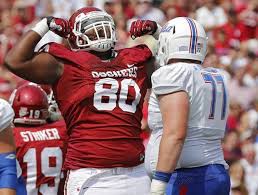 TFB's First Annual 'Staff Picks' (Rounds Three & Four)
Posted on: August 27, 2014
Image via NewsOK
Some of you that followed me here from my previous Internet stop may remember this feature, although we have decided to give it a different name. (But I believe those who are familiar with the previous version will still know what I'm referring to. If it matters, which it probably doesn't.) It was something I started and figured we could continue on the tradition here at TFB. For those unfamiliar, this was an idea originally attributed to Baseball Prospectus and since then, there have been any number of variations derived from that original premise. It's always a fun thing for me to put together and, of course, also offers all of you a chance to tab your own 'My Guys' and share them with us in the comments section. It's also something we can revisit following the season to see how each of us did.
In an effort to avoid duplicate picks, we'll go about our selections in something of a draft format. The beauty of this is there really is no set criteria for how you determine your picks. We'll offer up a relatively brief explanation as to why we picked who we did (and you are welcome to do the same), but aside from that however you justify your picks is entirely up to the individual. You can pick someone who you know will play an important role in the coming season, or you can pick a guy who you believe others are sleeping on and could have a breakout season. Before they play a snap, there are no wrong picks. Generally, I've tried to pick the non-obvious guy who may be a little under the radar, or an up-and-coming underclassman perhaps. There's certainly nothing wrong with taking a guy like Eric Striker, but it's always struck me as a little Captain Obvious of sorts.
But don't let that deter you. As I said, there are no wrong picks prior to the first snap. So with that let us get started. And after be sure to share your picks with us in the comments.
* Ed. note – We're going to split this into multiple posts in the order in which we 'drafted' our picks. We'll start with the first round, then second, and so on. We did a snake-draft (I'm going to assume the majority of you know what that means) with an order of myself, JY, then K.
Jordan's Third Pick: Samaje Perine
True freshman just aren't supposed to be built like this. That story of Charles Tapper thinking he was some player's father is an all-timer. Still, you can be as physically developed as the Hulk but the coaches still have to trust you before you see the field in Norman. And by all accounts Perine has quickly earned their trust, so he'll find a role somewhere in this offense. But with Keith Ford and Alex Ross ahead of him, at least for now, initially it may be somewhat limited. However, between his considerable size, underrated quickness, and ability to catch the ball out of the backfield, he's much more versatile than the bruising plodder of a back one might presume him to be if you just looked at the fact he's listed at 5'11" 243 lbs.
JY's Third Pick: Geneo Grissom
Geneo really had a breakout game in the Sugar Bowl. He was primarily playing a 4i before that and for that particular position is a little undersized. Geneo was recruited as a 4-3 defensive end when Venables was here and even spent some time at tight end two seasons ago. So it's obvious he has a unique skill set and with the time spent at tight end, he kind of has an insight into how an offense/passing game works having done it himself.
This year, however, he's sliding out to the Jack. So what was undersized as a 6'4″ 252 4i defensive end, now is a monster out there playing outside linebacker. This allows us to blitz Striker from a lot of different angles, and for Geneo to line up over the tight end instead of in between the tackle and guard. Geneo is supremely athletic and representative of the kind of 'tweener' athletes you need to play when you employ a 3-4 scheme. With Geneo freed up and most likely facing one-on-one match-ups due to Striker, Tapper, Phillips and potentially Walker demanding attention inside. What was a small undersized defensive line with guys at 250 at the 4i's just became larger and more athletic with five defenders across the front in big sets.
Obo, Tapper, Phillips, Walker and Geneo controlling the front to free up your Jordan Evans and Dom Alexander's of the world to run free and make plays. Still, in passing situations, Geneo has been virtually unblockable in camp and also looked really good in the spring. He may be a high draft pick if he can stay healthy and relentless. Montgomery could turn out to be the best thing that ever happened to him.
Super K's Third Pick: Jordan Phillips
Early in the season last year, Phillips was becoming an absolutely dominant interior lineman. He was able to take up space in the middle and make plays in the run game. But he also started to become a dominant pass rusher and was able to create that interior pressure that makes blocking the edges all the more difficult. However, his sudden rise was quickly halted by a back issue that required surgery. The question now is, after the long layoff, can Phillips get back on that war daddy path?
They brought him along gradually throughout fall camp and the word is he was completely healthy and looking better and better as camp wore on. Despite the depth that OU is developing behind him, there is a noticeable drop-off between the Phillips we saw early last year and the rest of the players on the roster. I'm hopeful, based on everything we've heard, that Phillips will be able to ease into his position throughout the first couple games and be ready to really turn it on in the Tennessee game.
Super K's Fourth Pick: Ogbonnia Okoronkwo
Back in high school, 'Obo' was a terror along the interior line. He made a lot of offensive lineman never want to come back to Leroy Crump stadium. Obo was strong, he played with good leverage, and he was absolutely relentless. But he's now playing a position that better suits his build. Based on what I saw in high school, I think Obo will be a really good player for OU. But as an edge rusher, he's going to have to show off his first step quickness in space and the ability to bend and turn the corner.
Things happen faster as a player gets closer to the ball and just because a player is sudden on the interior part of the defensive line, it doesn't necessarily mean that will translate as he plays farther from the ball. But everything I've heard is that Obo is quick off the edge and has developed the right sense of spacing and balance to use that quickness effectively. We've also heard he really has the ability to turn the corner. I'm confident based on his strength and the toughness he showed in high school that with some reps in live game settings, he's going to be fantastic in the run game. If he can really rush the passer the way I've heard he can, then he can develop into an every down player and can give Geneo some rest.
JY's Fourth Pick: Tyler Evans
Tyler has been out for a year with rehabbing an ACL and before that had a reputation of being Oklahoma's most physical O lineman, along with Bronson Irwin. Before Coach Bedenbaugh came in, Oklahoma ran a much more finesse based scheme that relied on athleticism and deception. With Bedenbaugh at the helm, the line is now more physical, more fundamentally sound, and much nastier. With more double teams, down blocks and drive blocks, the scheme is now one that suits Tyler to a tee.
Tyler really epitomizes the shift in size and philosophy that Coach Bedenbaugh has been after since arriving in Norman. What was an undersized unit that had a reputation for being more finesse at times, now becomes a unit that ran the ball on everybody last year and has quitely become a unit that will average 6'4 1/2″ and 320 this fall.  If you leave Darlington out of it, the guards and tackles average 6'5″ 337 lbs.  That's some major league beef up front in an offense that wants to run over everyone it plays, and with Tyler having a reputation of finding a way to get it done, he's someone I look to be all-conference type of player if he's fully healed from the knee this year.
Jordan's Fourth Pick: Charles Walker
Not unlike my previous pick, Walker certainly is not built like your prototypical 300 pound DE/DT. He's one of those 'first guy off the bus' types whose h.s. film was borderline insane, but due to several injuries he flew under the radar of a number of programs. He benefited significantly from a redshirt year in 2013, but even with that year his game is still pretty raw. Unlimited potential but the key for him in 2014 will be playing within himself and what Jerry Montgomery asks him to do. So often we see guys get their opportunity and try to do too much, get out of position, then get yanked off the field.
The one and only thing that would hold Walker back this year, in my opinion, would be his inexperience. He has talent for days and should benefit from the guys around him drawing attention, leaving him (I'd imagine) often one-on-one which is a match-up he should win more often than not.
—
Now tell us and your fellow TFB readers who your final two picks would be and why in the comments below. And let us know which of our picks you think were the best (Just be easy on K & JY, I know you prefer the four guys I picked).
Jordan's picks:
Steven Parker
Michiah Quick
Samaje Perine
Charles Walker
JY's picks:
Jordan Evans
Taylor McNamara
Geneo Grissom
Tyler Evans
Super K's picks:
Julian Wilson
Eric Striker
Jordan Phillips
Ogbonnia Okoronkwo