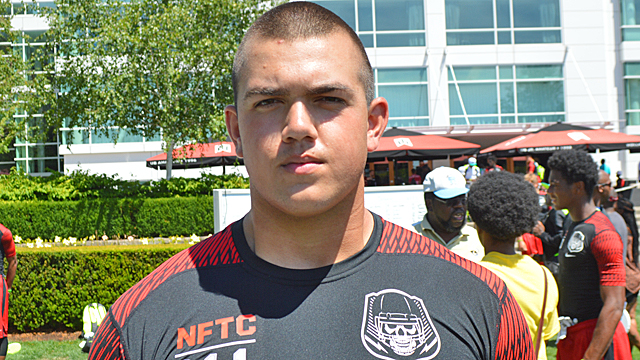 Open Post | Weekend, August 22nd – 24th (UPDATE Sat., 3:53 pm)
Posted on: August 22, 2014
Image of Dru Samia via scout.com
Happy Friday y'all!
– Dru Samia: 2015 Offensive tackle Dru Samia is expected to announce his commitment today. Dru made his way to Oklahoma earlier this month and received an offer during the visit. Samia projects as a right tackle. He recently attended The Opening this summer and reports are that he did really well.
Samia is a guy that Jerry Montgomery coached up the past couple years at the All-Poly camp and the two have built a great relationship. Montgomery and Bill Bendebaugh have done a great job recruiting the talented California native.
The question most of you want to know though is does Oklahoma have a good chance of winning a commitment from Samia today? The answer is yes. In fact, Oklahoma is sitting pretty right now. So you're going to want to check back throughout the day, because we're predicting that Samia chooses OU.
– Kahlil Haughton: Spoke to Kahlil Haughton earlier this week. Kahlil was all set to make his decision this summer, but decided it was best to hold off in order to take his official visits. As we've reported, Kahlil will attend the Tennessee game for his official visit to OU. He had hoped to finish up all his officials in September, in order to make a decision as soon as possible, but in talking to him this week it sounds like that isn't going to happen. In addition to OU, he wants to take official visits to Arkansas and Texas Tech. He's scheduled a Tech visit in November for the Texas game. As a result, Haughton said he will have to delay his commitment but hopes to make his decision in November after his final official.
OU continues to hold a strong position in Kahlil's recruitment, but you never know how things will play out when the process is delayed.
– Justin Reid: Another 2015 OU safety target is Geismar, Louisiana native, Justin Reid. Reid is one of the more underrated prospects in the country. We caught up with Reid yesterday, and he said that he fully intends on taking an official to Oklahoma. He had hoped to make it to the Tennessee game, but his father — who will be taking the trip to Norman with him — has a scheduling conflict that weekend. Even though a date has not been set, he's clearly intent on visiting. And while Reid didn't come out and say it, we get the sense that OU is at or very near the top for him.
– Canton Kautamule: Oklahoma is looking to take one more defensive end in this 2015 class, assuming it's the right one. Who are the 'right' ones? Gabriel Campbell, Neville Gallimore and Canton Kautamule would be those guys in our estimation. As we've reported, Campbell and Gallimore have already scheduled their official visits to Oklahoma. Canton Kautumle, however, has always been tough to track down. Canton is a long, athletic defensive end prospect out of Hawaii. We finally caught up with Canton and had a brief exchange with him. Canton's older brother, Luke Kautamule, plays for Stanford and the general thought is that he's likely to end up there with his brother, or some other school out west. But that hasn't deterred Jerry Montgomery from recruiting him.
Canton said that, "Coach Montgomery came to the Island a couple times to recruit me. He's a cool…big…guy." Even though he would seem to be a heavy Stanford lean, Canton insisted that he has interest in Oklahoma. He said, "Oklahoma is definitely a school I'm still considering." Canton said it's not always easy to stay in touch with coaches, and he said that makes coaches "start to think 'oh maybe he's not interested.'" But Canton emphasized again, "but no, I'm definitely interested in Oklahoma."
Again, it's going to be hard to get Canton away from Stanford or the west coast. OU hasn't given up on Canton, so we'll continue to follow his recruitment. But it will be important for him to take a visit to OU for the Sooners to stand any real chance. If OU can add either Neville, Gabriel or Canton to the three talented defensive linemen already committed, it would be a really nice class.
– Takkarist McKinley: For those of you who may have forgotten, Takkarist McKinley is a freakish pass rusher from Contra Costa Community College in California. A while back Tak said he would be taking an official visit to Oklahoma, so we wanted to make sure that was still the plan. He confirmed that he indeed still plans on visiting Oklahoma for the Bedlam game at the end of the season.
– Justin Madubuike: Yesterday, TFB was the first to report a new 2016 defensive end offer. The offer went out to Justin Madubuike from McKinney, TX. We haven't had a chance to look at Madubike's film yet, but we've heard very good things. Justin is being recruited by Oklahoma as a 4i technique defensive end. He's currently listed at 6'3″ and around 250 lbs.
– Dontavious Jackson: Talked to 2016 ILB Dontavious Jackson from Houston, TX earlier this week. He told us that while it's not confirmed, he really wants to make it up to Norman for the Tennessee game. That game really gives you a glimpse of how much easier it can be to recruit in the SEC. Tennessee hasn't exactly been competitive lately, but an SEC team with good tradition comes to town and suddenly everyone wants to be in Norman. Will be curious to see if Ohio State coming to town in a couple years has a similar effect.
– Scrimmages: Ace was at the Norman North, Tulsa Union, Santa Fe, and West Moore scrimmages yesterday. He's got some notes on a few OK Preps players that we'll post later this weekend or Monday.
– Site Updates: Just a heads up, over the past few weeks we've a couple designers working on some sight updates. Some of those updates will be rolled out shortly.
– UPDATE (Fri., 6:51 pm): In case y'all haven't seen the tweet below, Joe Mixon responds to all the folks that assumed he'd transfer: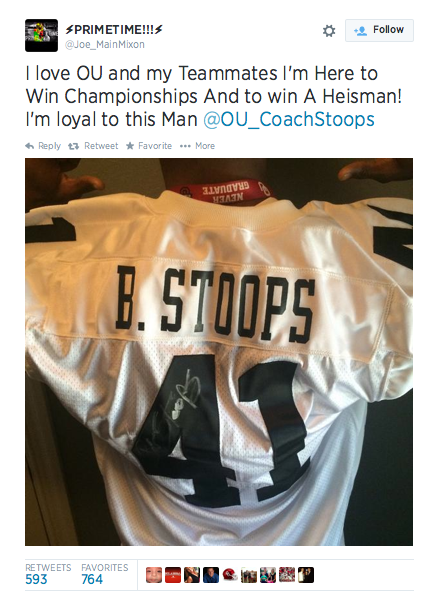 – UPDATE (Fri., 7:08 pm): Well, it looks like the NCAA has denied Dorial Green-Beckham's waiver request. Here is the official statement provided by the University of Oklahoma:
"The University of Oklahoma has learned that the waiver request it entered on behalf of Dorial Green-Beckham has been denied by the NCAA. The University accepts that decision and will continue to provide the appropriate assistance to Dorial, just as it does with other students, in helping him grow personally from the many opportunities available to him at OU."
– UPDATE (Sat., 6:22 am): Most of you are well aware, but on the off chance anyone missed it just wanted to post it here as well. OU did, as we expected, pick up a commitment last night from 2015 OT Dru Samia.
– UPDATE (Sat., 3:53 pm): OLB/DE Keisean Lucier-South out of California will take an official visit to OU. He tweeted out earlier that he too will be at the OU vs. Tennessee game.