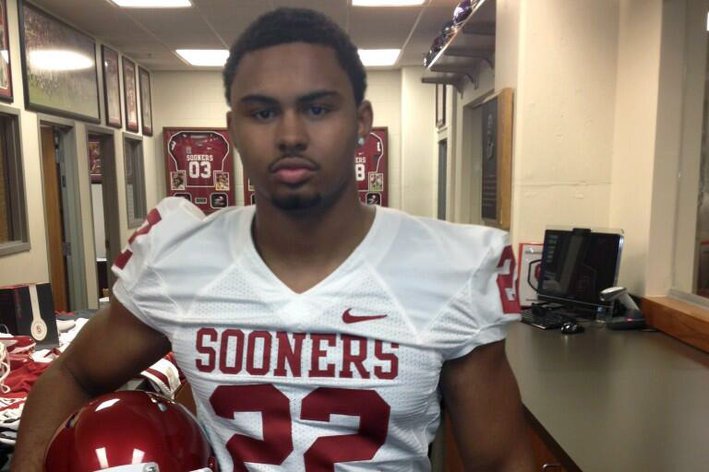 Open Post | Monday, August 11th (UPDATE 3:40 pm)
Posted on: August 11, 2014
Image of Ricky DeBerry via elevenwarriors.com
Good Monday y'all!
– Riley Daniel: In OK Preps news, 2015 offensive lineman Riley Daniel committed to the University of Houston last night. Daniel chose Houston over Tulsa and North Texas. Very excited to watch this young Oklahoma player develop and play in the coming years!
UH is one of the many schools that are now beginning to recruit the state of Oklahoma more heavily. Last year Lawton's Michael Moana committed to Houston, and the early word is he looks really good. Moana is already up to 285 lbs and while he may red shirt this year, the coaches at Houston believe he has a bright future.
– Dru Samia: In a bit of a surprise, OU missed out on 2015 OT Madison Akamnonu this past weekend. But that doesn't mean all is lost. Last week OT Dru Samia out of California flew into Norman for an unofficial visit and picked up an offer. We caught up with him this weekend and Sooner fans will be happy to know that Dru's interest in OU is real…very real. And whatever is going to go down, may go down quite quickly.
Dru is very high on Coach Bedenbaugh and particularly likes his ability to teach, as Dru is clearly one of those guys who just wants to get better. He said, "Coach B is so good at explaining during film what you did wrong and how it affected the entire team."
So when can we expect an announcement from Dru? He told us that "I'm still shooting for before the season…later this month." Dru obviously has a lot of options, including in-state program on the rise UCLA (and a number of other schools), but right now in talking to Dru it really feels like OU is in the lead here.
One other quick note on Akamnonu. When we caught up with him last week, he talked about some things that maybe should have caught our attention more. Madison was shocked at how big everyone was at OU. In fact, in talking about Derek Farniok, he said he "couldn't believe he was second string." That isn't to say Madison shied away from the competition at OU, but we did want to find out what Dru's mentality was when looking at the competition he will face at OU. Dru's response, "there will be more talented guys, but it's up to me to work harder than them."
– Ricky DeBerry: A friend of TFB's who is close to the DeBerry family called last night and said "OU really could end up getting Ricky (DeBerry)." The friend had just got off the phone with DeBerry's father and said that the interest his son has in OU is very real. He said "Ricky wants to be the next Eric Striker."
DeBerry will be in Norman for the Tennessee game (like half the recruits in the country, lol) and it will be a doubly important game because another school DeBerry likes is in fact, Tennessee. DeBerry is also be recruited by TAMU, but the word is they want to use him as a MLB, and DeBerry sees himself as more of a Jack LB (like Striker was last year) which is where OU and Alabama want him.
This obviously isn't a done deal, but according to our friend the interest in the Sooners is very real and that game against the Vols could go a long way in helping OU win the battle for Ricky's services. Should also note that DeBerry is a Jerry Montgomery recruit. Coach Montgomery has been recruiting DeBerry and his family for quite some time.
– Team Notes: This past Saturday OU held their first team scrimmage. They took off Sunday, so we spent a lot of time this weekend talking to some friends to get y'all info on how things have progressed to this point in fall camp.
Frank Shannon – Shannon took part in the scrimmage on Saturday. He and Jordan Evans weren't practicing earlier in the week and the media was told that both had the flu. Some media members seemed skeptical of that because of the fact Evans was actually on the sideline at practice and Shannon wasn't. We did confirm from a source though that Frank did indeed have the flu. And that Evans was still sick on Saturday and did not participate.
Marcus Green – Had one of two INTs in the scrimmage on Saturday.
Dwayne Orso – Orso still has a lot to learn and is going to need time to develop his upper body strength, but he's also really starting to flash at times. We were told Orso led the defensive line in tackles during the scrimmage on Saturday. And late in the week he was doing some other good things in practice. Once Orso really learns how to use his length, he's going to be a good one.
Miciah Quick – Quick is still mostly taking reps with the 2's, though he is getting a few snaps here and there with the 1's. But it has nothing to do with his inability to impress the coaches. It's normal for a school to bring a young player along gradually in their fall camp, even if they are as highly coveted and talented as Quick.
We've been told that Quick will see the field this year and may at some point find himself in the starting rotation. Depending, of course, on how guys like Durron Neal continue to improve and whether Dorial Green-Beckham is ruled eligible. We were told Quick is (unsurprisingly) very similar to Jalen Saunders both in his explosiveness and lateral quickness.
Jeffery Mead – Interestingly, we've been told that Mead is actually starting to take a few snaps with the 1st team. That isn't to say Mead is going to play a lot this year, if at all (we don't know), but it seems OU likes what they see early on.
Jordan Phillips – Great news for Sooner fans is that Phillips did indeed take part in the scrimmage this past weekend. They'll continue to be smart with how they work him, but his presence in the middle of that defense obviously changes things significantly.
Steven Parker – Word is Parker did a nice job in the scrimmage. He apparently caused a fumble when he stripped the ball from one of the receivers. Also, we heard there was a collision between him and 'Baby House' (OU's nickname for Samaje Perine) at the goal line. Perine was headed for end zone, but Parker tackled him low and the LBs cleaned it up giving the defense a stop.
Alex Ross – Ross ran with the 1st team during the scrimmage this past weekend. Didn't get a lot of news there, but did hear that Keith Ford isn't about to back down or let anyone take his spot. So the RB battle will continue.
Geneo Grissom – We were told that all during camp, Geneo has shined and looks like "a man amongst boys." Word is both he and Striker have been nearly impossible to block much like they were in the Sugar Bowl.
While the players have been practicing, there is still a lot of time left before the opener so you can expect the coaches to continue to move people around.
– UPDATE (12:24pm): TFB has been able to confirm that OU has earned a commitment from 2015 offensive lineman Cody Ford. This had been building for some time even though Ford had been committed to TCU. We're working to get more from Ford himself which we hope to have up soon. But wanted to throw this up real quick with the news breaking and the Sooners adding another talented piece to their 2015 class.
– UPDATE (2:30 pm): OU has offered 2015 ATH & Rice commit Hunter Herndon (Forney, TX). Most services have him as a TE at the next level.
Just got offered by OU #Boomer #Big12 pic.twitter.com/nN9mSOemV4

— RICH HOMIE (@hunterherndon10) August 11, 2014
– UPDATE (3:40 pm): OU linebacker Frank Shannon has been suspended for one year per university president David Boren. More to come in terms of the impact and what this means going forward.