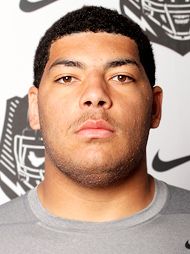 Cody Ford Commits to Oklahoma (UPDATED 1:27 pm)
Posted on: August 11, 2014
Image via ESPN.com
Well it may not have been the best weekend of the Sooners but the week starts off right. Cody Ford confirms that he has committed to the University of Oklahoma! The news was first reported by Bret H. McCormick of www.TheTownTalk.com. We confirmed the commitment with Cody.
He told us a little while back that he was planning on committing to Oklahoma but had not decided on a date yet. When we asked him about his commitment he said, "OU is a great program and I like all the coaches. My parents like the place as much as me." He also said of coach Bedenbaugh that he is "a great guy and a great coach and he produces NFL prospects".
When we asked Cody if he is now done with recruiting he replied, "yes sir!"
For those of you curious about what position Ford will play. We've asked around and it sounds like Ford is being recruited to play either OG or RT. We've been told he can play either so where he ends up will likely depend on need, depth and development. Also, in case you missed it. Here is a link to JY's thoughts on Ford (here).
BOOMER!
UPDATE (1:27): We mistakenly credited Bob Przybylo for breaking the Cody Ford commitment however that was NOT accurate. The report first came from Bret H. McCormick of www.thetowntalk.com as mentioned above. Our apologies for the error.