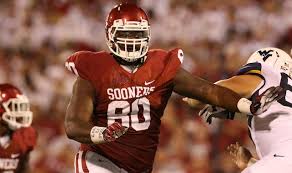 Open Post (Including Jordan Phillips Update) – Thurs, May 29th (UPDATE 5:07 pm)
Posted on: May 29, 2014
Image via CBS Sports
– Jordan Phillips Update: I know the recruiting news hasn't been the best lately, but it's important to keep in mind that Oklahoma has a lot of talent on the current roster. OU is expecting to take a smaller class than they have in recent years and as a result, they have been taking a little longer with some of their evals. Which is not meant to come across as a excuse because the reality of things currently is what it is (as they say). But, anyway, back to Phillips.
Before he was injured, Jordan Phillips was having an incredible season. He was a difference maker in the middle. Holding up the run game in the middle, eating up blocks, and preventing lineman from getting to the second level. He was also able to apply pressure up the middle on passing downs. While Phillips' injury allowed guys like Jordan Wade and Torrea Peterson to get valuable reps and develop some depth, there is no question that Oklahoma felt the loss of Phillips in a serious way.
A source was kind enough to give us an update on how things are coming along with Phillips. We were told the latest is that he is dying to get back on the field, which I'm sure comes as a shock to no one. The coaches/trainers have been very cautious and are understandably trying to bring him along slowly, both in terms of his recovery and regaining his speed/strength. We've been told his progress has been excellent thus far, and that he is expecting to be back by the beginning of the season. It's obviously going to be a little easier to tell for sure once fall camp rolls around — and it's important to note things could easily change with respect to his status between now and then — but right now we're told the expectation is he will be ready to go all out by the season opener.
– In regards to the Torrance Gibson note from yesterday, one of our regular readers and posters (Coach Stauder) asked if we have specific details about Gibson's school/team situation. We don't know exactly what happened, but it sounds like whatever took place was blown way out of proportion. Gibson was suspended from school for a day or two, but is already back as we understand things. It sounds like the suspension just coincided with the spring scrimmage (or perhaps it was an additional punishment). Gibson's mother is a teacher at the American Heritage, so I suspect whatever caused the suspension was dealt with appropriately by the school and Gibson's family/coaches.
Gibson is also expected to release his Top 7 schools, in order, later today, so we'll be sure to update this post once that information becomes available.
– I checked in with 2015 OG Cordel Iwuagwu (Houston, TX). JY recently wrote about him in case you missed it. Although OU has not yet extended an offer to Cordel, he is apparently communicating with OU every week. He is an OG that we really like. He continues to pick up a ton of offers on the recruiting trail, including schools like Arizona State and TCU. Definitely glad to hear that OU is staying in regular contact with him, though that is no surprise given Coach Bedenbaugh's work ethic.
It sounds like OU is just interested in evaluating Cordel a little further before an offer is made, and there appears to be a good chance he'll be at one of the summer satellite camps. I think OU likes Cordel's athleticism, but he's a little undersized in terms of his developed weight compared to what Bedenbaugh typically looks for in an OG. Cordel has solid height at 6'3″ flat footed, but he's currently just 280 lbs and Bedenbaugh is looking for guys who are sitting right around 300 lbs. But if Cordel performs the way he is capable of, and given his frame, I suspect there is a chance he'd earn an offer. Clearly, Oklahoma has their eye very much on the Houston product.
– Another 2015 OL that you're going to want to keep your eyes on is Ringling's Riley Daniel. JY has a write up coming soon about the massive OK Preps OL. He's not only received offers from North Texas and Tulsa (two very good mid-major D1 programs), but he recently picked up an offer from Houston. The UH coaches were in Oklahoma last week looking at a number of recruits. I know they went by and saw McKinley Whitfield (and offered), and I'm assuming they saw Daniel on that same trip as well. We'll have more about Daniel later…
– As we mentioned yesterday, Mike Stoops will be in Spiro today to see McKinley Whitfield. But he won't be the only coach there. Texas Tech and Missouri are both sending coaches to Spiro today as well to see Whitfield.
– Got this picture of JY the other day that I wanted to share with y'all…TBT (throwback Thursday) as they say on Twitter. A face only a mama could love! I kid, I kid 🙂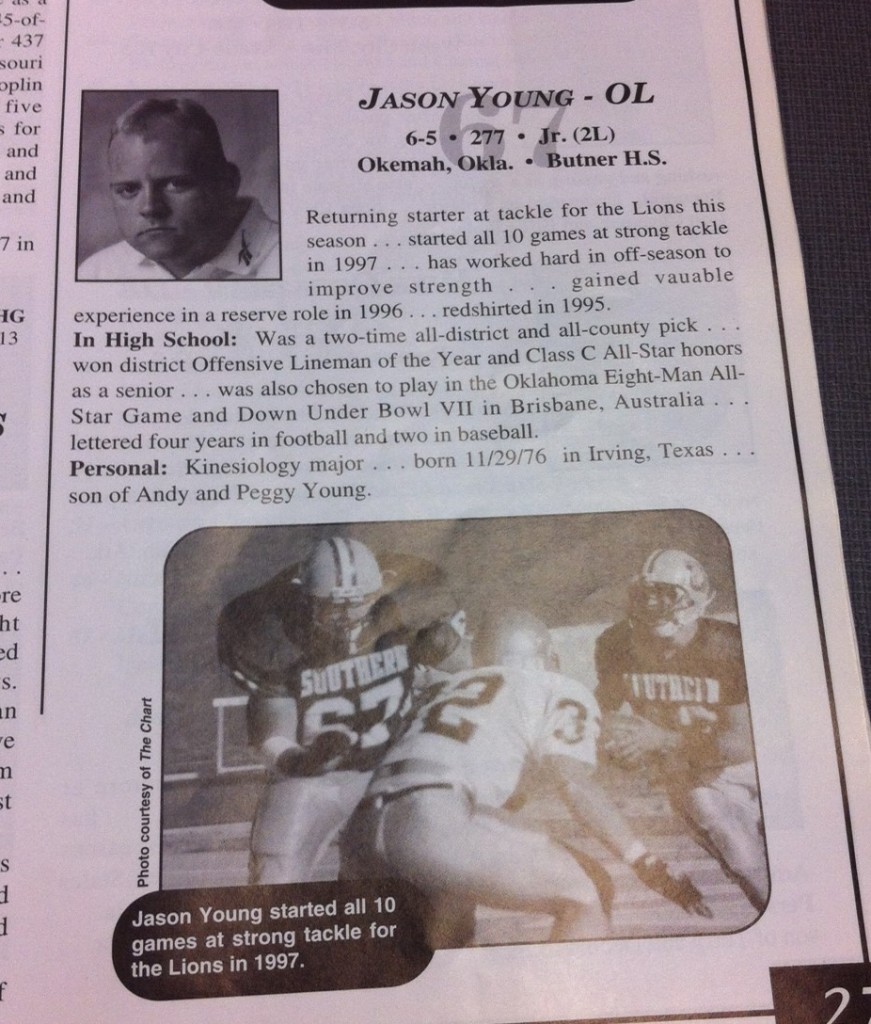 – One other quick update from earlier this morning. If you haven't already seen it, PJ Mbanasor put out his Top 7 schools (in no order) and they included: Oklahoma, Nebraska, Notre Dame, Michigan State, Ohio State, Florida, and LSU.
– UPDATE (5:07 pm): Torrance's Gibson's Top 7 schools (in order).
Top 7 final schools in order @RyanBartow pic.twitter.com/qVaHpV8vRB

— Torrance Gibson (@quick_tg6) May 29, 2014