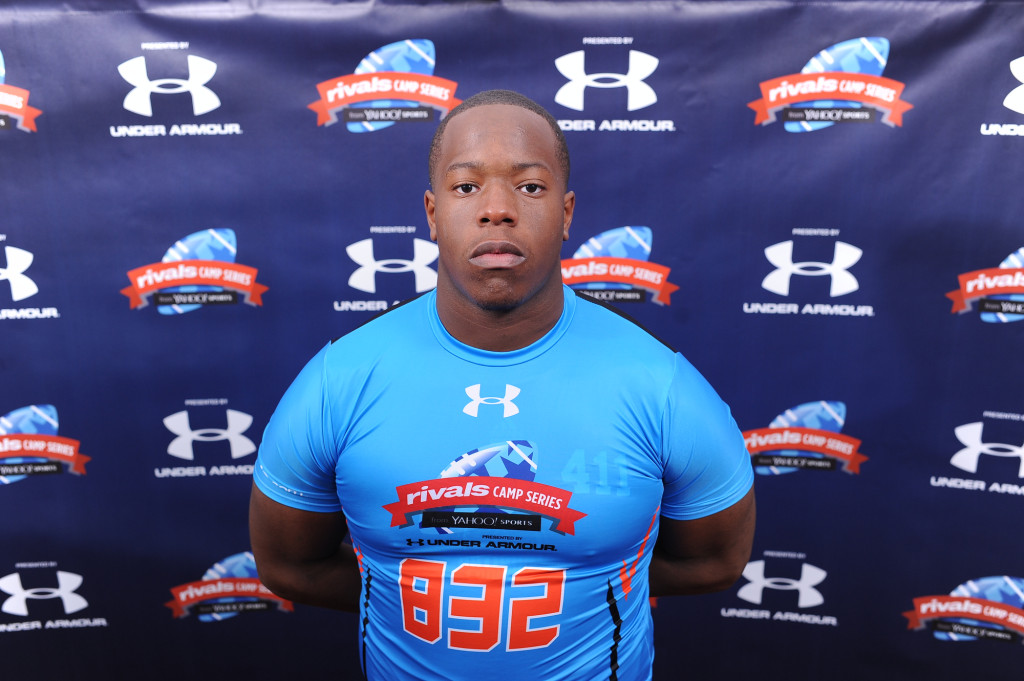 2015 OL Cordel Iwuagwu Eval
Posted on: April 22, 2014
Image via flickr
Cordel Iwuagwu | Offensive Lineman | Class of 2015 | Houston, TX | VIDEO
K, being the Houstonite that he is, shot me a text one day and told me there was a guy whose film he thought I'd really like. He was right. Checking in around 6'3″ 280 pounds is Houston Westfield offensive lineman, Cordel Iwuagwu. Cordel is a guy who is very thick and powerful. Looking at his frame, in my opinion, he projects to the next level as an offensive guard. He has the frame that would allow him to play at 310-to-320 when it's all said and done. And with him just getting ready to be a senior in the fall, he's going to fill out and become a monster.
As I broke down some of his film, there was a time or two when he just comes out of his stance too high. He ends up hitting defensive linemen with his chest, rather than striking them with the crown of his helmet and shoulder pads. As he works on the power cleans and squats, it will allow him to trust his body more. As a young offensive lineman, and also being a tall player myself, I struggled with pad level as well. The only way to get over that trust issue you have with yourself is to get used to being at the bottom of the lift on those power cleans and squats. Once you're able to recognize that you aren't going to fall and get embarrassed, you're more willing to dip your hips and get down lower.
Before I give you the wrong impression about Cordel's game, he's not all bad with his pad level. But he's also not great with it yet either. So if I were his coach, I'd make sure he understood the difference between being a devastating, battering ram BCS type offensive guard. Or a run of the mill mid-major guy who winds up being described as raw, unfinished and has loads of potential.
Going into your senior year of high school, there's a big opportunity you have to mature both physically and mentally as a young man. There's another jump you'll take between your first and second years in college as well. Cordel is kind of at that crossroads type of spot right now. I see a guy who has the frame and the aggressiveness to be a very good college player, and someone who could eventually get drafted IF he works hard on his technique and his strength.
I was very impressed with his natural power, quickness, and his ability to locate linebackers on the second level. Something that stood out to me as well was his ability to stay square to the line of scrimmage in pass protection. A lot of times guys get too eager and end up opening the edge, or at guard they'll create space between themselves and the center allowing a guy to get to the QB up the middle. So when you watch Cordel, there's a lot of things to like about his game. When he stays flat-backed, man, the guy is a hammer. But in those instances where he gets too high out of his stance, he can be just average since he's negating his power.
When you talk about a young offensive lineman's development, I feel like a lot of it is very similar to Crash Davis' character in the movie Bull Durham. If you've never seen the movie (one of my all time favorites by the way), Crash was a minor league catcher who was a very good, but not great, player. In every scene where he was batting, he was talking to himself about having a quick bat, don't think about this or that, etc. So what I mean is that as a young guy, very rarely are you consciously thinking about your technique when you come off the ball. When Cordel stays low and drives his legs, he's borderline elite. When he's not focused on staying low, shooting his hands and driving his feet, he's just another guy.
A lot of fans, especially Oklahoma fans, who expect every offensive lineman to be fully developed and be a dome crusher coming right out of the box get discouraged or even disgruntled when we go after a player like Cordel. When you talk about a guy who is a "developmental prospect", it may be as simple as teaching the guy to talk to himself and focus on proper technique. Depending on how he takes to the teaching and/or how hard of a worker a particular player may be ends up being everything in terms of how good that person can become as a player.
In a nutshell, that's kind of how I evaluate offensive line talent. There isn't a lot separating the gap between 'good' to 'great' in my mind. And the margin of error is microscopic when it comes to saying whether this guy has it or doesn't.  Two things will determine whether Cordel is playing on Sunday's in a few years in my opinion:
1. How well does he take to teaching? Is he humble enough to buy into a coach who is going to nitpick his game for his benefit?
2. Once the areas of improvement have been laid out before him, is he going to attack and work his butt off? Or take it easy and coast?
In my opinion, Cordel is just oozing with potential. As I watch his film, I keep waiting for that moment where he makes me go "oh, wow." He's darn close to doing it, he just needs to focus on staying low and finishing people off. A good offseason and solid conditioning will be key towards his ability to remain focused for entire games and his senior season. If he is able to make that mental leap, then the sky is the limit for the kid. I really like him as a player, and whatever he ends up doing in his career is ultimately up to him.
He has the talent, but does he have the will?  Only he can answer that.