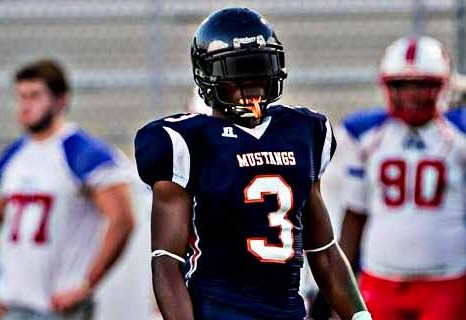 Open Post | Wednesday, Feb. 11th (UPDATE 4:08 pm)
Posted on: February 11, 2015
Image of Jared Mayden via varsitypreps.com
– More Coaching Changes: Okay…. breathe…..yes, it's a bad thing Jerry Montgomery left the program after being at OU for only two seasons. There is, however, some good. The Sooners do still have able recruiters on staff. New DBs coach Kerry Cooks has a strong reputation as a recruiter. Cale Gundy has a track record as strong as anyone. Dennis Simmons and Lincoln Riley are also good recruiters. All of these guys are young and energetic, something one might argue has been lacking with the Sooners coaching staff in recent years.
In terms of possible replacements for Montgomery, we certainly plan to address potential candidates at some point in the near future. We will not, however, just start throwing names out there for no good reason. We didn't do it for the previous searches for a reason, and we don't plan on that changing for this search either. When/if we can bring you something tangible, we will certainly do so. But to just start throwing out names because "we" think they make sense, or because so-and-so followed someone else on Twitter just seems somewhat irresponsible.
Bob Stoops made the comment in the statement he released yesterday of already having started the search to replace Montgomery, but based on some of what we've heard it's just that…a start. Now that's not to say he may already have a name or two in mind as to who he'd like to target, but as we understand it things are still very early in the process of finding a replacement.
– Arlington Lamar: The Dallas-Forth Worth area high school program is loaded this year with numerous D1 caliber talent, which includes OU offer and 2016 QB Shane Buechele. But it also includes recent OU Junior Day invitee and 2016 WR Kofi Boateng.
In speaking with him, Boateng wasn't actually all that interested in the Sooners initially. That changed, however, when Lincoln Riley was hired and the scheme (presumably) switched back to a  pass-happy Air Raid type of offense. Boateng also shared with TFB that Buechele considering OU has made quite the difference for him as well.
However when I (Brandon) spoke with Boateng on Monday, he had not yet spoken with new OU outside wide receivers coach Dennis Simmons. But I think it's safe to assume if that hasn't already changed, it will do so pretty soon. Kofi has, however, been in contact with Cale Gundy and Lincoln Riley quite a bit. He said his relationship with those two has developed pretty quickly over the last couple of weeks. And he is hoping to continue that this weekend in Norman at the OU Junior Day.
– Jared Mayden: Back in late January, 2016 Sachse CB Jared Mayden announced a Top 3 (in no order) via Twitter that included: Ohio State, Oregon & TCU. Even before that, however, in November, the talented corner had a Top 5 which somewhat surprisingly also did not include Oklahoma. We say surprisingly because if you weren't aware, Mayden is an OU legacy. Thus many assumed that the Sooners would seemingly be a strong contender for his services.
But with Mayden's lead recruiter, Josh Heupel, no longer on the OU staff and with the retirement of Bobby Jack Wright, some have speculated whether or not the Sooners could get back in with the talented Texas corner.
Well based on the conversation our guy Alex had with Mayden last night, it sounds like he is still willing to listen should OU decide to step up their pursuit. In fact, the recently added Kerry Cooks was recruiting Mayden to Notre Dame. So OU's new defensive backs coach is definitely familar with Mayden. And we can confirm that since Cooks' hiring, the two have talked multiple times.
When we asked Mayden what could help OU get back into consideration, he stated "just getting to know the coaches." And what could be better in that regard than getting some face time with the staff at an upcoming OU Junior Day?
Well, we can tell you that Mayden has been working to set up plans to try and get to Norman this weekend. But at this point those plans have not been finalized. Either way, thought, it seems as if Oklahoma isn't quite out of this race as some may have thought.
– Mark Jackson: With the news of Montgomery heading to the NFL, OU fans will be very eager to see what kind of impact it has on Oklahoma's recruiting what with one of their best closers no longer on staff. To that point, Alex was able to catch up with one 2016 pass rusher the now former OU staffer was handling the recruitment of in Cibolo Steele OLB/DE, Mark Jackson.
For those that don't know or remember, OU was actually Jackson's first offer which is definitely something he remembers. At the time, Bobby Jack Wright was handling his recruitment but then passed him off to Montgomery.
Jackson — who also holds offers from Baylor, Missouri, Oklahoma State & Texas — actually had not heard the news about Montgomery when we spoke with him. But the good news here for OU fans is Montgomery's departure does not appear as though it will have that big of an impact on his feeling towards the Sooners. Reason being is that while the two had talked and were starting to build a relationship, it had not yet got to that point where this news was devastating for him. Or at least that is what he expressed to us when we spoke.
One of the main things Jackson likes about OU is their 3-4 defensive scheme, and the chance he would likely have to play the OLB position in that style of defense. He told us that as long as the next guy comes in and looks at him for the same 'Jack' LB position, then his interest in OU won't waiver.
– Tope Imade: Another recent Junior Day invitee, Tope Imade, is a name that caught the attention of the one and only JY. Imade goes about 6'6″ 305 and has put his hand in the dirt at both the guard and tackle spots for Arlington's Bowie High. JY had a chance to speak with Imade earlier this week and while he doesn't have an OU offer in-hand just yet, he is hopeful that changes this weekend.
JY is a big fan of Imade's and has been for some time now. While he may have somewhat of a lean from for a kid his size, he's a guy that looks like he is still growing. So there is really no telling where exactly he could end up at. He's most likely a guard at the next level, which is actually where he and Bill Bedenbaugh have discussed him playing.
Imade is somewhat open right now with regards to his recruiting, but it's worth nothing that he is good friends with current Sooner commit and highly regarded 2016 OT, Jean Delance. So that is something that could potentially play into OU's favor.
– UPDATE (11:59 am): I'm not sure I can say this is surprising necessarily, but I do believe it will be a good thing for everyone expected to participate.
Dorial Green-Beckham will participate in Oklahoma's pro day workout Wed. March 11th. DGB is working out in Arizona in prep for NFL combine.

— Dan Lucy (@DanLucySports) February 11, 2015
– UPDATE (12:00 pm): Sooners have offered 2016 CB Byron Murphy (Scottsdale, AZ)
– UPDATE (12:02 pm): Sooners have also offered 2016 safety Deontay Anderson (Manvel, TX)
– UPDATE (12:05 pm): Also from last night, OU reportedly made two 2016 WR offers to Theo Howard (Westlake Village, CA) and Jackie Jones (Long Beach, CA).
– UPDATE (12:48 pm): I don't know if it's the lack of a single comment (other than my own) that has me concerned, or if you all really just aren't aware of the visitor list for this weekend's OU Junior Day that Alex and Brandon have been working so hard on.
– UPDATE (2:53 pm): Brandon has confirmed the note from above and Jared Mayden will be in Norman this weekend.
– UPDATE (3:36 pm): 2016 DT & Baylor commit, Jordan Elliott (Houston, TX), claiming an OU offer.
– UPDATE (4:08 pm): Demetric Warren reporting OU has offered 2016 DE Damion Dickens (Lexington, MS).