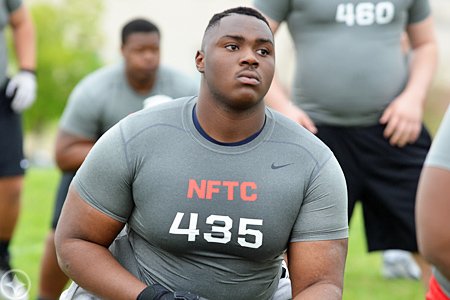 Josh Wariboko Decommits
Posted on: April 17, 2014
Image via scout.com
Unfortunately, it appears the fear from Wednesday's Open Post was justified with the news later that same night that Josh Wariboko has indeed decommitted from the University of Oklahoma.
After discussions with my family, We've decided to officially reopen my recruitment. Thank you!

— P + H (@JoshuaJ45) April 17, 2014
Stemming largely from a desire to play with his younger brother, Max, Wariboko has decided to reopen his recruitment. However, his brother isn't the sole reason for the change. Because his commitment came as early as it did, there has long been a desire on Wariboko's part to continue taking trips to other schools. Which is something OU coaches have frowned upon in the past once a recruit has verbally committed.
So with an intention to avoid trying to do anything behind the coaches back, Wariboko and his family chose to open things up so that they can be free to take a visit should they wish to do so without worrying about how the OU coaches would react to it.
Wariboko expressed that the Sooners would still "have a spot" in his recruitment, so all hope is not lost for OU fans. That said, it remains to be seen just how serious of a spot that may be if they do not eventually offer the younger brother.
We'll have to wait and see how things play out, but there is no denying this disappointment for the program in losing an in-state prospect as talented and polished as Wariboko.