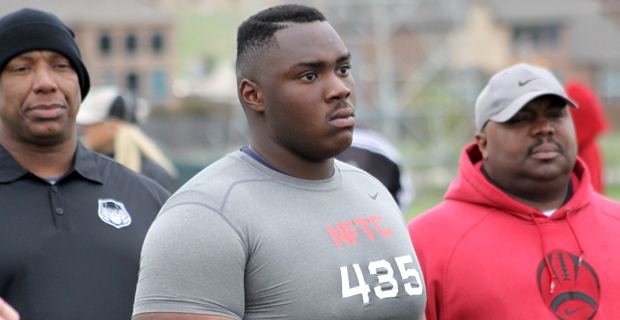 Open Post (Wariboko, Fehoko, Gibson, etc.) | Wednesday, April 16th (Updated 12:42 pm)
Posted on: April 16, 2014
Image from 247sports.com
– Ok this Open Post is going to have some pretty significant news!
– Last night I got a phone call from someone very close to the program that told me things might be shaky with Josh Wariboko. Was told that Louisville had extended an offer to Max Wariboko, Josh Wariboko's brother, and that it was significant in terms of it's impact on Josh. That was early in the evening and between other calls I didn't get a chance to confirm the offer. But I later noted that some reputable writers like Josh McCuistion of Soonerscoop.com had confirmed it.
I was told that there have been conversations between the OU staff and Josh Wariboko about his actual commitment and apparently Josh really wants to play with his brother and has expressed that desire to OU. I've been told that the desire is so strong that things are actually up in the air with respect to his commitment. I don't know if this means we are going to lose his commitment but it's certainly an issue worth noting and watching.
– Yesterday's Breiden Fehoko post caused quite a stir. I wanted to share a tweet with everyone. Breiden responded to someone who attacked us on twitter saying: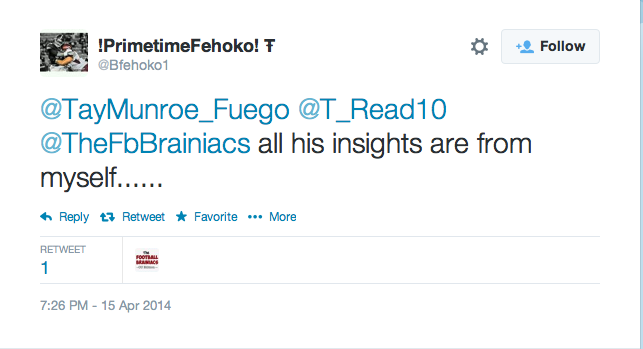 "His insights" meaning, my insights about his commitment. In other words Breiden had absolutely no issues with my post and even defended it in saying that what I wrote came from him. And in conversations between him and I, I specifically asked him if he had any issues with what I wrote and he said he had no problems and that he was completely fine with it.  I wanted to note that so at least our readers would understand that the opinion piece wasn't concocted based on fairy tales. I've been in regular communication with Breiden and I know a great deal about how the whole Tech commitment went down and I can tell you that despite what other fan bases may want to believe, Breiden's relationship with coach Montgomery is very special and he absolutely wants to visit OU. I'm not saying it's going to matter or that it will even happen but I will say that the Oklahoma staff have not given up on him. He's expressed to me repeatedly how important his relationship with coach Montgomery is.
– I also spoke to Torrance Gibson and to people around Torrance. I know it's been quiet on that end and if you read Gibson's twitter page it would seem it's all about the Vols. But someone close to Torrance told me point blank that Torrance is going to visit OU. Torrance himself did not admit to that but he did tell me that Oklahoma is definitely still in the running. If I had to guess at this point I'd say he will take official visits to: Ohio State, Tennessee, Auburn, Oklahoma and then possibly a LSU or a Florida school. Call me the eternal optimist but I haven't quite given up yet because I know that all the off-season sales pitches start to be a lot harder to make and a lot harder to believe once the season starts and you've got to out there and win games. That's something Oklahoma knows how to do and will probably do a lot of this year.
– Also, I know I told y'all I'd catch up with star DL Tim Settle who has been visiting Oklahoma but unfortunately I had too much other work to do this evening so I'll try to catch up with him sometime today.
– Lastly, I wanted to add that I've confirmed that the OU staff definitely has NOT been in contact with Ohio State LB Mike Mitchell. Mitchell is looking to transfer to be closer to his home in TX. We essentially reported to same thing in yesterday's post but I got further confirmation after the fact so I just wanted to let y'all know.
– UPDATE (12:42 pm): Coach Montgomery is in Utah today visiting a couple of prospects. He is visiting OU offensive tackle target Andre James. He is also visiting OU LB target Osa Masina. Masina is being recruited by Oklahoma as an ILB.