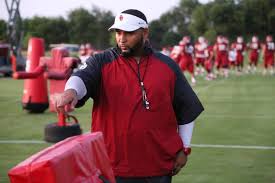 Open Post | Wednesday, April 30th (UPDATE 10:27 am)
Posted on: April 30, 2014
– As most of you probably saw yesterday, we confirmed an offer to 2016 DE Isaiah Chambers out of Houston, Texas. While Chambers probably favors TAMU right now, Oklahoma is his first offer and it's clear the coaches are dead set on doing early evaluations. Which leads to them getting in on kids early and, thus, these early offers you see going out, something they've been hesitant to do in the past.
– In addition to Chambers and the two 2015 LB/S prospects out of Jersey Village we mentioned in yesterday's Open Post, Coach Montgomery also went by to visit 2016 DE/OLB Sarid Shahdaiah out of Dekaney HS in Houston.
– It appears today or tomorrow Montgomery will also be stopping by to see now former OU commit Du'Vonta Lampkin, though you can rest assured Oklahoma isn't sitting around waiting on him.
– Related to the point above, we're starting to hear that things are very good between Oklahoma and Breylin Mitchell, the big DE out of Round Rock. It sounds like they'll be by to visit Mitchell in the coming days.
– Oklahoma will also be sending a coach down next week to visit a couple of Manor, TX prospects that you are going to want to keep your eye on. The first is a player we featured recently that we believe is going to be one of the best DE/OLB prospects in the state of TX in 2016, Erick Fowler.
The other is a very intriguing 2015 OL named Henry Mitchell. Mitchell was All-District last year in his FIRST year to ever play on the o-line. He isn't very well known right now, but I don't think it is going to stay that way very long. I can tell you that Mitchell is a huge Oklahoma fan. He grew up rooting for the Sooners. In fact, he once told me he came out the womb saying "Boomer Sooner."
– There is a chance the Sooners could be going back to Armwood, Eric Striker's HS, for another LB. Coach Kish stopped by to see bone-crushing ILB Jordan Griffin. The coaches haven't had a chance to see Griffin work out just yet, but I'll be honest with you, IMO, Griffin is a kid worthy of an offer on film alone. He might not be exactly what OU is looking for in terms of length (he's 6'0″ – 6'1″), but his football IQ jumps out on film. He can play downhill, drop, start/stop, and he will strike you in the open field without regard to his life or yours. And to top it off, he's a blue collar kid that will put in the work.
– As we reported last week, Oklahoma offered Roland, OK TE/DE Austin Cantrell. I've been able to ask around to find out exactly what OU's intentions were with Austin in offering him, and it sounds like the best way to describe it would be as an "athlete." Unfortunately, they were a little late in finding Cantrell but it sounds like Coach Montgomery was one of the coaches that discovered him. And when B.Stoops heard there was a big in-state kid that can run, they decided to offer. He can play offense or defense, Oklahoma is leaving that up to him. All they know is the kid is a big football player within our own borders. Unfortunately for OU it sounds like he's solid to Arkansas right now, but time will tell. Either way, I love seeing Oklahoma kids get their due and root for them wherever they go.
– Had a chance to speak with James Proche yesterday, the WR we mentioned in yesterday's Open Post. All I can say is someone offer that kid now! He's one of the most thoughtful and intelligent kids I've come across. I think he has something like a 3.7 gpa. And the kid is a stone cold killer on the field. I was actually catching up with PJ Mbansor last night, and I asked him about Proche. He said "that dude is cold." He mentioned a play from one of the camps where Proche went up to get a ball against a DB and caught it while the DB was holding on to the ball. He said Proche pulled so hard on the ball that he flipped the DB over his back, took the ball, and in Mbanasor's words "this man (Proche) walked, didn't run…walked into the end zone…he's cold."
In case you haven't seen it, here is a clip of Proche against the "number 1" CB in the country, Kevin Tolliver II who is currently committed to LSU. With OU looking for slot WRs this year, I think Proche is a kid you offer now. And I can tell y'all that he and Newsome are good friends. And Newsome likes OU, so it could certainly help OU's chances with both.
– Speaking of Newsome, while he's still looking over his options I can say that OU is still in it with him right now. I started to get the feeling we were out of it and that he might end up at Texas, but I checked and OU is still very much in play with him.
– UPDATE (10:27 am): According to multiple reports, Sooners have offered 2015 DE Darrell Taylor (Hopewell, VA) – VIDEO