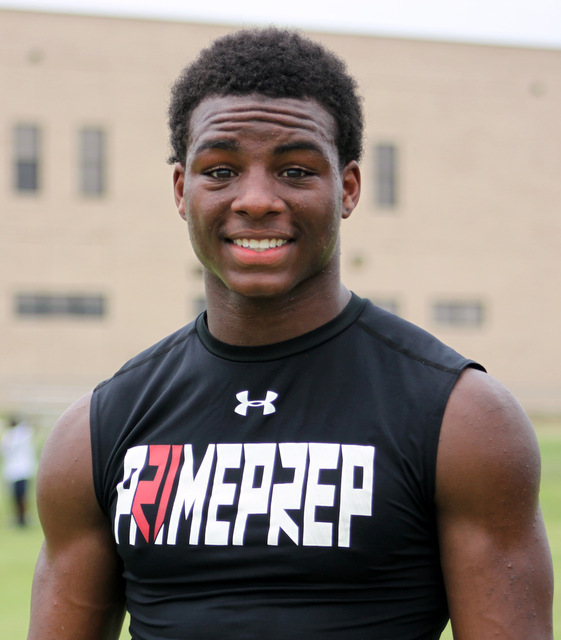 Open Post | Tuesday, April 29th (Updated 3:14 pm)
Posted on: April 29, 2014
– Firstly, in case you missed it Kahlil McKenzie put out his Top 5 this past weekend. Which were (in no particular order, per McKenzie): Tennessee, Arizona, Oklahoma, USC, and Wisconsin. However, Kahlil also received an offer from Alabama yesterday. And while that could be a 'game-changer' for a lot of prospects, I don't think Alabama will be a big player in his recruitment. From my conversations in the past with Kahlil, the Top 5 he mentioned are exactly the five I would have guessed. As I mentioned last week, while Arizona made a big impression it's my understanding — based on what Kahlil told me — that Arizona is not ahead of Tennessee or Oklahoma.
– Had a chance to speak to someone who definitely knows the skinny on Malik Jefferson. And while he wouldn't tell me which school he is favoring right now, he did tell me something significant. I was essentially told that if Jefferson had to sign today, it would NOT be with the Texas A&M. He said Jefferson wasn't actually that high on TAMU right now.
Another thing we discussed on the site last week was that there are multiple TAMU commits reconsidering their decision. Malik Jefferson is one of the "Fab 5" which also includes Daylon Mack, Justin Dunning, Larry Pryor and JaMycal Hasty. Three of those five are currently committed to TAMU, however I know at least one of them is seriously reconsidering his commitment. And that same kid did not have very flattering things to say about TAMU last time I spoke with him. Meanwhile, Hasty is actually committed to Baylor and it sounds like his offer was likely pulled by TAMU prior to his BU commitment.
If Jefferson is indeed not going to end up at TAMU, then one has to think OU would be a regional school that makes sense for him. Though I have heard that he is looking at LSU right now. I'd like to think OU could pull Jefferson, but the fact is we haven't pulled a high profile LB recruit in a couple years. And it's hard to really think that's just suddenly going to change. So I'm not particularly optimistic, but I'd still consider it a small victory if he didn't end up at TAMU, haha.
– I spoke to Coach Mann at Crosby HS (Crosby, TX), and he said Coach Montgomery stopped by yesterday to visit a couple of players. He said Oklahoma likes OL Keenan Murphy and DB Joseph Pickney. Both are 2016 players.
– A 2015 WR to keep an eye on is Prime Prep Academy (Dallas, TX), James Proche. Proche absolutely destroys just about everyone he goes against in camp and has great film. He doesn't have a ton of offers at the moment which is confusing because, in my opinion, he's one of the best slot type WRs in the area. I chatted with Proche a little over the weekend, and he said that Oklahoma has been in touch and will be by to see him this spring. If OU makes it by, I've got to believe Proche picks up an offer.
And we'd immediately be the best offer on his list (which currently includes Colorado State, Houston, SMU, TCU, and Tulsa). I want this kid. Everything I know about him tells me he will be successful at the next level.
– Despite the weather in Alabama yesterday (and heartfelt thoughts to all those affected), Coach Kish was in town to visit with 2014 signee Dwayne Orso. They had red beans and rice, which is no surprise seeing as Orso is originally from Louisiana.
– Also wanted to mention that I did see a lot of y'alls questions/comments about why Oklahoma's recruiting has been slow lately, and I've started to work up a post to offer my opinion. Just wanted to give you a heads up that will be coming.
– UPDATE (11:40 am): Got word that Tennessee is in the state of Oklahoma today visiting Josh Wariboko and Dahu Green. Green and Wariboko are friends and would like to play with each other if possible so you can expect a lot of top programs to come through Oklahoma looking at those two.
– UPDATE (1:52 pm): Per Demetric Warren, Sooners have offered 2016 DE Isaiah Chambers (Houston, TX) – VIDEO
– UPDATE (2:28 pm): Have confirmed that coach Jerry Montgomery went by to see DE Isaiah Chambers and did indeed make the offer.
– UPDATE (3:14 pm): Sounds like coach Jerry Montgomery is going by Jersey Village HS in Houston today to visit 2015 LB/S Jordon Williams and 2015 LB/S Christian Taylor. Both Williams and Taylor have an impressive break on the ball and look really comfortable in the box and in coverage. I don't know what positions they are looking at them for just yet but Jersey Village head coach is an OU alum so it's never a bad idea to stop by there when they've got a couple studs.