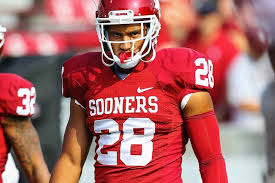 Open Post | July 4th Weekend, 3rd – 6th (Update Fri., 5:45 am)
Posted on: July 4, 2014
Image via CBS Sports
– Firstly, an early happy 4th of July to y'all! We hope everyone has a wonderful and save long weekend with friends and family!
– Also, we want to congratulate JY. On Tuesday, he and his wife and their first baby. They named him Roman Alexander Young!
– STANLEY NORMAN: So in the past couple weeks we've talked about John Humphrey, we've talked about Ryan Newsome, and we've talked about Desean Holmes. But another slot WR/ATH that Oklahoma is actively recruiting is Stanley Norman (he also goes by "Scrappy"). We caught up with Stanley this past week and talked about how things are going with him and OU.
Stanley said he's being recruited by the Sooners as a WR, however he also said a number of schools are actually recruiting him as a CB. He said he sees himself as both and said, "I would like to play both ways in college if possible". Apparently Stanley has a lot of family in Monroe, Louisiana and said that is part of the reason he's interested in OU. He said "the two schools in the south that are recruiting me most heavily are Oklahoma and Alabama." He said that he's very open to playing away from home and seems to have an affinity for schools down here because of his family connection to Louisiana.
Stanley talked about how important a coach recruiting him hard is to him and said that Oklahoma keeps in regular contact. He also confirmed plans to take an official visit, but hasn't quite set a date yet. But he did say that he's hoping to making it out to the Tennessee game.
Some of the other schools Stanley mentioned he's interested in are Arizona, Cal, Washington, and UCLA. And although he holds an offer, Stanley made it pretty clear that he's not particularly interested in USC.
– TORRANCE GIBSON: Last night on Twitter, Torrance Gibson tweeted out (it was a response to a question on ask.fm) that he plans on taking a return trip to Oklahoma later this summer or during the season. I checked with him and it sounds like he does indeed want to get back out to Norman. I'll try to catch up with him or someone in his camp after the 4th and see where things stand. I can tell you that I spoke to a source recently and OU continues to recruit Torrance, and they actually really like him and believe that given the opportunity they can sell him on their system and the situation. In terms of what the QB competition would be like once he got on campus.
– MICHAEL ANDERSON & ASHTON PRESON: Two OK preps football players made their commitments to D-I schools yesterday. CB Ashton Preston out of Edmond Sante Fee committed to North Texas. And Owasso DE Michael Anderson committed to Tulsa. There are going to be A LOT of FBS signees in this years Oklahoma HS class. And I think y'all are going to see that trend continue as more and more schools recognize there is a lot of talent in this state that goes under-recruited.
– ALEX ROSS (SUMMER NOTES): Hearing that this guy is starting to really put things together and is really impressing a lot of people. No one has ever questioned Ross's strength, size, speed. But what we've heard is Ross is really showing the maturity and continued physical progress that is going to make him a real contender for the top RB spot. In fact, we were told by once source we shouldn't be surprised if he starts. Though one would guess that, at least early in the season, a game tested back like Keith Ford would hold that spot. But as long as he can stay healthy and keep his emotions under control, whether he's the starter or not, Ross will see the field a lot. And while everyone got a good sense of what Ford can do last season, Ross has game changing speed/size and Sooner fans may get to see that really come together in a complete RB this season.
– MIKE MITCHELL: Jeremey Fowler from CBS reported that former Ohio State Buckeye and OU recruit Mike Mitchell will have to sit out for a year before being able to get on the field at Texas Tech. NCAA did not grant him a waiver.
– JAYLEN WATERS: You know one of our favorite things on here is to introduce y'all to new players. With Oklahoma having moved to an odd front, the need for big and physical inside LBs is high. The days of spinning safeties down to LB might be slowly fading away. Just take a look at Anthony Wheeler. Wheeler hasn't even started his senior season, and he's already 6'2″ 220 lbs. Like Wheeler, Jaylen Waters certainly has the size of an inside linebacker. He measured in at the NFTC combine at 6'2″ and already weighing in at 230 lbs! He had fantastic times at the NFTC event. He ran a blazing 4.69 forty on the laser (meaning he's probably somewhere in the 4.5s to low 4.6 range hand-timed). He also had a fantastic timed shuttle at 4.25 and a 32-inch vertical. He's got all the measurables. While OU needs big physical ILBs, they still need guys that run sideline-to-sideline and drop in coverage.
When you look at the film, you see a player who is fundamentally sound. He's patient, fits and form tackles. He closes quickly and gives up little to no ground on the tackle. And as big as he is he can still run, change direction, and tackle well in space. He also as great sense of when to be patient and when to fly through the gap, shed the block and make the tackle in the backfield. This was something our young ILBs struggled with this past season. Instead of letting the OL come off a combo and block him or wall him off, he just blows the play up. The longer the film rolls the more you'll like him. You'll just see him take on block after block and find his way to the ball carrier. Waters really is a throw back type ILB but with the more athleticism. He's the kind of player who really doesn't fit schematically into what a lot of the Big 12 schools are trying to do but he looks like he could be a good fit for OU. Definitely someone we'll keep an eye on.
– DORIAL GREEN BECKHAM: Per Carey Murdock and Sooner Scoop Dorial Green-Beckham is in Norman today and on campus. Despite several other outlets denying any previous contact and/or interest, TFB has maintained this was real since we first mentioned it on the site several weeks ago. Just one example of this below: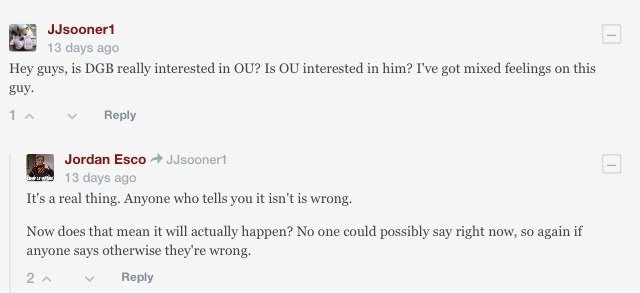 This latest development, along with what we've previously mentioned on the site, would indicate now multiple trip by DGB and/or his family to Norman.
We'll continue to update this post throughout the weekend with of course any new DGB developments as well as any other OU related news.
– UPDATE (Thur., 10:02 am): Spoke with a source about the DGB situation and was told that the general desire of the coaches is for DGB to commit to playing two years with OU before jumping to the NFL, so that they can ensure he at least sees the field as a Sooner in case he does not get a waiver.
– UPDATE (Thur., 12:00 pm): It has now been confirmed by multiple people that DGB is indeed meeting with the coaches, which also means he has signed a financial aid agreement with OU. That agreement is a bit of a work around of sorts allowing DGB to meet with the coaches even though we are currently in a recruiting dead period. I think Cale Gundy described this best.
Approached by reporters, Cale Gundy declined to comment. Asked if DGB had signed a financial aid agreement: "We're not that dumb." #Sooners

— Jason Kersey (@jasonkersey) July 3, 2014
– UPDATE (Thur., 1:09 pm): OU has officially announced Dorial Green-Beckham is joining the program.
– UPDATE  (Thur., 2:35 pm): OU's online roster has been updated to include most of the new jersey numbers for the freshman (even though some have been talked about/out there for a while). Here is a quick run down:
68 Jonathan Alvarez
81 Mark Andrews
18 Curtis Bolton
78 Orlando Brown
63 Alex Dalton
9 Tay Evans
73 Kenyon Frison
50 Courtney Garnett
14 Marcus Green
42 Wesley Horky
23 Vontre McQuinnie
15 Jeffrey Mead
45 Carson Meier
20 Joe Mixon
99 Dwayne Orso
11 Steven Parker
69 Joseph Paul
32 Samaje Perine
2 Michiah Quick
7 Jordan Thomas
16 Dallis Todd
3 Tito Windham
Also worth noting that Josiah St. John, who had previously been listed as a senior, is now listed as a redshirt junior. Which I know was something OU fans had been wondering about. Also, Natrell Curtis no longer listed while Brown and McQuinnie obviously still are. Take that for whatever it's worth.
UPDATE (Friday, 5:45 am): In case y'all missed it last night OU made the top 10 for New Orleans LB, Arthur McGinnis. His top 10 in no order (but most think TAMU is his favorite so there seems to be at least some semblance of order): TAMU, UCLA, Miss. State, Georgia, Texas Tech, Oklahoma, Arizona, Ole Miss, Notre Dame, Tennessee.