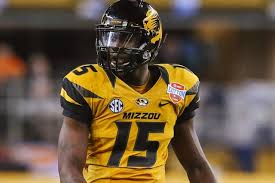 Dorial Green Beckham Officially Joining The OU Football Program
Posted on: July 3, 2014
Image via CBS Sports
It may have been five years in the making, but former No. 1 overall recruit Dorial Green-Beckham is now officially becoming a Sooner. In a rapidly developing story that started on what felt like would be a slow news day Thursday, Bob Stoops and the University of Oklahoma released an official statement on the addition of the former Missouri wide receiver.
"We are pleased to welcome Dorial to the University of Oklahoma, where he is excited to continue his education and resume his playing career," Stoops said. "Dorial understands the privilege and responsibilities of representing the Oklahoma Football program. He is a talented young man who is eager to get to work with the rest of our team in the classroom and on the field."
Additionally, Green-Beckham also put out a brief statement regarding his decision to join the OU program.
"I appreciate this opportunity from Coach Stoops and the University of Oklahoma," said Green-Beckham. "There are people here who will help me build a strong foundation. I've disappointed myself and others in the past. I know that I have a lot of work to do and I'm ready to get started. OU is a great program and I feel privileged to be part of it. The university has made the expectations clear and I want to live up to them and be a positive part of the campus and team. I also want to thank Coach Gary Pinkel and the University of Missouri."
It's real, people.
Discuss.