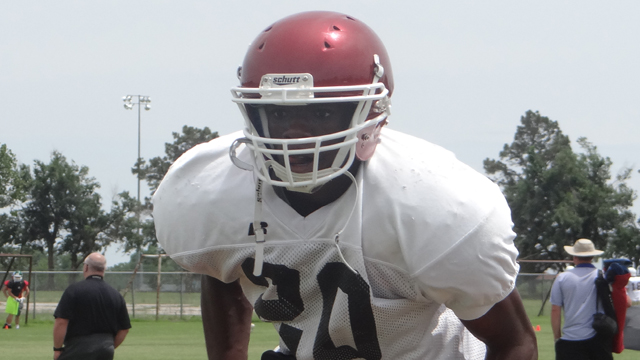 Open Post | Tuesday, July 1st
Posted on: July 1, 2014
Image of McKinley Whitfield via Scout.com
– While all the fan focus has been on John Humphrey and Ryan Newsome, there is an explosive WR named Desean Holmes out in California that has quietly been building a great relationship with OU as well. We chatted briefly with Holmes recently, and he said he's definitely interested in Oklahoma. He said that he is going to take an official visit to Norman on November 8th for the Baylor game.
– We caught up with one of our favorite players, McKinley Whitfield, recently. McKinley has been hearing a lot from Arkansas lately and recently attended Salt County Premier Prospect camp in Little Rock. McKinley is a raw but exceptional athlete with tremendous length and without an ounce of hesitation to come downhill and lay the wood. He's the kind of defensive player you can put all over the field on any and every down. I spoke to former star Arkansas WR J.J Meadors who held the camp and asked him about McKinley, he said "McKinley is a beast!"
We got a little phone camera footage of McKinley going 1-on-1 with KJ Hill, one of the most explosive WRs in the country. Hill has offers from Arkansas, Alabama, Florida, Auburn, Ohio State and just about anyone else you can imagine. He's a legit 6'0″, probably closer to 6'1″, and had the 2nd highest SPARQ rating at the Dallas NFTC combine. In fact, KJ ran a 3.97 shuttle! Hill is not only explosive, but he's polished. He's been privately coached by J.J. Meadors since he was in 8th grade.
On the flip side, you have small town kid in Whitfield who stands 6'3″ 200 lbs, has never really received any in-depth coverage training, and goes to a tiny Oklahoma school that barely has a weight program. His upside is just tremendous, but if you want to see a glimpse of what he can do against one of the most explosive WRs in the country, watch him in the video below. You'll notice in the second clip that Hill gets a few steps on McKinley, but keep in mind that you're talking about a stop-and-go route in a drill that favors the WR. I truly believe once McKinley receives the proper training, he is going to be a really special defender.
Also, we got a copy of McKinley's updated jr. highlights. Watch the first few minutes. You'll be glad you did!
– JUCO pass rush extraordinaire Takkarist McKinley out of Contra Costa College released his Top 10 last night. He said they were in no order, but this is the order in which he listed them: Oklahoma, Texas, Cal, UCLA, Arizona State, Washington State, Tennessee, Oregon, Missouri, USC.
After he released his Top 10 he did send us a private message saying "Go Sooners!", so that can't be a bad thing! We talked to him a little bit about Eric Striker and again, Striker's name continues to help Oklahoma in the race for these elite pass rushers. As OU gets back to putting more defensive players in the draft and having stars on defense, we are likely to see better and better recruiting on that side of the ball. Last we heard Takkarist was planning an official visit to Oklahoma with his teammate Deonte Reynolds late in the season.
In case you missed it, click here to read the write-up we did on Takkarist a while back with evaluation notes.
– Breiden Fehoko tweeted out the following yesterday, so it looks as if, for now, Fehoko won't be taking a visit to Norman (or anywhere else according to his own words). Based on a few of his tweets, I suspect Tech did everything they could to convince him not to take a look at OU. We certainly wish him all the best either way. Based on the conversations we had with him, he is an absolutely wonderful young man!
– But a Tech commit who does still seem interested in the Sooners is JUCO OT Lio Lafaele, who also tweeted this yesterday. We asked him about the tweet, and he said that he spoke to coach Bob Stoops on the phone this past Sunday. He said OU has been recruiting him hard and he is "high on OU!"
– This past weekend Oklahoma offered 2016 OT Clark Yarbrough out of Virginia. Yarbrough is extremely athletic and actually uses his hands surprisingly well, especially considering the fact that last year was his first playing football. He told us that he grew up a basketball player and only recently began playing football. OU isn't the only team that took note of Yarbrough's great size and athleticism. He already has offers from Florida, Michigan, Tennessee, and others.
But here is an interesting note. Clark said he is trying to take a trip out to Norman as soon as possible and is hoping to make the trip in August. We asked him if he plans on making any other unofficial visits this summer, and he said no. It's early but the point here is that it seems OU is recapturing a little of that national intrigue we all remember from the early 2000's. It starts with major national recruits talking more and more about OU, taking visits to OU, etc. And as the momentum continues throughout the season, and OU puts more and more players in the league (this year both of OUs starting OTs may get drafted), that interest turns into leverage for OU. And hopefully, in the coming year or so, more and more elite commits.
– 2015 OU LB target Anthony Wheeler said that he's going to try to take an unofficial visit to Texas this July. July 18th UT is holding an invite only elite camp. A number of top targets will be in attendance at that camp. In fact, Oklahoma DB Ashton Preston has been invited to the camp after performing really well at UT's open camp this past June. Last time we spoke to Wheeler we got the sense he was struggling whether to pull the trigger this summer or to wait and take a few official visits during the season. One thing that did seem certain was that Oklahoma is very high on his list. UT is probably the other major competitor right now, so if he ends up making the trip to Texas in July then it will be interesting to see if a decision comes shortly thereafter.