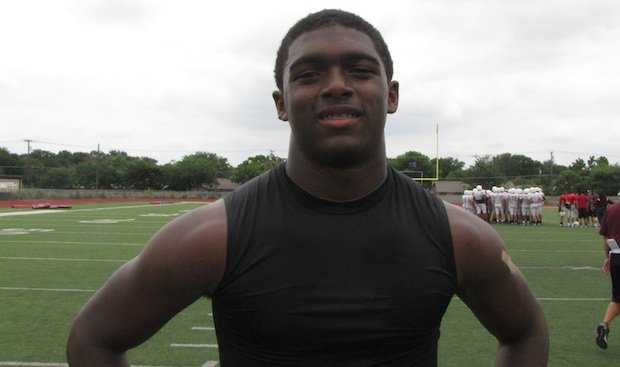 Open Post | Weekend, May 16th – 18th (UPDATE 4:26 pm)
Posted on: May 16, 2014
Image of Breylin Mitchell via 247 Sports
Happy Friday everyone!
– Let's start with some news on the D-line front. In the past few weeks, we've heard that Oklahoma has been making an impression on DE and TCU commit, Breylin Mitchell. In fact, the coaches have dropped by to see Mitchell a couple times during this spring evaluation period. Mitchell has not had a chance to visit Norman yet and, to be honest, that seems like the main hold up right now. He has told us that he is open to recruitment in general and has not shut things down. His communication with Oklahoma is pretty regular, and it seems he's just waiting for the opportunity to get up for a visit to "see what they have to offer."
In chatting with Breylin, and asking people around the situation, Oklahoma seems to be in really good shape here. OU is looking to take two DEs, and I like where things stand with Mitchell, Gallimore, and to a lesser extent Gabriel Campbell. Coach Montgomery stopped Yazoo City to visit Campbell this past week. And while I know it's a long shot, I'm still holding out hope that Fehoko will follow through on his intent to take an official visit to Oklahoma.
– Chatted a little bit with 2016 OT Gregory Little. Not a lot to report on that front and it's still early, but Little praised Bedenbaugh and said "I love OU." From what I can tell, he still seems to be open to a number of schools. But based on the exchange I had with him, OU seems to be a real player, along with TAMU.
– You all remember the LSU star safety Eric Reid, right? Well Oklahoma has begun to recruit Eric's little brother, Justin, who is also a safety. Bobby Jack Wright was down in Geismar, Louisiana to visit Reid, and I've heard that an offer could come for Reid. Oklahoma has been hesitant with their safety offers due to the fact that OU feels good about where they stand with Kahlil Haughton and Will Sunderland. However, I've also been told that OU isn't prepared to be as patient with Sunderland as they were with Steven Parker. In my opinion, there are a number of safeties in Louisiana and Texas that are comparable to Sunderland. That said, in my opinion, Haughton is unique and very special. He'd be the top of our board.
– Speaking of Haughton, we caught up with him earlier this week and it sounds as though he is narrowing things down and will be releasing a list of top schools soon. We're confident that OU will be on there. Everything we've heard indicates that Haughton is at the top of OU's board.
– I recently talked to a couple people that are close to the Wariboko situation. The impression I got is he's seriously considering OU, OSU, Texas and Texas A&M. However, knowing that Wariboko's parents are big OU fans, and there not really being any educational benefits of going to OSU, I sort of disregard them. I was told though that anyone who thinks OU is out of it would be very mistaken. However, I was also told from a source very close to UCLA that the Bruins are seriously considering offering Josh's little brother, Max, in order to land the Oklahoma City standout. To be honest, if I hadn't heard it from someone so close to UCLA's program I would not have believed it.
Josh visited USC but at the time they were in LA, they weren't yet in contact with UCLA so they didn't get a chance to visit the campus. But the Wariboko's haven't hesitated to visit campuses, so a return trip to LA wouldn't surprise me. UCLA has a beautiful campus, is in a beautiful area, and with their academic reputation, I'd have to think if they do indeed offer Max they are going to become major contenders. I've also been told that the Wariboko's will visit Louisville (the first and only high major program to offer Max thus far) this summer.
– We're used to Oklahoma having an RB commit by now, but obviously that has not happened yet. One RB the Sooners are targeting is current Texas Tech commit, Corey Dauphine. OU stopped by to see Dauphine recently. We talked to Dauphine earlier this week, and he said that he's very interested in Oklahoma. He also said that he's working on setting up a trip to Norman this summer.
– Wanted to let y'all know that Juwan Dowels, the OU target we backed off of due to grade concerns (concerns I felt were unwarranted), is now qualified. Wish him the best of luck at Syracuse, along with LB Jonathan Thomas who also qualified. Both are A1 kids and athletes.
– Speaking of Juwan, I chatted a little with his former teammate, Torrance Gibson and a friend who coaches at their HS, American Heritage. While Gibson did have OU sitting at No. 6 on his recently released list of top schools, it sounds like that does not necessarily mean the Sooners won't get an official. Gibson came to OU when no one was on campus since it was at the tail end of spring break. He hit it off with Coach Heupel, but obviously being able to be around the players and all the coaches helps a prospect get a better feel for a school. As many of you know by now, Bob Stoops was also not in town for Gibson's visit.
It seems Heupel hasn't given up on at least winning an official visit from Gibson. As we indicated yesterday, Heupel visited Gibson and co. this week. Gibson's coach told me that the order of his schools changes day-to-day. He also said to keep an eye on Alabama and Miami. I know a lot of OU fans roll their eyes when it comes to Torrance, because they assume there is no way we get him. And if I'm being perfectly honest, that is probably true. But, in my opinion, you still fight to get that official visit. A QB that runs their recruitment out till after he takes all of his official visits is going to have a lot of schools eliminate themselves by taking another QB. In addition, Oklahoma may have a stellar year while schools like Tennessee may not. In fact, one of those schools may pound the other into oblivion. Like, say, in a non-conference game that may be taking place in mid-September of this year. And if I were a betting man, I'd bet that the team NOT taking the beating will be OU.
– UPDATE (11:50 am): OU has now extended an offer to 2015 TE/DE Josh Moore (Olathe, KS). We told you on Wednesday to expect this soon and that OU wants him at TE.
Oklahoma just offered me! #BoomerSooner

— Josh Moore (@JoshMoore81) May 16, 2014
– UPDATE (3:18 pm): We recently featured Millwood DE, Joshua Little (here). Well, we've got great news! Joshua just picked up an offer from Purdue!
– UPDATE (4:26 pm): Per Tom VanHaaren of ESPN, Oklahoma has offered Louisiana OT, Garrett Thomas. We've already caught up with Garrett a little bit and he said that he actually visited Oklahoma back in January. He also said that he plans on making a return trip. He loved his first visit and it sounds like another one could be coming soon. Louisiana is the spot! 🙂