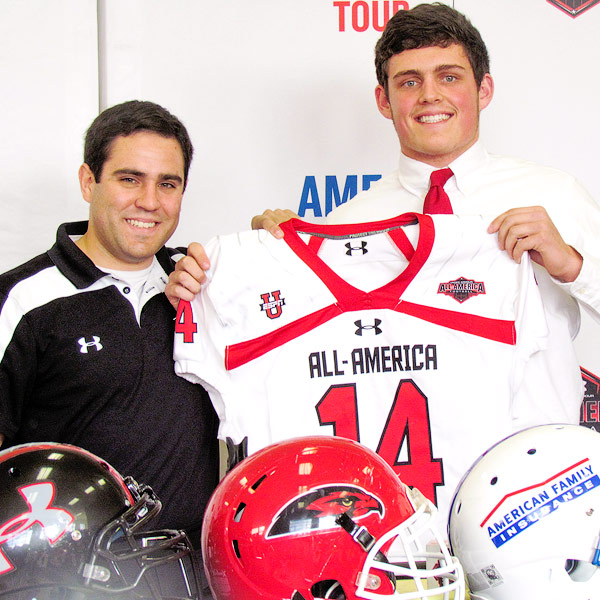 Sooners Pick Up Late Addition To 2014 Class
Posted on: March 2, 2014
Image via ESPN
As we mentioned in yesterday's Junior Day Open Post, the possibility of Oklahoma adding a late 2014 commitment in the form of Under Armour All-American long-snapper Wesley Horky was certainly on the table. The Tennessee product was in Norman with his family for an official visit after a scholarship offer from OU special teams coach, Jay Boulware, forced him to reconsider his previous commitment to the in-state Volunteers.
Saturday night Horky took to Twitter to make his commitment to the Sooners official.
Made my decision and I'll be playing at the University of Oklahoma on scholarship!! #BoomerSooner pic.twitter.com/ClaHddnFUG

— Wesley Horky (@wesleyhorky) March 2, 2014
While it may seem a bit odd to either (1) be taking a commitment this late while pushing OU's scholarship count one over the 85-man limit and/or (2) offering a scholarship to a long-snapper, it's clear Boulware has been given the freedom to make special teams a priority. It remains to be seen how OU will get back down to that 85 number, but clearly the coaches felt comfortable enough that would happen they could offer Horky.
Presumably, OU already had their long-snapper on campus in Trevor Knight's twin brother, Connor. However even at a position many seemingly take for granted, at a school like Oklahoma you're going to have competition for a starting spot no matter where you play.
Horky is widely considered to be one of the best in the country at what he does and while that skill may not be highly valued by the common fan, it was deemed valuable enough by Boulware. And considering how well the Sooners' special teams played this past season in Boulware's first year, it's probably safe to defer to the man's judgment.