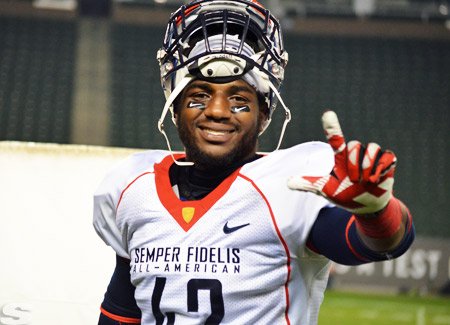 One Of The State Of Oklahoma's Top 2014 Prospects Now Expected In Norman This Weekend
Posted on: January 15, 2014
Image via Scout.com
On what is shaping up to be a significant recruiting weekend with respect to Oklahoma's 2014 class, the Sooners got even more good news afternoon.
https://twitter.com/MothersLuv4ever/status/423540026668896256
That is the Twitter account of the mother of 2014 Oklahoma City (Douglass) defensive end, Deondre Clark. The talented local product has been committed to LSU for some time, but in the eyes of some could potentially be softening on said commitment, or at the very least much more open to other suitors (i.e. OU) than he's been in the past.
Adding to the intrigue with regards to the "change of plans" Clark's mother mentioned in her tweet is the fact that Clark had originally planned to visit Arizona State this weekend. Which obviously is now home to former OU defensive tackles coach Jackie Shipp, whom the Clark family have long had a close relationship with. In fact, it has long been believed that Shipp's "leaving" of the OU program led directly to his near immediate lack of interest in the Sooners.
However, Bob Stoops and Jerry Montgomery have continued to put in the work with Clark and his family and it would appear their efforts are now being rewarded.
As K told you on Tuesday, Clark is expected to be joined in Norman by a fellow top OK Preps product in Jenks safety Steven Parker, among several other potential recruiting targets (including at least two current commits in Jonathan Alvarez and Curtis Bolton, though more are expected).
Big weekend ahead, y'all.