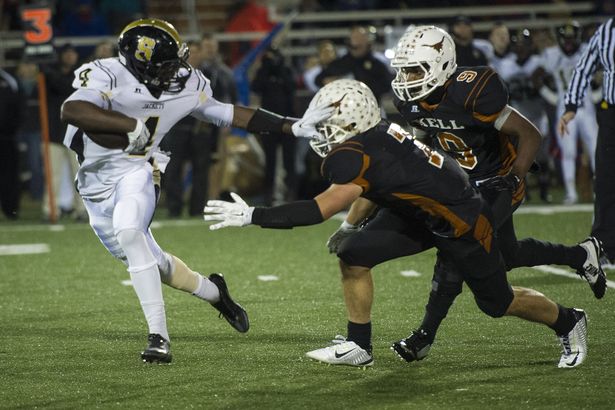 Open Post | Wednesday, Mar. 23rd (UPDATE 5:33 pm)
Posted on: March 23, 2016
Image of Trey Sermon via ajc.com
– Joel Honigford: If you read Tuesday's Open Post, you already know Oklahoma hosted 2017 OT Joel Honigford (Sugarcreek, OH). TFB had a chance to catch up with Honigford last night following the visit, and it sounds like the Sooners firmly inserted themselves in the race for his commitment.
Honigford has already visited some other schools closer to his home like Ohio State, West Virginia, Penn State and others, but described the OU visit as "one of the best." He added, "you could tell everyone cared about what they're doing. They're devoted. They seem sincere and not just telling me what I want to hear. You don't always sense that everywhere you go."
Honigford said he had a chance to watch practice, speak to professors, and tour the facilities. The latter of which and the upgrades/improvements being done definitely made an impression, something we continue to hear from a number of recruits.
In terms of a commitment timeline, Honigford said that he'd still like to see some additional schools before making a decision. To that point, the plan is to visit Auburn this coming weekend. While Honigford holds a number of offers, he is still waiting on an offer from his in-state school, Ohio State. The Buckeyes are telling him they'd like to see him in camp this summer.
Honigford said that after the visit to Norman, the Sooners are "definitely going to be in it." And it seems the biggest threat to Oklahoma at this point is likely to be Ohio State, should they choose to offer. For now, I get the sense Bill Bedenbaugh and OU have made a huge impression on both Honigford and his mother, who accompanied him on the trip. – (Super K)
– Trey Sermon: The state of Georgia has a reputation for putting out top-flight athletes, and 2017 Marietta (GA) running back Trey Sermon certainly fits that mold. With offers from OU, Alabama, Oregon, Auburn and many others, it's no stretch to say his services are in high demand.
I spoke with Sermon and his coach, Antwan Toomer, the other day, both of whom had nothing but great things to say about OU running backs coach Jay Boulware. In fact, Sermon said about Boulware, "he is one of my favorites. We talk a lot and have a pretty good relationship." Toomer added, "Coach Boulware is freaking awesome. So down to earth."
That relationship, with both Sermon and his coach, is what has put OU in position to make a move for Sermon, who has set up a visit to Norman on April 2nd. And getting that visit is no small accomplishment considering most of Sermon's other planned visits consist mainly of schools in SEC country. Sermon said that along with OU, he plans on visiting Alabama, Tennessee, and possibly Oregon.
You can also bet that when Sermon gets to Norman, Justin Broiles and Levi Draper will be there to show him around. Both have been recruiting Sermon via social media for some time and plan on continuing to try and persuade him to become another member of the #SoonerSquad17.
Sermon's recruitment is just another prime example of what a class that is tight knit can do for your program. Atmosphere, relationships, and cohesiveness is everything in recruiting. And it seems from the OU staff, down to the commits, the Sooners really have that going for them right now. – (Brandon)
– Joshua Moore: The 2018 Yoakum (TX) wide receiver has long loved what Oklahoma does on offense. And yesterday Moore got to see it in person for the first time, as he and his brother, Jordan, who is being recruited as an athlete by OU, were in attendance for a Sooners practice.
Moore stated that he talks with inside wide receivers coach Cale Gundy regularly and although an offer wasn't made on this visit, the staff specified to Moore they will be down soon to watch him practice. At which point an offer will then likely be made, according to Moore.
As far as the visit, Moore said "the atmosphere was crazy. I love the way they throw the ball around and let the wide receivers get loose. Fits my skill-set perfectly."
Moore has already started to pick up offers and with his length/athleticism, he fits the mold of what OU is looking for in their outside receivers. If an offer is made it would seem somewhat likely OU jumps up near the top for Moore. – (Brandon)
– Spring Practice Notes: Oklahoma was back in the groove yesterday with their first practice since returning from spring break. As such, we have a few team/practices notes we'd like to pass on.
* Was told that the highlight of the day was Jarvis Baxter going up for a ball and taking a shot while still in the air, but managing to hang on to the ball…with one hand. Evidently after the catch, he stood up and shook the defensive back's hand. Swag, was how one source described it.
We're told Baxter has really taken a step forward in his game and according to one source, "he doesn't drop anything."
* Neville Gallimore is back practicing after being a little bit dinged up before the break. Nothing earth-shattering right now, one source said "he's just getting acclimated again."
* Was told Ogbonnia 'Obo' Okoronkwo continues to run with the first team at that 'Jack' LB spot and has apparently been doing well, specifically 'more assignment sound' as one person put it. We all know what 'Obo' brings to the table as an athlete but leverage, alignment, positioning, etc. are the areas he needed to work on and apparently the reps have served him well.
* Behind 'Obo' is redshirt freshman Ricky Deberry, who we're told is also progressing. "More comfortable and more vocal. He's just more confident in general." 3rd team Jack LB right now is walk-on, Dalton Rodriguez.
* According to one source, the Sooners are primarily running a nickel package as their base, so 'Obo' and DeBerry aren't really on the field together much, if at all. As expected, Will Johnson remains the starter at the Nickel/SAM. Interestingly though, behind him at the moment is true freshman Chanse Sylvie.
Sylvie enrolled in January and is obviously still learning but as of right now, at the Nickel/SAM position he's apparently rotating ahead of senior Hatari Byrd. But I'm told the two have been working together with Byrd helping Sylvie in terms of alignment and coverage calls. Always great to hear about that kind of teamwork.
* Continue to hear that Kahlil Haughton is the top safety of the underclassmen. Haughton is a second team safety right now, but also first team dime back when the Sooners go to that DB heavy package.
* Also been told that Will Sunderland is continuing to make strides. "He is reading things better. Still learning, but he's progressing. He's in better position and not getting caught in no-man's-land." Sunderland is running with the second team, alongside Haughton, at safety.
– UPDATE (2:58 pm): In a bit of a surprise, 2017 DE & OU offer Trevor Kent has committed to Northwestern. As we mentioned in Monday's OP, Kent was expected to be in Norman this coming weekend for an unofficial visit. His commitment tweet below seems to imply that will no longer happen, but we are working to confirm whether or not that is actually the case.
#SavageCats17 #B1GCats ⚪️🔮 pic.twitter.com/kHmYgAapDv

— Trevor Kent (@TREVOR_KENT87) March 23, 2016
– UPDATE (3:30 pm): 2017 DE and Sooner target Trevor Kent tells me that he will no longer visit Norman this weekend and as of right now there seem to be no plans to reschedule a visit.
– UPDATE (5:33 pm):
There is only one Oklahoma!! #SoonerSquad17 #OUDNA 🔴⚪️ pic.twitter.com/jZuHNEheLK

— Jacob Phillips (@jacobphillips_1) March 23, 2016