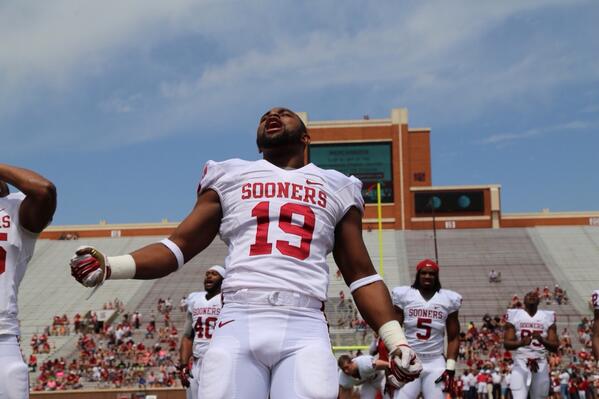 Some Red/White Game Observations
Posted on: April 13, 2014
Image via @OU_Football
Okay, so I know basically everybody who covers Oklahoma — whether they are paid to do so or not — is going to or already has put out some variation of this exact same post, but I simply couldn't help myself. It's football and it's the first and last time we're get to see any for a while.
I've had a chance to go back and watch the scrimmage more closely and just wanted to offer up some observations for us, if you prefer, to discuss. Initially, I thought about putting together something similar to the 'Film Study' posts I used to do that some of you may be familiar with. But I decided against it as I though it would likely lead me to over-analyze things, which is something I knew I had to avoid what with it being a glorified practice and the coaches holding so much back.
I have already seen a number of you post your thoughts in various threads and I'd encourage those who haven't (or those who would like to do so again) to do so in the comments here as I always enjoy getting a take from others. There are always things I may have missed or just have a different opinion on, and I appreciate a good back-and-forth.
As to mine, here we go.
* What do you think it would take to get Berry Tramel to give his "patented" report card treatment to my post last week predicting possible spring game breakout stars? Because, not-so-humblebrag, I think I kinda nailed it.
* Speaking of the report card gimmick, despite any and everyone saying over and over again heading into Saturday how it's just a practice and you need to resist the urge to overreactions….we get this:
"A fun day on the OU campus was tempered by offensive inefficiency Saturday in the Sooner spring game, slowing the momentum created by a 45-31 Sugar Bowl victory over Alabama." – NewsOK
Seriously? Slowing the momentum? Aside from Trevor Knight suffering a torn ACL on Saturday, there was very little (if anything) that could happen that was going to 'slow the momentum' from the Sugar Bowl win. Or was the 43,000 plus in attendance simply a figment of my imagination?
But at least no one is overreacting to a practice. Just do a Google News search for Trevor Knight and you'll see what I mean by people overreacting.
* As to the "game" itself, there were a number of interesting aspects on both sides of the ball. Offensively, we saw a lot of bigger, two TE sets with some combination of an actual TE and/or Ripkowski/Flowers. Meanwhile, defensively I saw them at least initially open up in a traditional 3-4 set with, as expected, Grissom standing up at OLB opposite Striker.
*Obviously, one of the main talking points coming out of Saturday is Baker Mayfield. And for good reason as he played quite well. It is worth noting that now having had the chance to go back and watch again, all of his reps came against the second team defense. Which is not necessarily to take away from his 9-for-9 125 yard, two TD performance, but it is something you have to take into consideration.
And how good he looked only adds to the confusion of why he's at Oklahoma in the first place. I know there are some family ties between he and the OU coaching staff, but one would have to think he could have gone to any number of other schools and (1) not been forced to sacrifice a year of eligibility and (2) almost assuredly been a starter in 2015. He must have really, really wanted to go to OU.
For the life of me I don't really get it, but it's also not my decision to get. If the kid is happy in Norman, then more power to him. Just strikes me as a bit odd is all.
* On that same topic, as TFB has said here several times even prior to Saturday, it seems somewhat clear that Mayfield would be the guy behind Knight. But since he's not eligible to play in 2014, the decision obviously comes down to either Cody Thomas or Justice Hansen.
And while I wouldn't say Hansen played poorly — aside from the two INTs (though the first was not on him) — I felt like it was pretty clear that if the season were to start today Thomas would be the No. 2 QB.
* Only time will tell how much we see that true 3-4 once the season starts as Big 12 offenses, which tend to spread you out with multiple WR sets, will certainly dictate just often Coach Mike will be able to employ it. However, there is a lot to like with it from both a scheme and personnel standpoint. Which is why we saw plenty of the familiar 3-3-5 from last year and something I'm sure we can expect more of in 2014.
* To that point, one of the most exciting things to come out of Saturday's scrimmage was just how multiple this defense looks to have the capability of being. Whether it's a 3-4, 3-3-5, or some combination of the two, these coaches have a wealth of talent at their disposal, specifically in guys that can get after the quarterback.
Regardless of whatever happens with this Frank Shannon situation, depth at ILB is still an issue. But aside from that, this front seven is absolutely loaded. A number of those guys stood out at different times on Saturday. I thought there were times when any one of Devante Bond, Ogbonnia Okoronkwo, Michael Onuoha, Matt Romar, or Charles Walker all made plays at some point that forced me to take notice.
And bare in mind, this was on pure ability with Coach Mike going about as vanilla as he possibly could. Once they're facing an actual opponent, not their fellow teammates, and they start mixing up their blitz packages….look out.
* I suppose it's a bit of a double-edged sword playing Striker at Nickel. I understand the idea of getting creative with how/where you use him, but it just seems like such a waste when he's on the field and not rushing the quarterback. Don't get me wrong, I thought Grissom looked good standing up and should be able to create problems for opposing defenses. But Striker just has that special ability to get to the QB you simply cannot teach.
* I can only assume it was just heat-of-the-moment type of deal and you're taught to play a certain way, so when you strap those pads on adrenaline just takes over. But, man, did they ever get lucky with Grissom and Flowers. On the one hand, I understand Sanchez going low on Flowers. The true freshman fullback has something like 70 pounds on him. Again, that's what they're taught. But the Keith Ford cut block on Grissom just seemed wildly unnecessary in this type of setting.
Regardless, thankfully both guys did not suffer serious injuries.
* Seeing Taylor McNamara split out, as he was multiple times on Saturday, to me is an encouraging sign that the TEs will indeed be a bigger part of the offense as the coaches have been telling us they will. I'll admit I was skeptical at first. I mean it's not like it would be the first time we've heard them sell something to the fans only for it to never materialize. But there were some really positive signs on Saturday.
Which, in my opinion, only added to the disappointment of Blake Bell not being able to participate. As big a part of the offense as the tight ends were, it would have been great to see just how much he's taken to the position in a live setting.
* Fair or not, I'm just not sure how many carries there are going to be for Daniel Brooks once the season rolls around. I know everyone was excited about how he played and — as I not so subtly pointed out above — even went so far as to predict there was a chance he could do so.
There is a scenario where I could see Brooks as that third down/change of pace back, similar to the player we all thought Roy Finch was always going to be. He certainly catches the ball well out of the backfield, but all of these are the same things everyone believes Joe Mixon does well. And why some many believe he'll be too good, even as a true freshman, to keep off the field. And all of that is ignoring a guy like David Smith who continues to put in work while being overlooked.
One would have to believe with his type of ability and elite speed, there is some type of role for Brooks in this offense. Only time will tell just how significant of a role that will be. However, as I've seen others suggest, I would also like to see him get a chance on kick return w/ his speed and shiftiness in the open field.
* Saw quite a bit of that diamond formation, which fans have always loved and have been imploring Heupel to use more for a year or two now. You can just do so many different things off of that, especially w/ a running threat at QB, hopefully it's something that carries over into the regular season.
* If Keith Ford can hang onto the football, I really have no doubts he's going to be the guy at RB this year. I say that knowing Gundy is always going to rotate backs, so multiple guys are going to play regardless. Which means there will obviously be chances for Alex Ross and others, but there's just something for me about the way Ford runs the ball. He has such great strength and balance, I think he'll be the guy the coaches rely on as the primary ball carrier.
* We call him Moneycutt for a reason.
* Between Derrick Woods, Jordan Smallwood, and a healthy Durron Neal, I think OU will be just fine at those outside WR spots. Was nice to get to see what everyone had been talking about in practices with Smallwood. You can tell the work he's done in the weight room has paid off with his ability to create separation from the defender.
* I don't know how to truly verbalize it, but KJ Young just looks so incredibly smooth out there to me. It's just something about the way he moves.
—
So there you have it. A little scattershot with respect to the presentation, I know I kind of jumped all over the place, but overall I thought there was much, much more to be excited and/or positive about than the flip side of that coin. Plenty to look forward to in 2014 for this Oklahoma football team.
Just sucks that we have to wait another four plus months to see it. But, such is life.