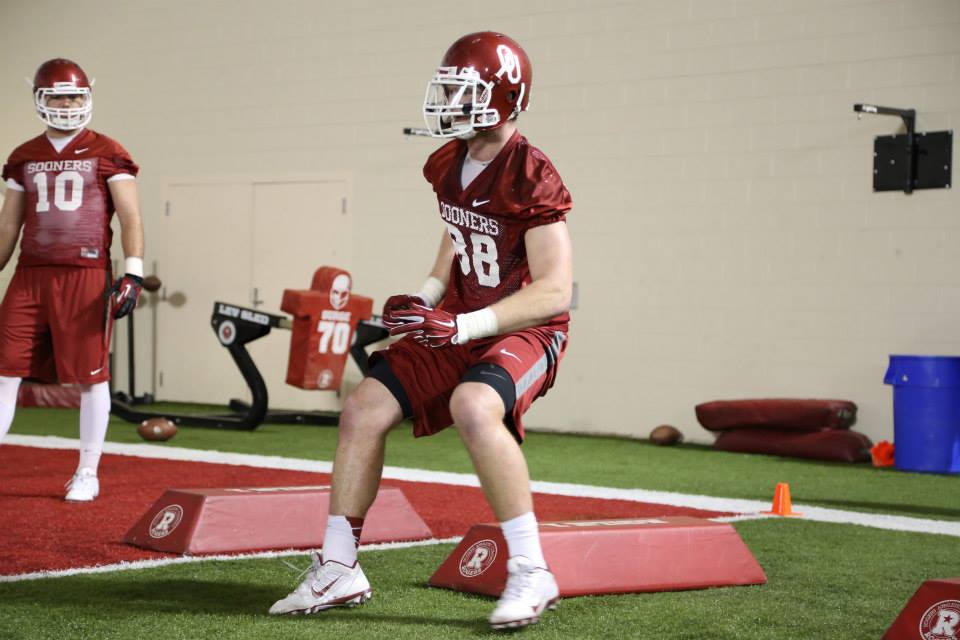 Spring Game Breakout "Star" Candidates
Posted on: April 8, 2014
Image via Sooner Sports
In recent years, it has seemed like there is typically a somewhat unheralded player who has a "breakout" performance during Oklahoma's annual Red/White game. It's usually a guy the casual OU fan may or may not be all that familiar with, but after the spring game it's a name they tend to remember.
Sometimes it carries over to the actual season (see Dom Whaley), while other times it proves to be just a brief moment in the sun (see Marshall Musil). However, even if it's just for that one day it's always fun for OU fans to get an opportunity to see some of the younger and/or unheralded players get a chance to make a name for themselves.
So with that, we wanted to make a few predictions of our own as to who Saturday's breakout performance candidates might be and then get some predictions from you.
This list might wind up being a little heavy towards the offensive side of the ball, but that's only because I kind of have a feeling, in this type of setting, it's a little easier for that side of the ball to stand out. I could be wrong, especially with what we've heard coming out of practices and strong the defense has been, but I suppose we'll find out for sure on Saturday.
Just a reminder, these predictions are strictly for the Red/White game itself. They are not a prediction of a strong performance on Saturday translating to the coming season. On to the candidates:
* KJ Young (WR) – Made a number of acrobatic catches throughout his high school career. We've heard his name quite a bit in our practice reports. And, at this point, I'm expecting Sterling Shepard and Durron Neal to be held out of the game, which means more playing time for the other receivers. I'm thinking he could get behind the defense for a big play or two, maybe even a long TD.
* Baker Mayfield (QB) – Again, this is just kind of a gut feeling. I've heard some say if the season were to start today and, of course, if Mayfield were eligible, there's a very good chance he'd be the No. 2 quarterback behind Knight based on how well he's performed in practices. He can run around a bit and has a good arm, maybe pulls off some big gains extending plays with his legs.
* Devante Bond (LB) – I'm not aware of an OU fan who isn't incredibly excited to see what this guy is capable of, and we get our first real chance on Saturday. One advantage to this type of setting for a guy like Bond, with the blue jersey, you only have to get a hand on the QB to record the sack and/or tackle for loss.
* Daniel Brooks (RB) – I know the more obvious choice here would be Alex Ross, but he's a guy everyone has heard of and already expecting big things from. And while he hasn't done that yet, would it really be a surprise if he does? I'd say no, which is why I am going with Brooks here. He's one of the fastest players on the team and I expect him to get plenty of snaps once Bob pulls Ford and Ross for the younger guys.
* Taylor McNamara (TE) – If the talk is to be believed, the tight end has become a renewed focus of this offense. Now that Bell will not be taking part in the game, McNamara is the most obvious candidate at the position to standout. I could totally see him getting a bunch of catches, then six months worth of articles and message board threads about said articles proclaiming how big a role the tight ends will play in this OU offense.
Alright, that's who we've got but we want to hear from you. Hit us up in the comments with your predictions.