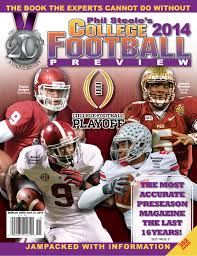 Breaking Down Phil Steele's Preseason All-Big 12 Team
Posted on: June 5, 2014
Image via philsteele.com
Every year one of the more popular preseason mags is the one Phil Steele puts out. There's an argument to be made it's by far and away the best value, in terms of the amount of information for your money, of all the preseason publications put out during the summer. If you listen to sports talk radio this time of year, you are bound to here Steele on at some point touting his track record over the years and pushing his magazine. The guy has a well-earned reputation in the CFB world and for good reason. So when he puts out his Preseason All-Big 12 Team(s), like he did today, it's always something I like to break down and write about.
It goes without saying this will be OU-centric, but when you're looking at a All-Big 12 team that goes four deep there is plenty of other stuff to discuss as well. So feel free to do so in the comments, in addition of course to your thoughts on those OU players who were or were not included.
For simplicity's sake, I'll list the OU guys here and you can follow the link to check out the rest.
First Team: Frank Shannon, Eric Striker, Zack Sanchez, Michael Hunnicutt
Second Team: Adam Shead, Daryl Williams, Charles Tapper
Third Team: Trevor Knight, Keith Ford, Sterling Shepard, Taylor McNamara, Tyrus Thompson, Jordan Phillips, Dom Alexander, Geneo Grissom
Fourth Team: Blake Bell, Chuka Ndulue, Quentin Hayes, Julian Wilson
This may be a little scattershot, but I'm just going to throw some bullets out there with my thoughts.
* Four Sooners on the first team, but not a single one on the offensive side of the ball. In the post I put together a couple weeks back, I only had one (Daryl Williams) so I'm not stunned to not see any here but I do feel Williams is more than deserving of a spot. Otherwise, in my opinion, the first team offense looks pretty much as expected.
* No disrespect intended to Frank Shannon as I believe he has the ability to potentially be a first teamer, but I think his inclusion here is also a sign of just how little LB depth there is in this conference.
* If you're gonna go with three DEs on the first team, might as well make it four and include Charles Tapper.
* Moneycutt. That is all.
* I could end of looking incredibly foolish for doubting him, but I'm just nowhere near convinced Jonathan Gray is going to be ready as early as everybody else seems to think he will be. That said, I don't know that there is necessarily a more worthy candidate for his second team spot here either.
* I'd put Sterling Shepard ahead of Jaxon Shipley every day of the week and twice on Sunday (and it has nothing to do with the latter wearing burnt orange).
* There's also no way in hell a healthy Tyrus Thompson is third team in this league.
* I'll be incredibly disappointed if at the end of the season Trevor Knight isn't, at worst, your second team QB, but where things stand today I think being third team here is certainly fair. Is there an argument to be made for him over Jake Waters? Absolutely, but not one compelling enough that warrants outrage over where the two are listed by Steele.
* Much like LB, when Taylor McNamara and his one career reception is your third team TE it tells you a lot about the position in this year's Big 12. And that's not a shot at McNamara, kid has always had the talent to be a potential first teamer, but he yet to put it all together on the field thus far. Maybe this will be the year. And if I'm honest, I am surprised Steele listed him ahead of Blake Bell. Not necessarily because Bell is more deserving — he's obviously not, IMO, as he's obviously never played the position — but more so because it would be one of those things to do that might get the attention of some.
* Dom Alexander is on the third team (I think he should be second team, fwiw), but at the end of the year I think Jordan Evans could be the guy you see on this list. If he plays the way I (and many others) believe he is capable of playing, I honestly don't think first team is entirely out of the question.
* If Geneo Grissom is third team — and I think he would be regardless of whether Steele listed him at LB (as he did) or at DL — coming off the game he had in the Sugar Bowl, that shows you just how deep this league is along the defensive line.
* I, like many an OU fan I know, have my issues with Quentin Hayes, but this is not a league overflowing with elite talent at the safety position. So listing him with the fourth team seems kind of ridiculous to me.
* I also think OSU's Kevin Peterson being fourth team CB is even more ridiculous.
Overall, I think Steele was pretty fair with respect to his placement of OU players. This team, like every other one, will certainly look much different after the season has played out but for now, given that it's early June, it is always fun to speculate.